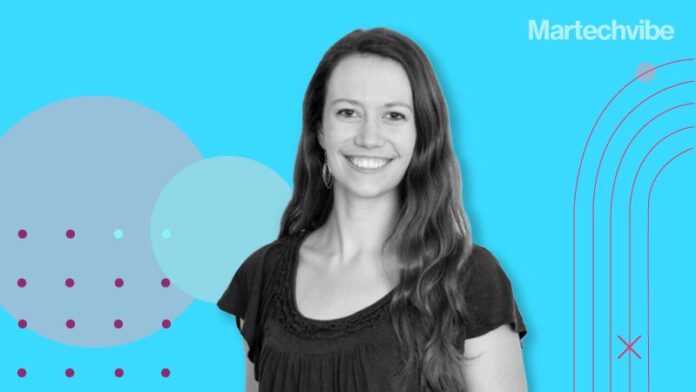 From competitive intelligence to technology trends, Erin Pearson, VP of Marketing, Evalueserve, discusses several factors that contribute to marketing and business success
"Determine the market traction and sentiment the competitors are developing. Use those learnings to jumpstart your strategy or inform it in a way to differentiate from the competition. You can also use it to go in a different direction, where there is a blue ocean rather than a red one, and find a new market area to go after," said Erin Pearson, VP of Marketing at Evalueserve.
Having led customer success teams, Pearson discusses the "Always be learning" mindset, data analytics trends, and how marketers need to keep up with changing technology. She also discusses competitive intelligence, which is critical in determining the business's strategic focus.
Excerpts from the interview
How can marketers keep pace with changing technology trends?
Going to different networking events, consuming as much industry information as possible, and talking to other people in similar roles, are some of the best ways to stay ahead of technology trends.

One of the biggest trends we see today is data analytics. It helps figure out what people are doing, both predictively and prescriptively. Traditional annual planning has been replaced with faster responses to new trends, so getting insights into recent trends is essential. Companies need to use internal and external data to find those results to succeed.
Have an "Always be learning" mindset. Some of the best leaders are those who adapt to new environments and technologies and embrace them. It helps gain an advantage if you're an early market leader who can define the category. Always have a mindset that things will change and that there is always more to learn.
How can customer analytics be used to improve marketing ROI?
Customer analytics uses internal data to understand user experience and how to improve it. Retaining clients and doing an upsell or referral business through your existing client base is far less expensive than acquiring a new client logo. This way, customer analytics can improve your business's profitability and overall reputation.
Customer analytics can help adapt messaging and pricing based on industry, job function, product, services, features, functionalities, and more. It ensures that marketing and sales messaging correspond with the best features for the specific client base.
There are several new technologies that allow you to scale these types of analyses. You can get customer analytics using data, but there is also a lot of workflow technology that helps correlate messaging with your marketing and sales campaigns and create personalised experiences.
How do you see future data analytics trends evolving for marketing teams?
Many businesses are only in the initial phase of using data analytics (DA), especially on the marketing front. As an industry, we are still in the early stages of understanding what's plausible with DA.
Studies show that the buyer journey is more often online today, putting marketing in an even more impactful position, especially if they understand and analyse the digital data within the journey. You can see key internal and external trends that show that customer and market data are coming together. How do you use DA to inform strategy and get in front of the buyer in their discovery phase before they talk to a sales team? Understanding this helps direct the holistic buying journey experience through the dark funnel into the attribution funnel and sales channels.
DA is essential to the strategy and will be one of the first indications of a new trend or raise red flags in the approach. This is critical as industries and environments change. As external conditions evolve, customers will also need lead indicators to adapt.
DA is also a primary research point for campaigns where creatives become AI-inspired creatives. This business side is unique as it is often less analytical than others, and it can no longer afford to be isolated from trends data.
In your opinion, which industry is struggling with AI-driven marketing decisions, and why?
The education sector lags behind on this journey. Generally, they are slower to adapt to change due to conservative cultures, limited access to resources, and methods of receiving funding. They are slower to adopt new trends since they don't want to be the ones to experiment with them.
However, there are also groups of companies and teams within industries that are several steps away from the customer or the end product. They are struggling with AI-driven marketing decisions because they have grown their business through traditional means, whether it's relationship-building or print advertising.
How can competitive intelligence be turned into actionable insights?
Competitive intelligence is critical in determining what your strategic focus should be. It can give you deep insights into competitor activity, including their marketing strategy, sales approach, and product journey.
How do you turn that into something actionable? When you create your marketing messaging and determine what your campaign or target audience should be, you can see where your competitors are succeeding, what type of messaging they're using and testing, and how it resonates in the market.
You can determine the market traction and sentiment they are developing. Use those learnings to jumpstart your strategy or inform it in a way to differentiate from the competition. You can use it to go in a different direction, where there is a blue ocean rather than a red one, and find a new market area to go after.
If you liked reading this, you might like our other stories
The Rise of The Subscription Economy
Transparency In Advertising Is The Way To Go