22 Big Product Announcements Of 2022
The big product news from 2022 is reflective of how the Martech landscape is changing. Martechvibe tracks the tech trends shaping the industry. The year 2022 is almost at an end. Looking back at how the solutions market has evolved gives us a clear understanding of where the demand lies and which technologies are gaining […]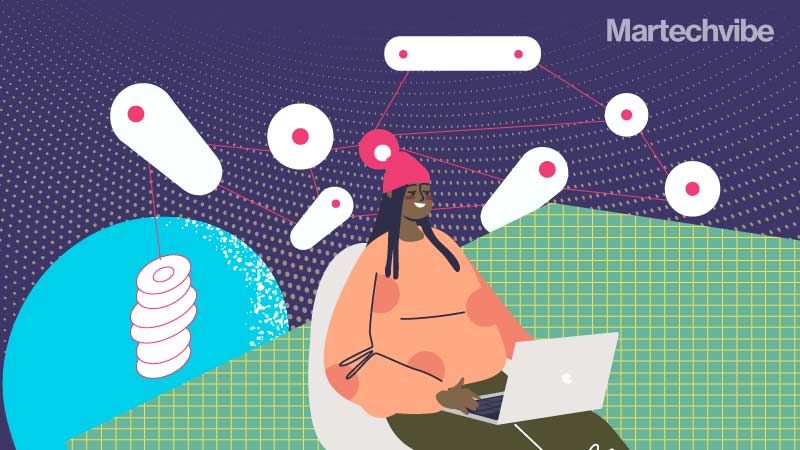 The big product news from 2022 is reflective of how the Martech landscape is changing. Martechvibe tracks the tech trends shaping the industry.
The year 2022 is almost at an end. Looking back at how the solutions market has evolved gives us a clear understanding of where the demand lies and which technologies are gaining traction in the martech stack. From Salesforce's Genie to AppsFlyer's Data Clean Room solution, we've been keeping a keen eye on all the product announcements we believe will impact how the marketing technology industry takes shape. 
Here's a look at our carefully selected product announcements that mattered in 2022.
Acquia's ML Models Focus On Data-Driven Product Bundling
Acquia announced advanced retail machine learning models for the Acquia Customer Data Platform (CDP), designed to increase customer lifetime value. Among these innovations is a new "market basket" model to drive digital commerce conversions by intelligently bundling relevant products, empowering retailers to understand the behaviour of their customers better.
Adverity And IAS Collaborated On Reporting Marketing ROI
The collaboration widens access and allows advertisers to integrate IAS media quality measurements into their wider reporting, providing them with the transparency that digital ads are fraud-free, viewable by real people, and in safe and suitable environments.
Adverity boasts more than 600 out-of-the-box data connectors – one of the largest libraries on the market – and its clients will now be able to combine IAS data with data streams from Adverity vendors, including Google Analytics, Adobe Analytics, Shopify, Sprinklr, and more. These high-quality reports promise to aid real-time decision-making and help businesses better understand the impact of marketing spending on ROI.
Amazon Launched In-App Shopping Experience
Amazon launched an in-app shopping experience, 'Inspire', that offers customers a new way to discover ideas, explore products and shop from content from brands and influencers they follow on social media. The shopping feed is personalised, featuring shoppable photos and videos. Users open the Amazon Shopping app, tap the light bulb button on the bottom navigation board, and select interests. It is designed to make it easier for Amazon shoppers to find new products.
Oliver Messenger, Director of Amazon Shopping, said, "We invent every day to make shopping easy and fun. Inspire is our new shopping experience that connects Amazon customers with shoppable content created by other customers, the latest influencers, and a wide range of brands. In just a few taps, customers can discover new products or get inspiration on what to buy, all tailored to their interests, and then shop for those items on Amazon." 
AppsFlyer Enabled A Privacy-Preserving Ecosystem
Data sharing is becoming restricted in 2023 with the end of Google's third-party cookies, and marketers will need to prioritise campaign measurement and optimisation.
AppsFlyer released its Data Clean Room solution, a secure and private environment for collaboration. It enables app developers to securely join and produce insights based on their first-party data and marketing conversion data. As a result, app developers can accurately calculate and take informed actions on their marketing campaigns, thus increasing return on investment while preserving customer privacy. 
"After a very successful closed beta, we are excited to release a key pillar of the AppsFlyer Privacy Cloud," said Edik Mitelman, General Manager of Privacy Cloud at AppsFlyer. "Customers who utilise our Data Clean Room have been able to measure and optimise campaigns by using one, holistic multi-channel view of their marketing efforts while enabling them to comply with privacy and data regulations as well as platform guidelines," Mitelman added.
AWS Announced Purpose-Built Advertising & Marketing Solutions  
AWS for Advertising & Marketing brings together a comprehensive set of purpose-built AWS Services, AWS Solutions, and 150+ AWS Partner offerings to help customers innovate faster, operate efficiently and interoperate together across five critical solution areas: Audience & Customer Data Management, Privacy-Enhanced Data Collaboration, Ad Intelligence & Measurement, Ad Platforms, and Digital Customer Experience. 
For customers looking for prescriptive, solution-specific support, AWS for Advertising & Marketing also establishes dedicated AWS industry specialists and AWS Professional Services teams across all five solution areas and identifies leading industry partners in each area—including Adobe, Aerospike, Amperity, Databricks, Experian, LiveRamp, Neustar, and Snowflake.
Freshworks Integrated Conversational AI Into CRM Solutions
Freshworks announced several AI integrations across Freshchat, Freshdesk, Freshmarketer and Freshsales. According to the company, the collection of updates across the Freshworks portfolio of products is designed to make work easier and more productive through natively built-in AI. Updates include AI-powered support features to help agents improve response times and embedded AI to help sales and marketers increase productivity and win more business.
"Conversational intelligence across sales, marketing and support is the next step companies must take to unify and personalise the customer experience. Unlike some legacy vendors, we believe business software should empower people, not frustrate them. Our built-in AI functionality makes it easier than ever and is designed to keep up with customers and employee demands," said Prakash Ramamurthy, Chief Product Officer at Freshworks. 
Invoca Helps Standardise CX For Multi-Location Brands 
Invoca for Multi-Location CX is a conversation intelligence solution for multi-location and franchise brands that enables customer experience (CX), sales and operations teams to improve caller experiences and conversion rates at every dealership, service centre, hospital, clinic, store, franchisee or other business locations they manage. It is a centralised solution to analyse, standardise and optimise caller experiences and call handling performance at every location.  
NexMind Automates SEO With Human-Like Text Generation 
NexMind is on a mission to revolutionise SEO using AI and automation, and we are keeping a close watch. The NexWriter solution automates SEO optimisation and content generation tasks so users can achieve optimum results much quicker than when they do the work manually. It uses artificial intelligence-powered content generation software to create advertising copy, web page headers, company and product information, and blog content.
Observe AI Launched A Sales Enablement Product For B2C 
The solution allows sales teams to pinpoint and amplify winning behaviours across their organisations; enforce script adoption, conversational flow, and protocol adherence; and gain real-time insights into situational factors that impact the sale. "Observe.AI helps sales teams gain a deeper understanding of the customer, zero in on the right opportunities, and deliver an empathetic approach that underpins all excellent customer experiences," said Swapnil Jain, co-founder and CEO of Observe.AI.
Optimove Integrated with TikTok and Snapchat
Optimove partnered with TikTok and Snapchat to expand its digital advertising stack. The move expands its capabilities, allowing brands to use customer data to create more powerful audiences and personalised messages. TikTok and Snapchat join a vast advertising network connected to Optimove, including Facebook, Instagram, Google, Criteo, Adobe DMP, and LiveRamp.  
Oracle Worked To Remove Patchwork Of Systems For Service Agents
Oracle's integration offers service agents a unified view of the customer with Oracle Fusion Cloud Unity (CDP). Oracle updated Oracle Service to embed data from Oracle Unity Customer Data Platform (CDP) to help customer service agents gain a complete view of the customer, improve agent efficiency, and enhance service quality. This is part of the Oracle Fusion Cloud Customer Experience (CX) solution. 
"We can give service agents real-time customer insights and recommendations within the tools they already use. This will help brands drive positive engagements by making sure their customers feel heard, helped, and appreciated," said Jeff Wartgow, Vice President of Product Management at Oracle Advertising and Customer Experience (CX). 
Pega Voice AI Gives Service Agents An Intelligent Copilot
To help agents efficiently respond to customer needs, Pegasystems announced Pega Voice AI and Messaging AI – two new solutions that analyse live customer service conversations in real-time to help agents quickly resolve service requests with reduced manual effort. These artificial intelligence (AI) solutions operate as copilots for agents, listening to live voice and chat conversations, recommending steps to resolution, off-loading tedious manual processes such as error-prone data entry or searches, and analysing intent to guide them to provide the most efficient, empathetic service possible.
Salesforce Introduced Hyper-Scale Platform Genie 
Genie transforms data into a real-time customer graph – a unified customer profile record. Because Genie is built using the Salesforce metadata model, everything in the customer graph is visible and actionable across the entire Customer 360 platform, AppExchange, every industry solution, and customer apps.
"Every business leader wants to take advantage of real-time data to create compelling, personalised customer experiences — milliseconds matter in this new digital-first world," said David Schmaier, President and Chief Product Officer of Salesforce. "That's why we built Genie, our most significant innovation ever on the Salesforce Platform. Genie makes every part of Customer 360 more automated, intelligent, and real-time," he added.
SALESmanago Launched A Zero-Party Data Focused CDP
Zero Party Data could lead to a significant reduction of carbon footprint, which results from the global growth of eCommerce, announced SALESmanago as it launched a Customer Data Platform with a dedicated set of features. The CDP facilitates the effortless collection and management of zero-party data and its effective utilisation by enhancing customer segmentation and recommendations in natively built omnichannel execution environments. 
Simon Identity+ Increased The Real-Time Identification Rate
With Google's planned 2023 depreciation of third-party cookies in the Chrome browser, marketers are doubling down on solving the classic 'who actually are my customers' question. Simon Data introduced Simon Identity+, which enables marketers to increase the real-time identification rate of their e-commerce traffic and fully understand their first-party customer data to build more complete customer profiles. It works by matching rich, personalised customer data to an existing customer profile without needing it to be logged in, even without third-party browser cookies.
Speaky By Instrematic Offers Sentiment Analysis When Customers Communicate Verbally
As the most natural form of human communication, voice eliminates friction and barriers when asking customers to share their thoughts and feelings. 
Instreamatic launched Speaky, a many-to-one communication solution that lets customers instantly and easily speak their minds to brands or content producers by leaving brief audio messages at any physical or digital brand touchpoint. Speaky instantly analyses the ideas, advice, suggestions, and other valuable insights that customers communicate verbally – and then delivers real-time reporting for brands to put that insight into action and better serve customers' needs.
Sprinklr Teamed Up With Salesforce To Unify CXM and CRM
The partnership brands a truly complete view of the customer. Together, Sprinklr and Salesforce's GTM strategy will enable customers to: connect unstructured, unsolicited, real-time social data to the customer data platform (CDP), build better social intelligence into marketing, product development and care processes, shorten the distance between the end consumer and brands, and extract maximum value from the investments in technology platforms. 
Talkwalker Leveraged Large Language Models For Consumer Intelligence
Based on trained language data sets, large language models learn the relationships between words and phrases that can be used to predict and generate new text, translate between languages, and perform other natural language processing tasks, such as answering questions, classification, or summarisation.
The large language models Talkwalker uses are up to 1,000 times more functional than the first-generation models, according to the company.
Tealium Works To Integrate Data That Lives Outside The CDP
According to Jeff Newell, Technology Manager at Meridian Energy, "There's a wealth of data that lives outside our own first-party data that could help enrich our datasets and personalise a web experience. With Tealium Functions, we can now query databases through their third-party APIs to enrich our customers' web experience. It gave our team more flexibility without added complexity, and we were able to develop, test and stand up this use case in hours rather than weeks."
Tealium announced Integrate Everything for "technical marketers who need options but don't have tons of time." With these product improvements, spanning Data Connect, Data Sync and Tealium Functions, Tealium's customers can leverage more data across the enterprise into their customer experiences, regardless of which systems need to be integrated.  
XM Discover Helps Companies Tune Into Conversations
As consumers and employees increasingly share their feedback in different ways–and often indirectly–organisations that can harness all of the feedback and act on it will have a competitive advantage. Qualtrics announced XM Discover, which helps companies tune into conversations that are already happening to build a richer understanding of what customers and employees want and expect. With this addition, organisations can use Qualtrics to gather experience data from any structured and unstructured source, analyse it with sophisticated AI and machine learning, and take action to deliver better customer, employee, brand and product experiences.
Yahoo Expands Its Cookieless Identity Service
Yahoo announced the continued scale of its cookieless identity solution, Yahoo ConnectID, with five new interoperability partnerships, including Annalect's Omni ID, Alliant, AdPredictive, ShareThis, and Tealium. The new partners will now support Yahoo ConnectID as advertisers and publishers seek a privacy-first solution to driving campaign personalisation, performance and measurement.
Zendesk Announced Conversational CRM Yo Prioritise Employee Experience 
Zendesk's approach to Conversational CRM connects and integrates front and back offices to not only enable the front office to provide support but also to provide a full range of intelligent, real-time data and services for customer engagement. It recognises that customers want to engage on their terms and on their preferred channels with speed, convenience and immediacy.