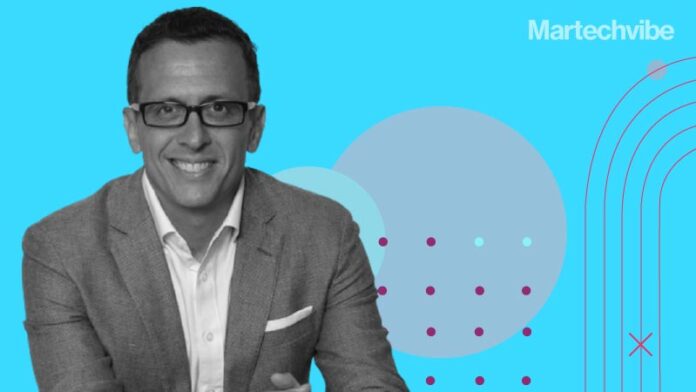 The channel lines are blurring, not just for consumers but for enterprises as well. Engaging with brands and their representatives across online, phone, in-store with no degradation of service and or weak links is key to maintaining a consistent brand story. 
SAP is building solutions that help companies achieve this. In the last year, acquisitions such as Signavio, AppGyver and Emarsys have reiterated SAP's dialogue on omnichannel and an acceleration towards the customer experience vision. Jose A Valles, Senior Vice President & General Manager, Customer Experience EMEA South at SAP, speaks to Ravi Raman, Publisher of Martechvibe, about big and small players that are getting it right and how enterprise leaders in the Middle East can lift CX for customers.  
Excerpts from the interview.
What are the key trends in customer experience that we are witnessing?
The first thing that is happening right now, the word that needs to be highlighted in everything that we talk about, is — acceleration. I joined the CX space in 2018, and at the time, we talked about how customer experience was going to surpass product and price in terms of the value that customers give to it. 

Right now, we can say that 70 per cent of customers are willing to invest more money if it means getting better CX. It's not a new concept, but it's definitely more evident now that customers will pay more for a substantially better customer experience. For example, it's famous that Uber disrupted an entire industry through customer experience. The function that they provide is exactly the same as others in ride-sharing. They take you from point A to B, and the price is higher. I never know what I pay with Uber, but the experience is better. You get the app, you know who's coming to pick you up, the car is standard, so you know what you are getting, they even have a bottle of water —  they treat you better. 
What we are seeing now is that there has been an acceleration in three main accesses. That is the way I like to say it. The first one is commerce. Brands have gone from looking at digital as something that needs to be there to it's better to be there and now to —  it must be there. Everybody's moving to digital corners right now. They see it as a key milestone for the company. For example, a retailer that I was working with before COVID times said an increase of 20 per cent in eCommerce would not change what I do. My real business is brick and mortar. It is about having customers visiting my stores. Right now, all that has changed, and this retailer has actually made a dramatic shift into eCommerce.
The second thing is personalisation. But when I talk about personalisation, it's not only about profiling. It is a pure tool of marketing. It's about understanding the customer, not just what they do on your website, but also what they do in other places. At the same time, it is about being empathetic to everything that they do. It's not about being too nosy or scary. It's not about what we know about customers, but about providing control to the customer about what we know from them and what we will do with it. 
The third thing is what happens behind the scenes. Nobody realises this, but it's a beautiful thing. Earlier, customer experience was provided without anybody asking what customers think about it. Then, we got into the survey world. Surveys were important. But now, what we're seeing is in every interaction with customers; we perceive something about what they feel. For example, the smileys that show up after choosing an item off a menu at a restaurant, after having a phone call with a company representative, etc.
Now, what we're seeing is that companies are connecting customer experience with the experience of their employees. One of the clients that we work with saw that customers had negative feelings about the delivery of their service. At the same time, they linked that feedback process with their internal process. They found that employees were also experiencing negative feelings about the same thing because they lacked the tools to serve customers in the right way. After that, it was simple to understand that the company had to invest in those tools to dramatically change the situation. The move would change the perception of customers and lift employee satisfaction at the same time. 
These three things together are what I believe is the new front, the new battlefield in customer experience.
There is one more aspect that is hidden even further behind the scenes. It is important to integrate with the backend because the transformation that is happening right now, in how customers consume and what customers consume, has a massive impact on the supply chain. It leads us to believe that seamless production at the supply chain level will make brands deliver better on the customer experience promise. 
My recommendation in this space is always the same. Think about what you want to do, where you want to start, choose the right partner and move fast. The competition is not going to slow down. They're not going to wait. 
Also Read: The Rise of the 'M-Factor' 
Are we connecting the customer experience (CX) with the employee experience (EX)? 
We absolutely should. SAP acquired Qualtrics some time ago (2019). The beautiful thing that we were able to see is that we were able to connect the customer experience with employee experience and translate that into business processes.
Every brand wants to personalise, but somehow, they are not able to achieve it. What is holding them back?
Every customer is different. The barriers that they face are different. We come from a world where customer profiling and marketing communication are intrinsically linked.
These profiles are used in different ways. For example, I live in Dubai. After living here for eight years, lots of companies have my telephone number. They believe that this is profiling. So, they contact me every day. Every day, I receive an SMS from different companies offering me services out of the blue. I believe it is generating a negative impact in the way I perceive those brands. 
What we do with companies we work with is we help them analyse what they do with their data. We work with them to understand what data they can extract, not only from their sources but from third parties, and how they can activate that data. I was working with a company that has an eCommerce platform. They were complaining that only 27 per cent of the customers were buying for a second time. We were helping them with the activation of their third party data and generating specific campaigns to drive repeat purchases using Emarsys, a company that SAP bought last year.
The results are skyrocketing. At the end of the day, it's about putting a fresh eye on the way we use data. I always tell people, ask for somebody outside of your company that is not contaminated by your corporate culture to look at the challenge from a different angle.
What are the big challenges that legacy companies in the Middle East face, and how would you guide them? 
There are three things that I see more in the companies here in the UAE and the Middle East. It is known for its amazing customer experience. That's a reality. Once you start living the experience here, you don't want to go back to a hotel in Europe or North America. 
The way they make you feel here is so good. But when you take that to the digital world, the companies still have a long way to go. There are three things that really need to be looked after. The first is the omnichannel experience. Companies have disconnected brand experiences in different channels. This can lead to customers getting confused. It actually diminishes the value of the brand and how it's positioned in different places. Brands definitely need to have a pure and single omnichannel strategy. That is the key driver. At the end of the day, the eCommerce platform is also the show window to the world. So, it needs to be really well planned.  
The second thing is generating specific and unique brand experiences. In the Middle East, we see a lot of cookie cutting. People are replicating the same experience. If you do that, there is no way that you're going to be able to stand apart from the crowd. What I recommend to companies is to sit down at a whiteboard, get people from different markets, industries and regions to look at problems from a fresh angle. It is not about calling a technology vendor to help you. The technology vendor will always go for the one-size-fits-all solution. 
The third thing is to know your customer, truly know them. Be empathetic, respectful and give the customer space to choose how their data can be used. What the brand does with customer data can put the brand in a totally different place. 
Also Read: Top CEOs of Martech Companies
Who should really own the customer experience in the company? Is it the CMO, or is it someone else?
I think customer experience should be the thing that keeps CEOs awake at night. The customer experience is what customers see, it is the brand's face. I don't think there is anything more important than that.
Of course, there are people that need to help articulate that plan. There are three key people that can help here; the Chief Digital Officer, Chief Marketing Officer and Chief Commercial Officer. The CIO is important too. They are the glue that is going to keep everybody together.
But the ones that need to really feel the dream of what the company is going to be are these three actors. The CEO needs to believe in this because it's a real mind-changer — the moment that you get into it. It's an approach to business that is not about the traditional KPIs. It is not about costs or product features. It's about how you deliver an experience to customers and represents a big change in the way companies are perceived. And it can have an impact not only on the top line but on the bottom line as well.
A lot of companies out here are promoter led, which makes them the brand custodians. But in many companies, the CEOs are more custodians of the P&L. So, do you think they are equipped or mature enough to own the customer experience?
There is a transformation in the way companies live this. Indeed, the CEO has always been the custodian of the P&L and the financials of the company. When you bring customer experience to the centre of the strategy, the main heads of the company need to live and breathe it.
If you look at the companies that are transforming the world, the CEOs are the visionaries of how the experiences need to be. Look at any company like Airbnb, Uber or Google. It was the founders and the CEOs that set the tone for the experience before everything else. 
Of course, there are people who will help them. They don't need to be experts. It's not about that. It is about making the promise of the brand towards the customer the most important thing. The moment that happens, magic occurs. 
There is proof that it works. It's happening with small companies that no one has heard of in Silicon Valley. But it's a trend that is migrating and moving to other places in the world. I witness it whenever I speak with smarter companies that are going in that direction, but I also see it with bigger companies. Not a long time ago, I was speaking with a multi-billion dollar company here in the UAE, and the CEO himself was saying that what his brand needed to do was differentiate itself based on customer experience. He wasn't talking about price, he wasn't talking about the product. He was talking about customer experience.