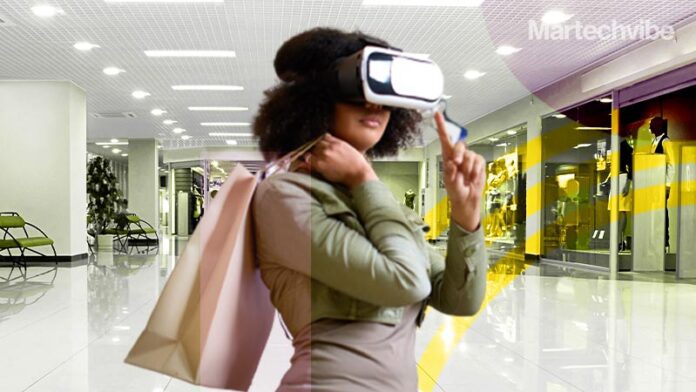 For retailers seeking for new ways to amaze their consumers, augmented and virtual reality is a perfect method to accomplish that.
You saw a dress online that you really like. But you have doubts. Will it suit you? And even if it does, will it be what you have imagined? Enter AR-enabled shopping apps that can be an ideal solution. They let you see how any cosmetic, apparel, pair of eyeglasses, accessory, or pair of shoes look on you without the trip to the store.
We've all experienced it: ordered a T-shirt on the spur of the moment, only to receive it in the wrong size and colour. This could be a thing of the past with the help of augmented reality apps.
In fact, the global Augmented Reality and Virtual Reality market is expected to reach over $105,676.7 million by 2028, with a CAGR of 35.7 per cent during the forecast period.
AR/VR are more immersive and offers consumers a more accurate representation of how a thing appears.
From Macy's to IKEA, brands are making news for their use of AR and have successfully enticed people into their stores. Although the majority of people are aware of augmented reality, fewer are aware of the several AR shopping applications that have lately appeared.
Recently, Snapchat launched the MENA region's Augmented Reality-powered virtual mall for the month of Ramadan. The AR-powered mall will feature some leading international brands such as Al Futtaim, IKEA, Namshi, L'Oreal, and Samsung.
Jake Thomas, Head of United Arab Emirates at Snap Inc. said, "Snapchatters in the region are seeking inspiration for their shopping experience this Ramadan. Today, shoppers want an experience that is more than just transactional. While they expect the convenience and efficiency of online shopping, they also want a true-to-life, in-store experience."
Online Shopping Gets A Boost
Pinterest recently introduced its Try-On for Home Decor service, which uses AR technology to allow users to examine furniture in their own homes. Users will be able to visually arrange their houses with products from Walmart, West Elm, Wayfair, Crate & Barrel, and CB2 using the app's Lens camera. Visual searches utilising the Pinterest Lens camera climbed by 126 per cent between Q4 2020 and Q4 2021.
Nike went a step further and integrated with AR shopping directly into social media platforms. On the Snapchat app, AR-powered shopping experience allows users to design and virtually test on a pair of Nike Air Force 1s. The filter, sponsored by the brand, allows the user to change the colour and texture of 13 different parts of the sneakers before pressing the try-on button to see a digital 360-degree overlay of how they would look on your feet.
After the pandemic began and showrooms shuttered or shortened their hours, furniture stores were among the first to gain from AR. It assisted these businesses in overcoming logistical and practical obstacles in effectively showing customised items online. For example, photographing a sofa in all 15 leathers, 30 fabrics, and ten leg styles would require an immense amount of time and money.
Threekit, likewise, has announced the debut of its immersive shopping suite, advanced AR, and virtual try-on capabilities, which will provide online customers with an unrivalled shopping experience. The suite is a complement to Threekit's current AR solution, which has been shown to increase a customer's eCommerce sales by up to 50 per cent. According to Gartner, 46 per cent of retailers expect to use augmented reality (AR) to increase customer engagement and conversion.
According to a Snapchat poll, 92 per cent of Gen Z customers desire to adopt AR solutions for eCommerce. According to the survey, Gen Zers are more inclined than millennials and Gen X to purchase a product they first encountered via AR.
Nearly 75 per cent of the worldwide population and practically all smartphone users are predicted to be frequent AR users by 2025. Matt Gorniak, CEO at Threekit, said, "Today's online shopper wants more than just pictures of a product. They want an entire product experience."
Customers can make informed purchasing decisions by using augmented reality to bring eCommerce items to life with rich information.
Increasing Customer Retention By Reducing Return Rates
High return rates are one of the most serious issues that online merchants confront as consumers continue to choose online shopping. According to market research firm Mintel, 49 per cent of UK internet buyers returned things purchased in the previous year, with that number climbing to 60 per cent among those aged 16 to 34.
They discovered that 27 per cent who stated they returned things because they were "not as described".
AR offers consumers the unique option to test before they purchase, providing an immersive experience with 3D visualisations, virtual try-ons, and product demos. As a consequence, AR technology aids in the battle of high return rates by allowing customers to make an informed purchase, resulting in a decrease in return rates.
Enhanced marketing techniques
With a variety of unique choices, AR has significantly improved retail marketing techniques. It stretches across to attempt to buy products, scan QR codes on billboards, and more.
In addition, dynamic landing pages and 3D product displays have ushered in a slew of improvements in online advertising, allowing shoppers to see a product in a real-world setting without having to switch screens.
Assume you want to go grocery shopping but are pushed for time on your way to work. Simply open an AR-enabled software on your phone, choose things from a virtual grocery shop, and have them delivered to your home.
Info about in-store purchases
With AR, you can scan in-store signage to get all the information you need about a product, including user reviews. Sure, as a consumer, you may scour Google for solutions to any and all of your questions. The seamless aspect of an AR-infused app, on the other hand, is what makes the retail experience interesting.
Conclusion
Interactive experiences are changing the retail industry, with prominent businesses in the industry moving their inclination towards AR.
Sure, not everyone has embraced AR via in-store experiences, but embracing AR can boost brand awareness and customer loyalty.
If you liked reading this, you might like our other stories
5 Ways AR is Tailoring the Clothing Store 
Our Audience Is In An Active Mindset