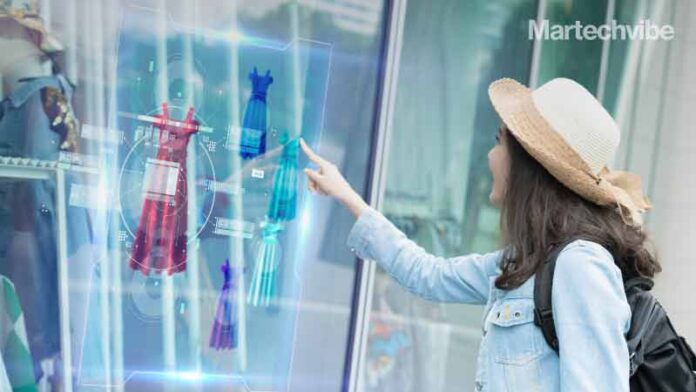 Top retail brands like Topshop, Ralph  Lauren, H&M, Zara, Burberry are already on the AR bandwagon. The brands are leveraging the technology to improve customer engagement, deliver personalised shopping experiences, and ultimately increase sales.
Augmented Reality (AR) in fashion covers a broad spectrum of software applications and hardware devices that, when combined by retailers and brands, provide users with digital information visually overlaid onto their immediate surroundings.
Apple CEO Tim Cook stated that AR is set to modernise shopping experiences and fashion runways. "I don't think there is any sector or industry that will be untouched by AR," Cook said. WannaBy CEO and ex-Googler Sergey Arkhangelskiy said, "We believe that AR try-on can help customers to shop online and will wash away the difference between online and offline shopping."
AR technology gives fashion brands and retailers the opportunity to tailor-make experiences for their customers. Adoption of the technology is picking up steadily. Here are some ways brands and retailers are implementing the technology.
In-store navigation
AR markers in the store interior and help the customers with a aguided store navigation which helps them reach their desired product quickly and easily.
Using an AR app, the users can use the navigation session, which will display the path to the selected product. This way, by bridging the gap between the online and in-store experience, customers get the convenience to find what they want and push them to return in the future. Global retailer Zara has implemented AR to showcase its brand-new collection at the storefront, which provides a live runway-like demonstration.
Interactive display screens
Even post-pandemic, social distancing remains a  norm, and customers don't prefer to try products, especially garments. Having digital screens can be a game-changer in stores. With display screens and virtual trial rooms, the customers can visualise themselves in front of a mirror or screen and decide what fits them without physically trying on the product.
Top retail brands like Ralph Lauren, Topshop, H&M, Burberry, Zara, are using digital screens for clothing to improve customer engagement and satisfaction and reduce the discomfort of traditional trial rooms.
Virtual try-on
Virtual try-on allows a virtual application of cloth items onto digital human body models. It is designed to determine how precisely and accurately the cloth item will behave on the digital body model. With limited access to in-store experiences, fashion businesses are looking for alternatives to demo products in real-time. With AR, retailers can offer virtual try-on experiences to the customers and attract them to the store. This will enable customers to get an accurate idea about the look, size, and feel of the product.
The early pioneers of AR include companies like GAP who entered the AR space with Dressing Room, a Google Tango-enabled device, that enabled users to use the app to customise an avatar based on their body type.
Virtual fitting-rooms
To reduce customer dissatisfaction and boost business operations, stores have started to implement virtual fitting room (VRF) technology. VRF lets customers try garments and shoes in a 3D avatar without wearing the product.
This way AR for clothing creates a personalised and engaging experience that benefits both customers and the brand.
For instance, GAP's Dressing Room app allows users to try out a dress on a virtual mirror — you have to enter height, weight, and body shape to generate a digital avatar. This kind of interface utilises the device camera to scan the user's body and to render digital garments on the person. Customers can move their self-made avatar around to  check themselves out from all angles.. The experience allowed GAP to offer its customers a seamless shopping experience while boosting their revenue — a definite win-win.
Virtual tailors
A virtual tailor utilises different machine learning technologies to provide highly accurate body sizing for customers. Fit Freedom, an AR body measurement application, measures users and converts the data across many product lines, and creates custom-fitting garments. It is possible to get body measurements quickly and easily by creating a 3D fit model that recommends the shopper's size across the platform's available retailers.
Virtual makeovers
With virtual makeover you check out how you'd look in new eyeglass frames, or new-make-up. Suzanne Harward, one of Australia's wedding couture brands, introduced a  virtual view mobile application that transforms bridal gown shopping into an effortless experience for would-be brides, enabling them to view exclusive wedding couture collections on "life-size models" in the convenience of their homes, zooming into the intricate details to visualise how each gown would appear in real life. Sephora has incorporated a "Virtual Artist" feature in its mobile application. The feature was an immediate winner generating around 45 million hits in the first eight weeks.
AR applications can be tailored to the task at hand and the data being communicated. "Augmented Reality technology is completely changing industries. The ability to visualise fashion and beauty products in real-time, demonstrates how it's possible to leverage AR to make a retail experience more engaging and interactive," said  Jordan Yim, Director at INHAABIT.
Is The Future of Fashion Really Augmented?
AR-powered experiences facilitate the customers in making the purchase decision easier, faster, while  blending engagement. Enhancing loyalty is a major off-shoot as well.
Using AR has increased buyer confidence and 71 per cent of consumers say they would shop more often if businesses use AR. Investment in AR is growing, approximately $18.8 billion worldwide has been spent on AR/VR in 2020. To reach out to tech-savvy consumers, brands are entering into the online shopping trend with newer, social media-friendly, easy-to-use apps on smartphones.
Apart from big brands, even smaller ones, like Wanna Kicks and Tenth Street Hats, are investing in AR. Fashion retail is a dynamic industry, and staying up to date with the latest technology is essential to moving forward.
If you liked reading this, you might like our other stories
Online Vs Brick-and-Mortar: Who's Winning?
Is AI Restyling Fashion?