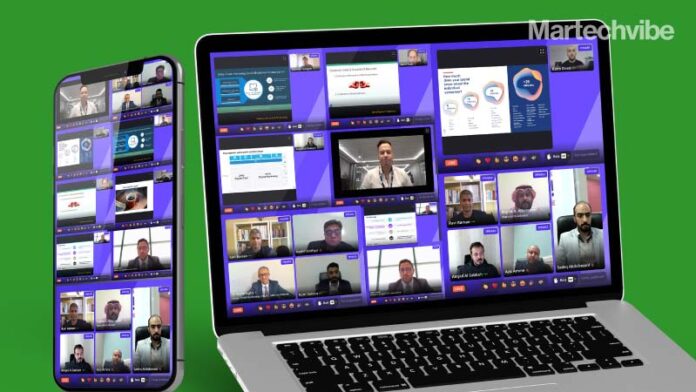 Management demands them to be customer champions, frontline defenders of the brand and drivers of company growth initiatives — expectations are high for the CMOs.
In today's environment, these challenges have only grown bigger for CMOs in the midst of changing consumer needs. And this has been the overriding theme throughout the various sessions on Day 1 of the Vibe Martech Fest: Saudi Arabia.
The pandemic didn't just change the way people work, it caused a fundamental shift in how marketers approached the way they got to know their customers. According to Kashif Siddiqui, CX Solutions Consultant, SAP, technology helped marketers make this pivot. "Marketers don't just need to know the customer, they need to know the customer segment at a nitty-gritty level; what makes them tick, how they prefer to be addressed, how they like to buy."
Customer behaviour, too, changed. Customer expectations are different and brands must make the necessary changes to meet these new expectations. As Rami Zahran, Chief Marketing & Communications Officer (KSA), Saudi German Health, puts it, marketing isn't just about advertising any more. Marketers have a much bigger role – to influence the experience.
"Companies have started to think a lot more about what they need to deliver through an enhanced customer experience, and how technology can help them do that. For example, it's not enough to offer just your product or service in its pure form, you need to enhance it digitally. You need to offer better CX to differentiate yourself from your competitors," he said.
Customers want brands to care about their preferences and deliver products that consider them empathetically. To do this, Siddiqui suggests solutions like CDPs, which offer personalisation at scale and in real-time. "We aren't just looking at multi-channel, we are now in the age of the endless channel. A tool that lets you integrate AI helps make the journey not just personalised but also adaptive and value driven. It caters to the emotional, functional and moment needs of the customer," he said.
Where do we go from here? According to Dr Sobhi Agha, Group Chief Marketing Officer, SAB Investment, the pandemic offered a lesson for brands to learn — to be agile. "You need data, connectivity, and the infrastructure to answer your customer wherever they call you. In the future, we have to be more capable."
Privacy, Consent and Personalisation

In another session, Zachary Faruque, Marketing Offering Manager, OneTrust, said it's been hard for businesses to keep up with the avalanche of privacy regulations. "There are several privacy regulations out there today, and certainly there will be more coming in in the near future. It's imperative for businesses that we keep a keen eye on them as they will have operational impact," said Faruque.
Trust is a competitive differentiator, he added. No wonder over 70 per cent of consumers say trusting a brand is more important today than in the past. Brands must work on improving trust at every touchpoint. "The three steps to building trust is to enhance data collection and enrichment strategy with a customer first mindset, leverage technology to sync consent and preferences across the martech stack, and have transparency with consumers," he said.
Ultimately, the privacy regulations will have a massive impact on the ad tech ecosystem, and how brands, advertisers re-target and remarket to consumers will change forever. "Previously, we have been reactive to legislation. Now, we need to get ahead of the game and get processes, solutions, and technology in place to ensure we can be proactive and not constantly hit the red button to re-address regulations," added Faruque.
CMOs as unifiers
Although CMOS are under pressure from CEOs as they are expected to increase revenue, maximise efficiency, reduce costs, improve and change consumer behaviour, Amjad Al Sabbah, Regional Director, EMEA, Sprinklr, said CMOs are unifying agents. They work on many strategies and change a lot of tactics in real-time to drive consumer behaviour.
"The top influential CMOs are doing two main things to drive success: first, they are getting closer to consumers with the help of data and analytics, and second, they act as a chief unifying officer, meaning they are acting as unifiers within silos to bring the company close to the consumers and stakeholders by breaking the barrier," Al Sabbah said.
He shared examples of top CMOs who have a healthy dose of curiosity and intention to  know the people, understand their culture, and speak to them in their language, and they  are the ones who win. Customer-centricity should always be the focus of the companies, he emphasised.
"CMOs should be the driving force behind unification and driving data from different touch points into a single platform to be able to make sense of it and drive engagement and consumer behaviour."
Using tech to solve marketing challenges
Meanwhile, cart abandonment and customer loyalty have been topping the list of concerns for the modern marketer. Tackling the subject, Adam Szucs, Senior CX Solution Advisor, SAP talked about how technology can help marketers deliver to the new customer expectations by automating tasks so actions are more personalised in real-time, as he walked the audience through the SAP Emarsys Customer Engagement solution via an eCommerce use case.
Automating tasks can help marketing and sales teams make smarter suggestions and do more with less. Without taking the focus away from the ROI of these tools, Szucs emphasises on first-party data that retailers can capture using the platform. This gives retailers an insight into each customer using a unique code to track their usage in the app or on the website.
Using information about what they browsed, for how long and when they bounced to feed the recommendation engine, marketers are able to tailor their strategy, personalise promotions and send notifications about price drops and out of stock items.
At the backend, the solution scrapes the eCommerce site and compares it against the product catalogue to make connections with customer browsing history. That way, promotions speak directly to the customer about products they have viewed. It counters cart or session abandonment, a key concern for modern marketers.
Engagement strategies with customers
In a panel discussion on engagement strategies with a "customer first" mindset, Amjad Al Sabbah, Regional Director, EMEA, Sprinklr, said, "To understand what customers really want, brands can leverage data to predict. It will drive conversations and can help get closer to customers as you unravel the data."
Apart from Sabbah, the other panellists who joined the discussion were Aziz Amine, Group Vice President Marketing, Virgin Mobile; Sadeq Abdulrasool, Chief Digital Officer, Homiez.me, and Majed A. Alhamdan, Marcomm Advisor.
So what are the other critical factors impacting one-to-one engagement? Amine said an intelligent platform to be the key. "Such platforms can have a single decision authority across applications and each system profits from that single source of customer intelligence. It will also allow brands to gain insights and perform relevant actions. "In today's world, customers are more empowered than ever. The experience you provide should make sense to the customers, be within the context of their lives, and it has to be personalised."
Concurring with Amine, Alhamdan added, "Customers are smart and getting savvier. Knowing your target audience very well, understanding the behaviour, and having the ability to analyse their feedback is critical to effective engagement."
Meanwhile, Abdulrasool said customers don't know what they want until brands show them. "The focus is on objectives and not customers themselves. Brands need to understand its goals first, it helps to shape and craft their offerings"
The panellists also touched upon how Artificial Intelligence and Machine Learning augmented real-time decision making, as Alhamdan said that the game-changing technologies rely on data. "The better your data, the better are the decisions."
Connecting the dots
In a session about tracing the origins of customer intelligence (CI), Rami Deeb, Marketing Executive, Talkwalker, said CI is about human interaction and getting to know the customer. "Consumer intelligence gives marketers a bird's eye view of their consumers which can help brands build a vision for the long-term. We are increasingly seeing marketers moving towards predictive analytics. CI helps you to be agile as you move forward."
This insight could be applied to practical use cases like entering new markets, increasing market share, dealing with a PR crisis, saving market research costs and activating campaigns that can be more successful. "It's all about connecting the dots."
CI is becoming an increasingly important solution for marketers considering the shifting customer behaviours. Elaborating on why it's critical to have a hold on the pulse of customers, Deeb said: "Customers are taking charge; they are the co-pilots navigating your brand's journey. They will advocate on your brand's behalf and assert their agency. Its bottom-up approach now. Large enterprises with global footprints use the CI framework to save time, ask more intelligent questions and find real answers."
Buzz about CDP
In a session about what comes after implementing a customer data platform? Adam Salem, Corporate Commercial and Digital Director at Dur Hospitality, talked about how they improved customer experience through data and how a first-party data strategy enhances analytical tracking with tag implementation and predictive ML insights.
The challenges of a weak digital ecosystem, lack of data-driven organisational processes and customer-centric programs can be solved by data transformation, said Salem.
Day 1 of the VMF ended with David Raab, Founder & CEO, Customer Data Platform Institute, taking the audience through the ABCs of Consumer Data Platform (CDP). "CDP is important because customers demand a unified experience, demand privacy, and it helps build profiles," he said. Yet, companies make certain mistakes while deploying it.
Raab warns brands to not get ahead of users, not focus only on system costs, and not to have inflated expectations. Assembling unified profiles can be the number one obstacle in customer data success. According to him, high-value CDP projects are most likely to set goals for efficiency and profile assembly. Companies that seek complex goals, such as journey orchestration are least satisfied with results.
Raab asked brands to focus on two important questions before zeroing in on the best solution – what do you want to do? What's stopping you from doing it? By analysing the CDPs available in the market, by understanding the features required, and by addressing the gaps, brands can get the most out of an informed CDP selection process.
"Use cases set the destination on your road to success. They are the all-important first step in your CDP journey," said Raab.
Want to know more about topics like this from industry thought leaders? Register at  https://ksa.vibemartechfest.com/register
Written By: Khushbu Raval, Yolande D'Mello, Chandni U, Suparna Dutt DCunha
If you liked reading this, you might like our other stories
How Does CRM Differ From Marketing Automation?
CDP Delivers Personalised Customer Experiences at Scale