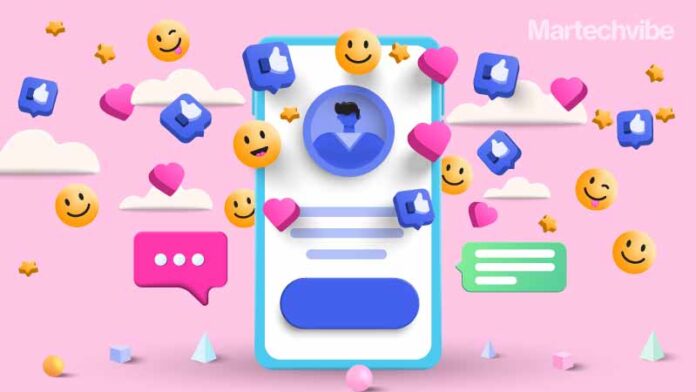 For over a decade, marketing leaders have struggled to quantitatively link social media to business outcomes. Now, after being forced to rely on social media significantly more during the pandemic, it seems something has finally clicked.
Nearly two years since the beginning of the pandemic, this shift in consumer spending has shown no signs of slowing down. And with eMarketer projecting that double-digit annual growth will drive eCommerce sales from $792 billion in 2020 to $1.6 trillion in 2025, it's clear that our new eCommerce habits aren't just here to stay — they're very much on the rise.
The post-pandemic shopping experience
According to Hootsuite and We Are Social, Digital 2021, younger generations now turn to social networks to research brands more than search engines.
Before the pandemic, social commerce was a flashy new opportunity for the most innovative businesses to play with and create a bit of competitive advantage. That all changed overnight when consumers went into lockdown and many looked to meet basic needs by buying online. Suddenly, 84 per cent of consumers were shopping over the internet, according to Shopify. eMarketer reported a surge in eCommerce sales growth to 18 per cent, the highest increase the firm had ever reported. And in what McKinsey dubbed "the quickening," eCommerce penetration rocketed ahead more in the first 90 days of the pandemic than it had in the previous decade.
Shoppers on social media aren't just scrolling feeds and clicking "buy now" buttons on sponsored ads for consumer packaged goods. They're using social media for every stage of the purchase journey, across almost every product category.
And it's not just discovery that gives social commerce its business utility. Buyers are using social media to discover, research, and evaluate the brands they buy from, making social networks the second most important channel for online brand research after search engines.
It's all about reimagining the modern shopping experience. While the brick-and-mortar storefront lives on post-pandemic, it's become clear that social commerce is an opportunity businesses can't afford to miss. Small businesses in 2022 will work to extend the experience customers have with their brands across social storefronts and real-life, while global enterprises test the limits of the online shopping experience.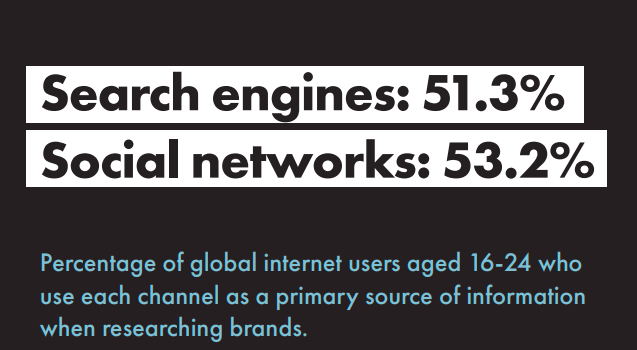 Emotions Drive Engagement
According to the Inmar report, social commerce depends heavily on customer engagement; the emotional links consumers form with a brand are forged and reinforced by social media content and engagement.
Any successful marketer will confirm that most purchasing decisions are made with the heart and not the head. When working with social media, brands leverage that engagement with a narrative that expands brand awareness, perception, and purchase intent. Just as important, consumers tend to share these messages more than others with their network: This is a very powerful way for new customers to engage with a brand.
It is not surprising that the majority of respondents have already created emotional connections for their customers with their brands. A full 73 per cent say that such a bond has already been forged, making it possible for social commerce to build on that engagement. Only 27 per cent say that such a connection has not yet been created for their brands
Building an active community
According to the 2021 Sprout Social Index, the most common goals for social are increasing brand awareness (58 per cent) and increasing community engagement (41 per cent). Whether you want to build a larger following or a more active community, taking the time to define your social goals is the first step to reaching them. 
Index data shows that 46 per cent of consumers think brands that engage their audience are best in class on social media, so it pays to explore new ways to grab the attention of your current followers.  This means experimenting with messaging and content. For example, does your brand promote user-generated content and hashtags?
Even something as simple as asking a question can increase your engagement rate. Your customers can be your best cheerleaders, but only if you're giving them something to do.
Creating positive experiences
According to Sprout Social and Harris Insights & Analytics LLC, report The State of Social Media. Most consumers expect brands and companies with a social media presence to interact with their customers in meaningful ways, and businesses agree that creating interactive experiences for customers is critical for their success.
As over half of consumers say that they find it to be more engaging to connect with a brand or company on social media than to visit a physical store, it comes as no surprise that most anticipate social media to be the main channel for brands and companies to reach out to their customers.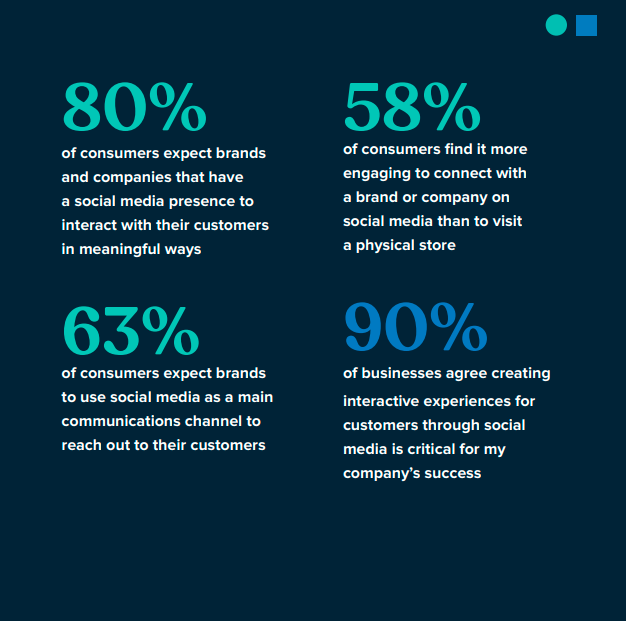 A key factor that can determine success or failure in a social media campaign is the ability to build a community around the brand. Nothing creates engagement like a discussion among consumers; as they express their ideas, they attract others who react, and all of this emotion goes right into making the brand attractive. This is why 33 per cent of respondents are already engaged in an effort to foster long-term communities that generate emotional connections. A community-based brand builds loyalty with interactivity, building discussion around the product or service. It should not involve any hard-selling, but rather show how the brand engages customers on a personal level and assists with their tangible needs. Identifying tangible needs within the consumer segments being targeted also emerges from a community of this type. Are customers consistently seeking to share the different ways in which they use your product? Are they seeking support? Are they hoping to cultivate specific skills, or are they interested in giving back? Community platforms should allow customers to engage with the brand in the way that they find most pleasant and useful.
Conclusion
Social media has become one of the most predominant means of communication between brands and customers in a very short span of time. It has profound implications for the future of social commerce and the customer experience.
While the vast majority of respondents are already using social media in some capacity, be it for marketing or customer communication, there are clear changes emerging in how brands plan to use social media platforms to build customer relationships.
In simple terms, social commerce is a powerful method for acquiring and retaining customers because it allows a brand to engage with those customers in the ways they recognise and are comfortable with from their personal interactions on their platforms of choice. Brands are only just beginning to realise the untapped power that social media has in this regard, and it will be interesting to see how the strategy evolves in the coming years.
If you liked reading this, you might like our other stories
How do Brands Look at Social Media?
Brands, Raise Your Social Game