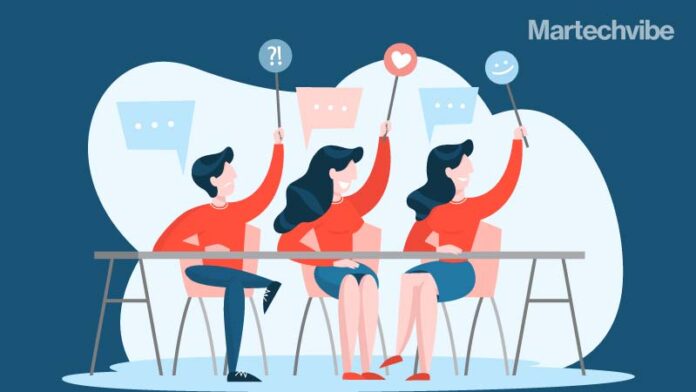 What's one thing that marketers hold dear, apart from better ROIs, of course. Insights. What do customers think of their business? To be customer-centric requires marketers to know their customers' pulse. Think like them. That comes from working on the feedback received. Understanding your customers' needs requires one to be patient and receptive to everything their customer is communicating. Surveys are one way of working on customer feedback. But a survey can give only a part of the complete picture. The next best solution is feedback from the customer. Again that has its limitations. If only there was an oracle, who could read minds, but again, albeit fictional, the oracles from Greece could only give limited information.
If a marketer wanted to be omnipresent for their customer, adopting an omnichannel engagement and data collection model is the only way to establish and truly understand the connection between customer behaviour, thought, intent, and needs.  
Knowing what customers 'want' and what they 'expect' requires a shift in how enterprises react to feedback. Paying attention to your customer's reaction when they interact with your business can open up the data-rich world of experience signals for you.
Also Read: Ramadan Marks Golden Opportunity For Mobile Marketing and Customer Engagement
Introducing Signals
Signals are customer experience data points from different systems, channels, in-house technology, and even third-party sources.
Understanding and working on experience signals can allow marketers to identify the root causes of ongoing customer issues, opportunities for improvements. If done right, it can help deliver a better CX., Which further results in driving customer engagement, loyalty, reducing churn, and improving upselling.
The various types of signals are digital clickstream data, e-commerce information, POS data, IVR and call centre interactions, CRM data, service interactions, IoT data, HR data, sentiments captured from videos, sales and marketing tools and surveys.
Understanding Data Types
Structured data is made up of objective responses from a set of predetermined inputs (i.e. surveys). Unstructured data is open-ended, with feedback coming in many forms–such as call transcripts, messaging logs, website contact forms, chatbot interactions, social reviews, etc.
Direct Feedback
How customers and employees share their opinion about you and your business when directly solicited. These include emails, messages, voice notes, voice calls, video calls, video messages, A/V interactions, website and app interactions.
Indirect Feedback
What customers and employees are saying about you–in channels that aren't expressly designed to measure feedback. These include chat logs, social media behaviour, comments etc.
Operational Data
Data from various, specialised systems of record across an organisation, consisting of transactional and operational interactions. These include data from CRM, ERP, HRIS and POS.
Observed Behaviour
Data and events that reflect customer and employee actions or behaviours that are either observed or inferred. These include IoT signals, store location visits and the pattern of visits. Important dates or event schedules.
To see the complete picture, signals from diverse input sources are analysed to gain a comprehensive view of customer needs at any given point in time.
More signals = Better Customer Insights
Your customers' expectations of you are continuously changing. Customers today are informed. They know their value and are not always comfortable sharing personal insights with you. Even if that insight is about you. Information is valuable, and you have to earn it to use it. When data is not widely available, CX leaders look for a broader, more diverse set of experience signals to truly understand how they're doing in the customer's eyes. How swiftly they see the complete picture and act on their deliverables can make a world of difference for businesses.
Experience Signals to Drive CX
One way to better CX is combining experience, operational, and behavioural data from across systems to get the best insights. As human beings, we are constantly communicating in one way or another. Customers give out signals all the time. It's up to the marketer to decide how the data is received, analysed, compared with other inputs to decide their customers' engagement with them. When combined with the right metrics, the data can show newer engagement patterns and alert if there is a churn risk.
Using a diverse signal field, as a business owner, you have a complete understanding of behaviour, leading to new insights and a deeper understanding of customer expectations.
Expedite Resolution
Uncovering your customers' needs in real-time helps you with a better understanding of their issues. It helps create a strategy to foresee similar issues and come up with a solution. To achieve that, incorporating signals like chat and messaging allows you to resolve issues as they happen. In addition to immediate resolution, incorporating robust customer data and AI-powered analysis provides richer insights to improve CX programs.
Driving Engagement
By engaging customers on their terms, you can increase their willingness to provide direct feedback by offering them various options to do so. Observing customer behaviour also helps in identifying their channel preferences. By narrowing down the channels, you get more time to receive and analyse signals and ultimately improve your CX.
Understand Customers – Even The Silent Ones
As a marketer, one thing you must remember. Those who give feedback and interact with you are important. Equally important are those who use your product or service but shy away when asked for their opinion. Most of the time, the silent ones are in the majority. Studies tell us that in a survey, only 18 per cent make the effort of getting their voice heard. As marketers, you should take the extra step to understand the signals from all customer demographics.
Faster Innovation
As much as it is essential to get an omnichannel strategy to receive customer signals, it is equally important to have an omnichannel strategy to resolve customer issues and address their pain points. Timely delivery of innovative solutions is important.
What Stops Enterprises from Using Signals?
Many enterprises fail to leverage timely, relevant experience signals because the input is not structured into usable datasets. When data exists in multiple, disparate systems and are not connected to relevant subjects. Many signals are ignored because they occur in operational and or third-party systems that are not tuned to accept or be empowered to act on CX data.
Where Do Marketers Begin Their Signal-Powered Journey?
An excellent way to identify and map experience signals is by selecting them from a broad and diverse range of sources. Once the signals have been collated, it's time to review the ecosystem and use the data to craft better CX strategies.
Marketers must follow these three steps to understand and utilise the power of experience signals.
Look at customer journeys and life cycles to uncover all engagement points.

Map out your current customer signals, including social media.

Determine signal opportunities sourced from products and digital systems data, IoT and API data from 3rd party systems, and external customer data.
Optimise Data Collection with AI and ML
Input data always comes in different formats from a range of sources. As a marketer, your CDP or ERP should analyse and present data in ways optimised for each CX stakeholder. AI and machine learning play an important role in analysing large data sets and providing intelligent recommendations for action.
Once the process of signal collection, analysis, and action recommendations becomes automated, you can focus on optimising each unique customer experience as a marketer. Adopting a world-class, scalable platform to collect signals is an excellent way to get started on your CX transforming journey.