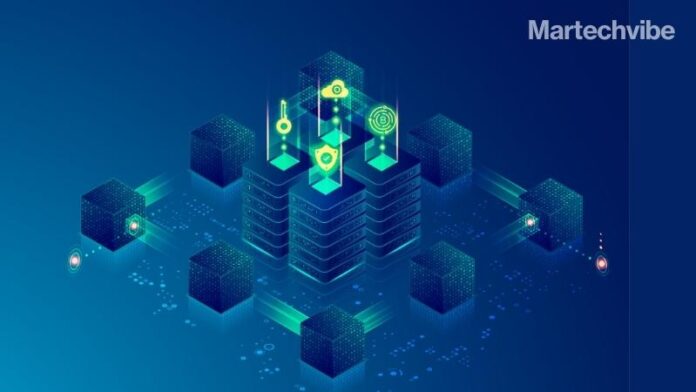 There is a lot to think about when building a MarTech stack. It's a crucial role that will automate manual tasks, inform decisions based on collected data, segment customers into cohorts so you can launch targeted campaigns and measure performance, so you know what's working and what's not. 
In addition to finding tools that help your organisation achieve its business objectives, it must also be usable for your team without the addition of more technical resources, offer interoperability between existing systems, be able to grow with your company and be affordable enough to justify the costs. 
Gartner extended its digital performance benchmarking methodology to understand how leading brands orchestrate their martech stacks and how these stacks contribute to business success. Brands were classified as either "Genius" (their digital competence is a point of competitive differentiation for these brands); "Gifted" (the brands are experimenting and innovating across the site, mobile and social platforms); "Average" (digital presence is functional yet predictable); "Challenged" (limited or inconsistent adoption of mobile and social media platforms); or "Feeble" (investment does not match opportunity). According to the Gartner report, only 18 per cent of brands have mastered their extensive martech stack to produce genius-level marketing performance. 
There are many factors to consider, and there are a lot of options to choose from. Scott Brinker's 2020 Marketing Technology Landscape listed 8000 solutions at last count. The MarTech Conference's Stackies Awards celebrate companies based on the conceptual organisation of their stack. There is a lot to learn from legacy companies that have mature stacks.  
Here's our pick of MarTech stacks for Enterprise Tech;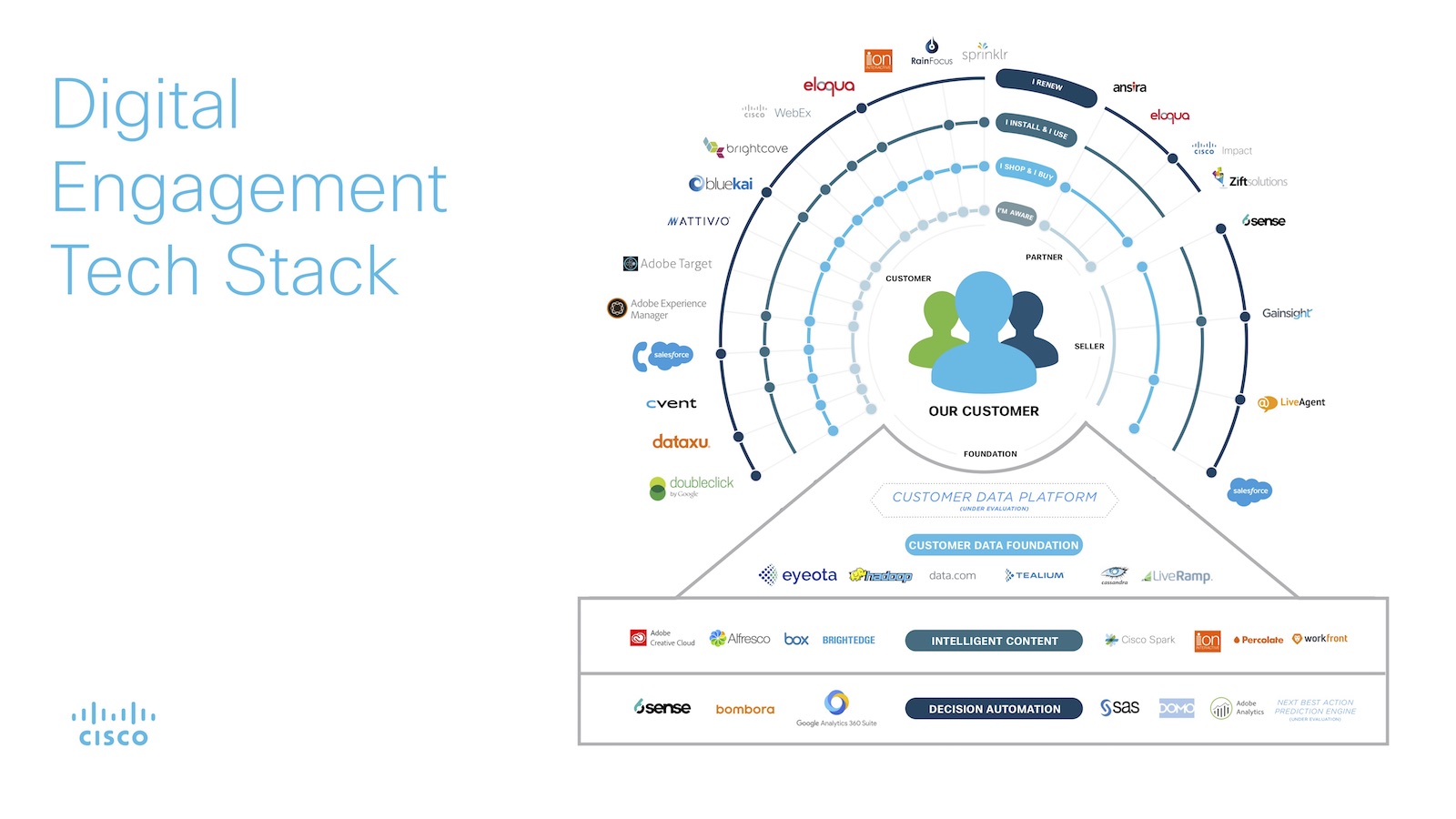 CISCO's customer-centric stack 
The first thing to notice is how the customer is at the centre of the stack. Representation is a consequence of company culture. The concentric rings place the customer at different stages of their buyer journey: I'm aware, I shop & buy, I install & I use, and I renew. Each martech solution is identified by the stages of that journey in which it operates — some focused on one specific stage, others providing continuity across all four as systems of record. It features 39 different marketing technology solutions, including components from three major marketing clouds — Adobe, Oracle, and Salesforce. It also features Cisco's marketing technologies such as WebEx, Impact, and Spark.
Adobe Target is the Adobe Experience Cloud solution that provides everything you need to tailor and personalise your customers' experiences. Target helps you maximise revenue on your web and mobile sites, apps, social media, and other digital channels. Auto-Target uses advanced machine learning to identify multiple high-performing marketer-defined experiences. Auto-Target then serves the most tailored experience to each visitor. Delivery is based on individual customer profiles and the behaviour of previous visitors with similar profiles. Auto-Target helps personalise content and drive conversions.
OneMob is a video engagement platform for Salesforce that allows reps to connect with buyers through personal video viewing experiences. It elevates cold outreach by enabling sales reps to send a more personal and engaging video message. These messages are delivered through OneMob's customisable landing page. The tool claims to improve email CTRs by 15X and responses rates by 10X. 
Domo is a cloud-based platform designed to provide direct, simplified, real-time access to business data for decision-makers across the company with minimal IT involvement. The tool integrates with multiple data sources, including spreadsheets, databases, social media and other cloud-based or on-premise software programs. The company works with clients like Nestle, ESPN, eBay, DHL, Randstad and many more. Its functionalities include data Integration, BI & Analytics, intelligent apps for new data experiences and embedded analytics to share data outside your organisation.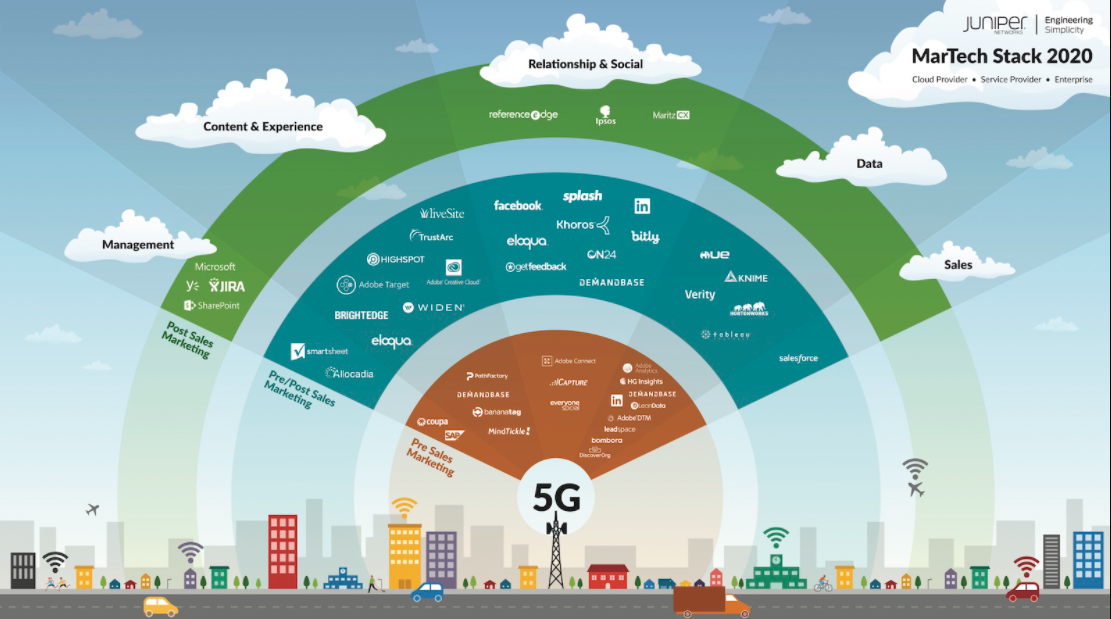 Juniper Networks aligns business and marketing goals 
Juniper Networks develops and markets networking products, including routers, switches, network management software, network security products, and software-defined networking technology. The company believes that 5G is part of the broader revolution that embraces cloud and AI technologies to drive a more robust and sustainable platform for service providers. This is reflected in the visuals as marketing and business objectives align. Their stack is divided into a spectrum of pre-sales marketing, pre- and post-sales marketing, and post-sales marketing. 
Also Read: The Simplest Ways to Think About Choosing Your MarTech Stack
Oracle Eloqua Marketing Automation offers campaign design, advanced lead scoring, real-time firmographic data, and integrated sales tools. It offers adaptive campaign orchestration, rich customer profiles based on specific attributes, interests and geography, contact fatigue data and closed-loop reporting of performance metrics. The platform leverages AI to scale efficiencies in selecting the right audiences, engage customers intelligently with relevant emails at the right time to deliver the best customer experiences possible.
TrustArc (formerly TRUSTe) is a privacy compliance technology company. The company promises to maximise data value by delivering deep privacy intelligence, coupled with a fully automated platform for end-to-end privacy management for customers. In addition, it's software and services to help corporations update their privacy management processes, so they comply with GDPR, CCPA, and other global privacy regulations.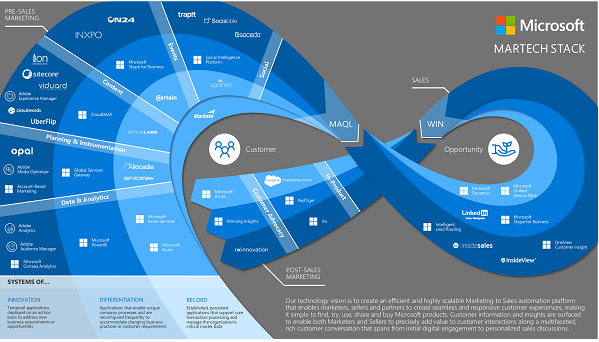 Microsoft's division of technology governance
Microsoft was a winner in 2017. Brinker particularly points out the tracks of technology governance — systems of record, systems of differentiation, and systems of innovation — that can be managed according to a pace-layered application strategy (Gartner). This is a great way to balance stability (systems of record) with agility (systems of differentiation and innovation).
Certain provides an enterprise event automation solution that helps both data-driven marketers and event professionals to bring events into cross-channel marketing campaigns, use rich attendee insights to improve sales and marketing results and deliver credible event ROI. In the last few years, the solution has expanded to include virtual, hybrid or in-person events. Past clients include Microsoft, Oracle, CA Technologies, and Disney. 
Also Read: Creating The Best CX Through Omnichannel Marketing
Vidyard is a video platform for businesses that helps organisations drive more revenue through online video. Going beyond video hosting and management, the solution allows companies to drive greater engagement in their video content, track the viewing activities of each viewer, and turn those views into action. Their client list includes Honeywell, McKesson, Lenovo, LinkedIn, Cision, Citibank, MongoDB, etc.