VMF 2021: Marketing Leaders Who Are Sharing Their Insights
Vibe Martech Fest is renowned for having world-class speakers and thought leaders who use technology to power marketing. Here's a look at some eminent personalities who are sharing their insights and knowledge on the market's current state.  Alastair Sherriffs Alastair Sherriffs started working in 2007 as an account manager and has worked with various organisations […]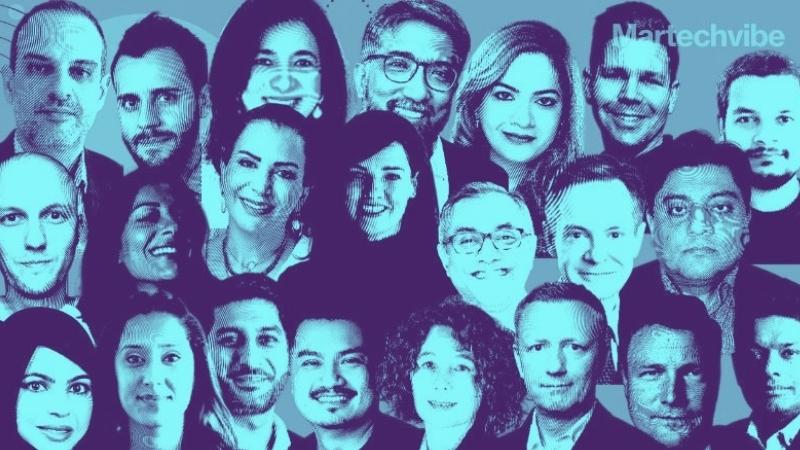 Vibe Martech Fest is renowned for having world-class speakers and thought leaders who use technology to power marketing. Here's a look at some eminent personalities who are sharing their insights and knowledge on the market's current state. 
Alastair Sherriffs started working in 2007 as an account manager and has worked with various organisations with varied responsibilities. Alastair has been working as a VP Marketing + Growth for Property Finder since 2019. As VP Growth at Property Finder, Alastair is in his second stint with the business. Alastair has over 14-years of experience and has worked with multiple organisations, serving on both agency and client-commissioned roles. 
Balaji Viswanath is the Head-Digital Acquisition at Standard Chartered Bank. Viswanath comes with more than 20 years of experience in Financial Services, the Internet, and the Wireless space. He is commissioned to drive Digital Sales and Marketing initiatives across nine markets in the AME region.
Banali has been with RAKBANK for the past fourteen years. She pursued her Master's in Marketing from the Times School of Marketing. Banali is responsible for growing brand dominance and driving advanced marketing strategies. She has rolled out various campaigns and products that led the bank to earn several international awards, such as the Summit International Creative Awards and Advertising Campaign of the Year award by the Asian Banker.
Daniel Gomez is Chief Digital Officer (CDO) at AlMalki Group. He comes with solid marketing, finance, communications, procurement, E-commerce, Omni-channel retail, supply chain, operations and strategy. He holds a degree from Stanford University Graduate School of Business.
Devam Saxena is a Group CRM Lead at M. H. Alshaya Co. Saxena is a seasoned Retention professional with more than seven years of experience in Digital Marketing, Customer Relationship and Experience Management. He holds a diploma in Management and Business Administration from the Indian Institute of Management, Calcutta.
Firdaus Shariff is VP of Marketing at Schneider Electric, Middle East and Africa and is responsible for the strategy and development of marketing functions, including brand reputation, demand generation, digital customer engagement and experience. She has over 17 years of experience in increasing market share, brand visibility and driving a digital-first mindset. She has spent eight years in marketing at Cisco and a further nine years at SAP. Firdaus holds a B.Tech in Software Engineering degree from the University of British Columbia in Canada.
Guil Rodrigues is a CX and Design lead at Payit. Rodrigues likes to craft extraordinary experiences for the digital world. He has more than 17 years of experience in a digital agency and customer experience. As a CX head at Payit he works closely with users, creating customer journeys, prototypes, doing remote testing. He also supports the business team on what features the team needs to focus on, considering their customer at the centre.
Marwa Kaabour is the Head of Marketing and Corporate Communication, Al Masaood, Abu Dhabi. Marwa is an expert who has led marketing and communication functions. She has 20 years of experience across various fields, like strategic management, personal branding, media relations, creative messaging, brand management, and growth marketing. She holds an MBA degree and Bachelor of Science in Management Information Systems (with honours) from the American University of Sharjah.
Shyam Sunder is a Strategic Marketing & Communications Leader. Sunder has over 25 years of marketing and communications experience across Retail, FMCG, Banking and Real Estate sectors specialising in 360 Omnichannel Brand Management & Communications, including Brand Strategy, Positioning, Branding & Identity, Creative & Content management, Digital & Social media Marketing, ATL, BTL, Loyalty, Data Analytics and CRM across platforms and formats. 
Jesper Broberg is a VP of Sitecore MEA. Broberg comes with more than 20 years of experience in the IT industry, working in Business Development across Sales, Pre-Sales, Partner/Account Management and Project Management. He has completed his education from Aarhus Business College.
Louise Blake is a VP of Data at Seera Group. She comes with 15 years of experience in the data and analytics field. Blake is a keynote speaker at Data, Marketing and Travel conferences such as AWS Summit, Skift Conferences, Dubai Smart Data Summit, Arabian Travel Market (Dubai), Travel Tech (Amsterdam), DataCon (Cairo), STEP Conference (Dubai), Tableau Conference (Dubai and London), plus regular panellist at digital meetups. She holds a BSc degree in Social Science from Southampton University. 
Roy Hutchinson is a Chief Marketing Officer at Deem Finance. Hutchinson is a forward-thinking senior retail banking and product marketing executive with more than 30 years' achievement at the helm of banking, credit/debit card, and investment product development efforts for leading global financial institutions. 
Simon Lancaster is one of the world's leading speechwriters. Lancaster writes speeches for the CEOs of some of the biggest companies in the world, including HSBC, Intercontinental Hotels, and Unilever. He has a Masters Degree in Mass Communications is an Executive Fellow of Henley Business School and Southampton Business School. He lectures on communication at Cass Business School, Cambridge University, and Gresham College.
Sonia Lekhal is a CMO at Talabat and has more than 20 years' marketing expertise in e-commerce, digital marketing, and digital transformation and in building marketing teams and developing digital talent. Sonia is a graduate of the French school of management ESSEC and holds an MBA from NYU Stern School of Business. She has been living and working in Dubai for the past eight years, with previous professional experiences in France, Portugal, and the UK.
Steve Lok is Director, Global Customer Data Strategy at MightyHive. Steve has received various commendations for his enablement of intelligent use of data in marketing acquisition and in helping his team execute their visions of the future. He is a regular speaker and teacher on the subject of Agile project management. He often speaks about how the confluence of tech, data, agile, and marketing is now real – and provable.
Kashif Siddiqui is a Customer Experience Solutions Expert at SAP Customer Experience. Siddiqui has over 18 years of professional experience in CRM-specific Business Development, Sales, Presales, Consulting, and Implementation.
Perihan is Head of Marketing in the Middle East for Viu. She's responsible for devising and implementing strategic marketing and communication plans to drive the service's branding, awareness, user acquisition, and retention. Perihan holds an MBA from MIT Sloan School of Management and a BBA from the American University in Cairo.
Haitham Elkhatib is Divisional Vice President of Sprinklr Middle East & Africa. Haitham is an experienced regional leader with a passion for building high-performing SAAS platform teams that earn the right to be trusted advisors to their customers and partners; in all matters about Customer Experience and insight-driven engagement. 
Vimal Badiani is a Vice President at Merkle. He has been responsible for building a presence in the MENA region and maintaining a solid relationship with key clients by positioning Merkle as a critical strategic partner. Recently, he's moved into the role of Head of MENA for Merkle, taking the CRM and Analytics service lines under his wing.
Nada Khan works as a Regional Marketing Director at Meti Nutanix and has more than ten years of experience working and consulting for B2B Marketers throughout her career. She started her sales career and continued to master social selling at the leading B2B platform, LinkedIn, for over seven years. Her experience in sales has acted as an asset for her in the marketing realm.
Taghrid Fawzi Alsaeed is the Head of Media Intelligence & Innovation Group Comm, Mubadala. Taghrid Alsaeed who joined as a special project manager in 2011 has overseen several projects over the years. In 2015, she was appointed as SVP of special projects where she took the lead on multiple projects such as communications advisor to Cognit, JV of IBM and Mubadala, Executive Director of Special Olympics World Games in Abu Dhabi and project director under the Executive Office of Abu Dhabi Government.
Presenting cutting edge MarTech solutions with a practical approach, Vibe Martech Fest (VMF) is presented by Sprinklr and hosted by Martechvibe – the region's only and world's fastest-growing MarTech media brand. The other key event partners are Tealium, Sitecore, OneTrust – PreferenceChoice, SAP, and Merkle. The media partners are EnterpriseTalk, Talk CMO, and ITSecurityWire.