Martechvibe's Weekly News Round-Up
In case you missed it, here's a look at the top headlines in the marketing and technology landscape. The news selected presents a snapshot of the evolving consumer terrain, how technology is being optimised to solve growing marketer challenges and significant drivers of customer experience trends.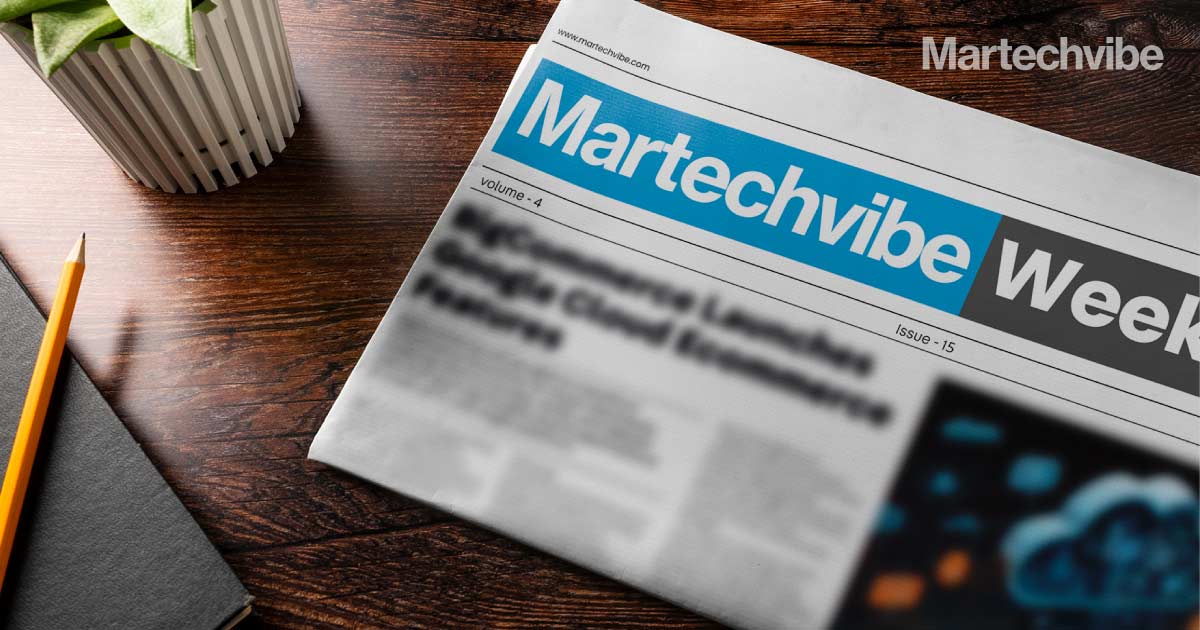 Sprinklr Introduces Sprinklr AI+ v. 18.8
Sprinklr, a unified customer experience management platform for modern enterprises, has launched version 18.8 of its Sprinklr AI+ platform. With the release of 18.8, the Sprinklr AI+ platform now integrates with Google Cloud's Vertex AI and OpenAI's GPT models. Sprinklr AI+ gives unified generative AI capabilities for customer service, insights, social media management, and marketing. Release 18.8 introduces more than 700 new features and enhancements across the four Sprinklr product suites: Sprinklr Service Sprinklr Insights, Sprinklr Marketing, and Sprinklr Social.
Read more here.
Oracle Introduces AI to Fusion Cloud CX
Oracle introduced several artificial intelligence and generative AI-powered capabilities, supported by the Oracle Cloud Infrastructure (OCI) generative AI service, within its Fusion Cloud Customer Experience (CX) platform for marketing, sales, and customer service teams. The new generative AI capabilities will help transform customer service agent and service stakeholder productivity by streamlining processes and automating content generation within a single integrated solution.
Read more here.
Salesforce Announces The New Einstein 1 Platform
Salesforce has announced the Einstein 1 Platform, which features major advancements for Salesforce Data Cloud and Einstein AI capabilities, all built on Salesforce's underlying metadata framework. With the new Data Cloud now natively integrated with the Einstein 1 Platform, companies can unlock siloed data in entirely new ways; create rich, unified customer profiles; and deliver entirely new CRM experiences. Salesforce also announced that every customer with Enterprise Edition or above can now get started with Data Cloud at no cost.
Read more here.
InMoment and Contentsquare Partner
InMoment has partnered with Contentsquare to help businesses visualise customer experiences and digital behaviours. InMoment's Experience Improvement (XI) Platform gathers data signals and uses artificial intelligence for richer analytics. The collaboration gives customer experience teams and marketers an in-depth look at the behaviour and in-page experience for website and mobile app visitors. Using Contentsquare's digital experience analytics tools and Session Replay helps teams pinpoint specific experiences that cause customer difficulty.
Read more here.
DoubleVerify Launches Solution to Prevent MFA Content
DoubleVerify has expanded its brand safety and suitability solution to enable advertisers to monitor and avoid made-for-advertising (MFA) sites. DoubleVerify developed its proprietary MFA analysis process based on a unique blend of human and artificial intelligence-based auditing. With this release, the solution can be enabled in the company's brand safety and suitability profiles for measurement and monitoring and in DV Authentic Brand Suitability for pre-bid avoidance.
Read more here.