Oracle Introduces AI to Fusion Cloud CX
The latest AI capabilities liberate marketers, sellers, and service agents from time-consuming manual tasks by unlocking relevant content, recommendations, and insights with automation and conversational interfaces.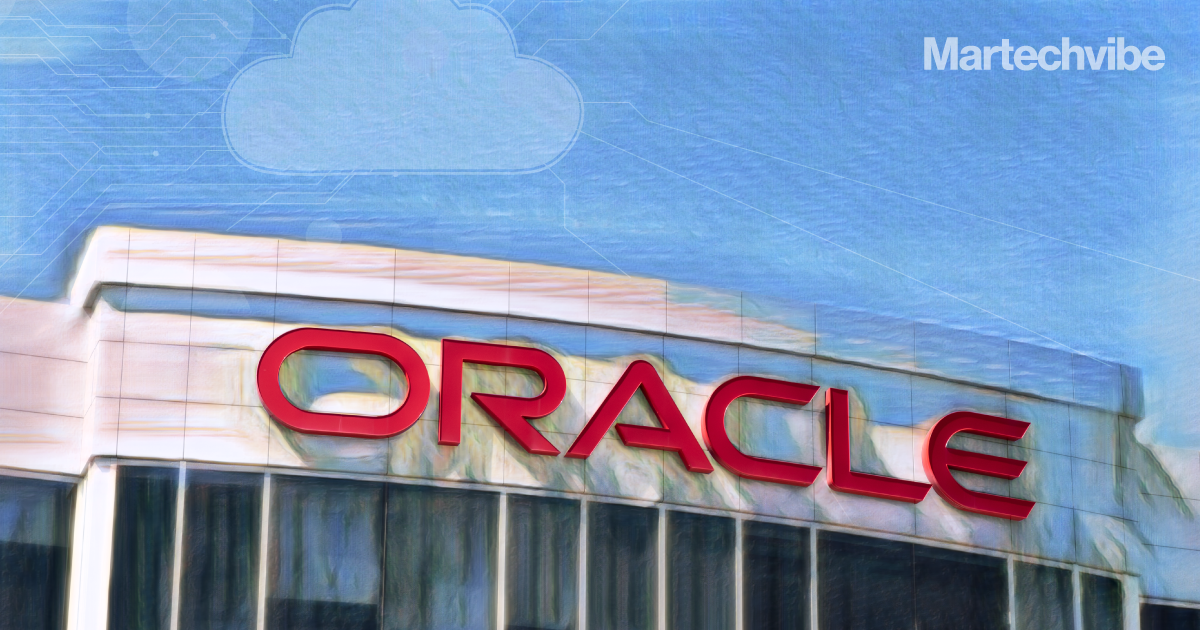 Oracle introduced several artificial intelligence and generative AI-powered capabilities, supported by the Oracle Cloud Infrastructure (OCI) generative AI service, within its Fusion Cloud Customer Experience (CX) platform for marketing, sales, and customer service teams.
The latest AI capabilities liberate marketers, sellers, and service agents from time-consuming manual tasks by unlocking relevant content, recommendations, and insights with automation and conversational interfaces.
The new generative AI capabilities in Oracle Fusion Cloud Service will help transform customer service agent and service stakeholder productivity by streamlining processes and automating content generation within a single integrated solution. Part of Oracle Fusion Cloud Service, these embedded generative AI capabilities include the following:
Assisted Agent Responses, which helps author responses to service requests using the history of the service interaction to draft an initial response that can be reviewed and edited before sending.

Assisted Knowledge Articles, which assists in the development of articles for emerging service issues.

Search Augmentation, which enables service agents and end-customers to gain quick access to answers by integrating short-form responses to questions in search and chat. The new generative AI capabilities will augment results in the search bar and draft responses to questions in Oracle Digital Assistant.

Customer Engagement Summaries, which incorporate the history of communications with the customer and with internal staff to summarise the problem, the steps undertaken so far, and next action recommendations.

Assisted Guidance Authoring, which helps product and service experts create and update questions that guide service agents through a defined set of triage and troubleshooting steps.

Field Service Recommendations, which can provide quick access to instructional content in the field and suggest contextually relevant content from trusted troubleshooting source material
"To create outstanding customer experiences, CX professionals and the customers they engage with need quick access to accurate information," said Rob Tarkoff, executive vice president and general manager of Oracle Cloud CX. "With the ability to summarise, author, and recommend content, generative AI has the potential to significantly enhance customer service engagements. The new capabilities in Oracle Cloud CX will help organisations resolve customer service issues quicker and more efficiently by increasing service agent and field technician productivity, optimising self-service, and automating traditional tasks that are manual and time-consuming."
Another addition to the Oracle Fusion Cloud CX platform is Guided Campaigns, a marketing capability to accelerate revenue by eliminating time-consuming coordination and delivering conversation-ready opportunities to sellers. Built on Oracle Fusion Cloud Marketing, Guided Campaigns walks marketers through a step-by-step process to launch personalised, brand-approved campaigns that automatically qualify leads and deliver them directly to sellers as conversion-ready opportunities. It leverages segments from Oracle Unity Customer Data Platform to identify the next best contact and buying groups within a master account. Guided Campaigns also connects directly with Oracle Fusion Cloud Sales, a sales automation application that identifies high-quality sales opportunities and guides sellers to close deals faster.
Guided Campaigns supports common marketing tactics that include the following:
Targeted Account Selling, which enables marketers to generate and deliver conversation-ready opportunities directly to sales by automatically recommending content that is aligned with a target account profile and providing step-by-step guidance on how to build the campaign.

Simple Campaigns, which provides step-by-step guidance to help users create and send brand-approved email promoting specific offers, services, or messages.

Multi-Step Nurturing, which enables marketers to build and launch more sophisticated multi-step campaigns with step-by-step guidance on how to nurture leads over a longer period of time.

Event Promotion, which provides step-by-step guidance to create effective event marketing campaigns that drive signups and attendance.
"Organisations are increasingly marketing and selling more to existing customers to grow revenue, and many are being confronted with the inefficiencies and challenges that come from the misalignment of marketing and sales," Tarkoff said. "Instead of navigating multiple layers of processes, terminology, KPIs, and point solutions, marketing and sales teams need to unify around one common metric: revenue. Guided Campaigns serves this goal by automating the collaboration between marketing and sales teams, with intelligent machine learning technologies that help focus on high-quality content and targets to increase the overall effectiveness of B2B marketing."
For sellers, Oracle launched AI-Powered Account Linking, which provides full visibility into accounts to reduce renewal time, expand upsell opportunities, and accelerate deal close. Part of Oracle Fusion Cloud Sales, the new capabilities automatically detect and connect relevant account records in Oracle Fusion Cloud ERP to provide sellers with actionable insights. For example, sellers can be alerted when subscription services are nearing threshold limits to enable effective up-sell and re-sell conversations.
Also new for sellers is Intelligent Sales Orchestration, for automating processes and providing AI-generated insights and recommendations. Part of Oracle Fusion Cloud Sales, the new capabilities provide step-by-step guidance for complex sales scenarios and automatically log activity with clean and enriched data.
And finally, Advanced Field Asset Monitoring increases field service productivity by improving access to relevant information of all managed assets. Oracle Field Service, part of Oracle Fusion Cloud Service, provides improved field service technicians' new mobile capabilities to improve access to critical service and repair information, including asset details, work-order history, asset notes, warranties, and subscriptions, on any device.
"Many organisations today are seeking ways to automate disconnected manual processes and drive efficiencies as they realise new customer and revenue opportunities are being left on the table," said Paul Greenberg, managing principal of The 56 Group, in a statement. 
"The latest AI updates to Oracle Cloud CX, are thoughtful and intelligent additions to the already strong portfolio. They are geared to automating age-old processes that take too much time and human energy. This will more than likely positively impact employee experiences, customer outcomes, and the bottom line."