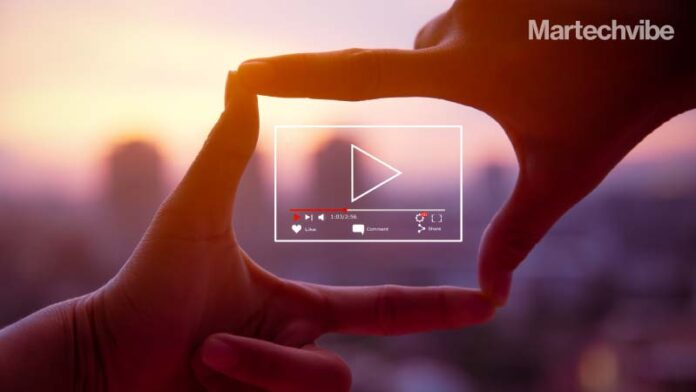 Over recent years, there has been increasing focus on the use of video in just about every marketing context. And as it would seem, all the events and shifts in the market that have occurred ever since have only played into the success of the audio visual format. 
Take the coronavirus pandemic as a prime example. Lockdown restrictions and stay at home orders across the globe have catalysed our consumption of video content. For anyone sceptical of this statement, just take the sweeping influx of TikTok users, and consequently, development of Reels, Livestream services IGTV and Stories features across social media platforms. 
Also Read: Shift your eyes off Google for PPC success​
These video-based formats often provide a more entertaining and engaging way to consume content. And at a time when we have been looking for just about any way to fill gaps while stuck at home, videos have offered moments of escapism and connectivity, despite people never being so physically far apart. 
The video content we have consumed has varied from DIY tutorials for making face masks or home renovation projects, through to product reviews and demonstrations for items we would typically like to see in person and in store. 
And although restrictions are beginning to ease and these in store experiences can resume, many consumers will have adjusted to the new way of doing things, particularly with regards to online shopping and decision making. 
Therefore, no longer is it enough to simply enable the purchasing of your products through an online channel. Rather, brands need to be supporting every step of the customer journey through their digital offerings, including the awareness, research and post-purchase service stages. 
And thanks to the continued development of online advertising tools, this is now more viable than ever. For example, the social media features mentioned previously can all be used for advertising purposes too. Whether it's enticing brand videos posted to your own feed, or promoted via each platform's advertising network, or even an influencer partnership, whereby a famous face shows your product in action, there are countless ways to get word of your product out there with video.
Similarly, YouTube ads have long been praised for being a cost-effective way to earn greater digital reach through better engagement and creativity. As the second largest search engine in the world in terms of number of searches, it's easy to understand why video advertising on the platform is so beneficial. 
But while it might be one of the largest, YouTube certainly isn't the only worthwhile search engine to be advertising on. In more recent times, the sophistication of other search engines, including Google and Bing, have created a strong case for businesses to include video consideration in their SEM strategies too. For example, we're probably all familiar with the increasing favourability and better integration of YouTube videos displaying on results pages. And although this is separate to PPC advertising, it does require considerable effort in terms of SEO in order for videos to rank. 
Also Read:  Have You Tried Video Marketing?
However, more recently, and we suspect moving forward, there is room for the use of video in these traditional PPC search advertising platforms too. In fact, Bing is currently rolling out a video extension feature to its ad accounts, allowing advertisers to include a 6 – 120 second clip in their search ads. On desktop, a thumbnail for the video will be shown to the right of the copy, which when clicked, the video plays in an overlaying window. On mobile, the video simply plays in the frame with ad copy still visible below. 
As well as helping to secure greater real estate space on the results page, these videos make ads more engaging and can even enable businesses to provide more information about the brand, product or service beyond what is permitted in the copy. 
Therefore, for businesses looking to implement a strong video strategy, Bing can help you maximise the return on investment required to produce such pieces of content. As well as making use of video to improve PPC efforts, the search engine definitely appears to prioritise the format more than other platforms do. Just a quick search for big name brands, such as ASOS and Sainsbury's, will show you just how easily the search engine integrates branded and user generated video content, when compared to the likes of Google. 
Again, with videos that are appropriately optimised, there is great potential to increase the space taken up on the all important first page of results. As well as this, you can provide searchers in the awareness and research stages with greater information and a better brand experience through content in a more engaging format to increase the chances of a conversion. 
In terms of PPC advertising, the use of video is at no greater expense to the business. Video clicks are charged at the same rate as call to actions or website click throughs, and like in the traditional form, only the initial click incurs a cost. Therefore, users can click to watch the video, and then press the button to call, enquire or visit your website, and despite having spent more time immersing themselves in your brand, there will be no additional price to pay. 
Undeniably, video advertising is becoming increasingly intelligent, providing businesses with much more opportunity to showcase their products in an engaging way, which can help break through the white noise of the saturated online marketplace. But interestingly, I believe this is only the beginning of what is possible with the format, particularly when it comes to PPC in search. 
As the retail world recovers from the disruption of the pandemic, and businesses really begin to home in their strategies to accommodate users' new found preferences in the age of post-lockdown, the creative use of video will become an ever-growing key tactic in advertising.