VMF 2021: B2B Marketers' Playbook in The Post Pandemic Era
One of the highlights of Vibe Martech Fest was an insightful panel discussion on B2B marketing. The panellists were Firdaus Shariff, VP, Marketing, Communications & Digital CX- MEA, Schneider Electric. Joining her was Nada Khan, Regional Marketing Director – METI, Nutanix. Moderating the panel was Ravi Raman, Publisher, Martechvibe. Excerpt from the panel discussion.  The […]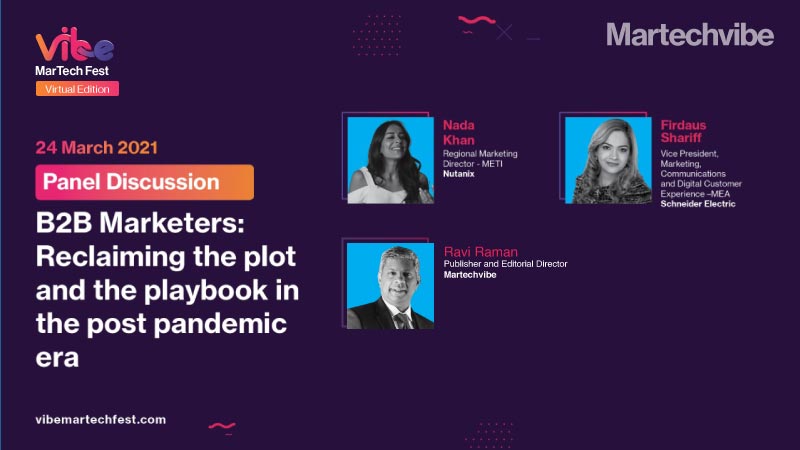 One of the highlights of Vibe Martech Fest was an insightful panel discussion on B2B marketing. The panellists were Firdaus Shariff, VP, Marketing, Communications & Digital CX- MEA, Schneider Electric. Joining her was Nada Khan, Regional Marketing Director – METI, Nutanix. Moderating the panel was Ravi Raman, Publisher, Martechvibe.
Excerpt from the panel discussion. 
The lines between B2B and B2C marketing are blurring. How has COVID-19 redefined your view on marketing? 
Firdaus Shariff: For me, B2B and B2C are terminologies. I think they have been created to try and cater to two very different types of businesses. In my view, we buy from people and brands that we trust.  In the backdrop of the pandemic, people today need to trust an organisation. What the brand does, how it functions, everything becomes relevant to me, as I am ultimately choosing a trusted partner. Customers want their brand to be knowledgeable.
Today, a brand's responsibility towards society cannot be ignored. Having a stance towards issues that cover us all is important. Organisations today need to give their employees something to look forward to and feel good about. This will be the way businesses function for the foreseeable future. 
Nada Khan: The B2B and B2C industries are vastly different. B2C might have been ahead during the pandemic since B2B does not have a large marketing mix, and there is heavy reliance on in-person events. One of the positive outcomes has been that B2B allows marketers is it allows them to look at different channels. Those who are on the cusp of adapting to any technology have fully embraced it. Balancing both B2B and B2C has always been a challenge that all marketers faced. I enjoy moving to the virtual world because you get to be at multiple locations simultaneously, which would not have been possible physically. I think this process is very dynamic and a great learning experience for all. On the other hand, Hybrid is a great experience, but it hasn't been implemented well.   
Ravi Raman: How do you balance between short-term and long-term results? Especially B2B marketers where the selling cycle is long-drawn. How do you balance brand building and sales?
Nada Khan: Balancing brand building and sales is not an easy task. This has become all the more difficult during the pandemic. The priorities as we know have shifted. There is an increased focus on cost-saving. Marketers are thoroughly examining expenditure and trying their best to control it. Marketers generally prioritise the process of demand generation, hoping that the brand building will be a complementary development. Demand generation has always been a priority for most business owners. 
Firdaus Shariff: You look at a brand through demand. A superior brand experience can come through better demand generation. Shifting focus from our priorities will not yield the desired results. The demands of the industry last year were different, and this needs to change over time. We need to have the agility to understand what the customer wants. Brands, too, are run by humans. When the pandemic struck, marketers could not generate demand. Marketers have to be considerate.
They have to be empathic and sensitive to our communities and help them grow. Sales or demand generation will automatically follow. Brands should maintain and humanise their outlook. You don't want to come across as inconsiderate to your customers. 
Also Read: Life after customer acquisition – CRM & Marketing Automation.
Ravi Raman: As a B2B marketer, how do you approach CX?
Firdaus Shariff: CX demands relevance and consistency. Marketers have to be attentive to the customer's demands, their concerns. They have to be nurtured during the course of the buying cycle. Anticipating their requirements and providing them with the right solutions at the right time can elevate CX. Brands do not want to do anything that will be discomfort for their customers.
As a vendor, you have to do the right things at the right time. We need to understand customer behaviour. A lot of predictive analysis and data exists that can help predict customer behaviour. Using all tools to stay relevant to their needs and emotions can help drive a better CX. Understanding the customer's requirements throughout their sales journey is important. That one customer becomes the centre of attention for the business at that time.

Nada Khan: We need to engage with customers at all times and not just during the transaction. Customers need to be given time. Our campaigns should help us learn more about customer behaviour, what they need. Communication needs to be personalised. When this is done with a touch of empathy and a feeling of personal connection, the overall customer experience is elevated. Standardised communication or a 'one size fits all approach won't work.
Ravi Raman: Can B2B be social too? How effective has content marketing been for you?
Nada Khan: Social media is definitely an important tool for marketers. Most marketers have embraced content marketing, but it is not easy. It requires us to understand a customer's journey, their situation and anticipate their content needs. We have also seen some new, innovative solutions coming up. Whether it is podcasts, live streaming or tailored content, it helps drive better sales. Aspects that were previously considered beyond the scope of social media have taken centre stage. The continuous requirement is innovation. 
Firdaus Shariff: Content is the most important aspect of achieving better sales. We need to know why a customer will make a purchase. How well we drive relevant content towards our customers and stay relevant is the deciding factor irrespective of B2B or B2C profiles. How we speak to the customer and how well we communicate to them make a difference during the buying process. This is true for B2B as well as B2C markets. The channel becomes a vital basis depending on the content that is served to customers.
Ravi Raman: Share a campaign that you launched that had a huge impact. 
Firdaus Shariff: The way we drive our sustainability and help communities by having conversations that affect us all makes us more empathetic towards our consumers. Our conversations get anchored to the message. These communications and solutions to encourage sustainability really make a difference. The bottom line is clear; sustainability and efficiency is the last word. When we look at what we do and how we do it, it eventually decides what we are leaving behind for our future. 
Nada Khan: A lot of trial and error made it easier for us to communicate with our customers. We were trying to find out what actually works. During the pandemic, we helped customers with learning programmes and helped them increase their skill set. Our communication with our customers during the initial few months of the pandemic helped us associate ourselves with a topic rather than introduce it and alienate it.
Instead of selling something outright, we got associated with the message. That made our selling relatively subtle. When we communicate who we are, what we do, and how we help the community, it automatically helps us drive a better relationship with our customers.
Ravi Raman: What has the pandemic taught you professionally, as well as personally?
Nada Khan: Managing through change. The transformation was the biggest professional learning for me last year. There were multiple issues, and coordination was big among them. Understanding my team, my customers, solving differences helped me. Helping people, although resistant, was a huge learning experience for me. Personally, the fact that we are here today, despite so much that has happened globally, is a life-changing experience. I've learnt to be grateful for all that I have. 
Firdaus Shariff: The pandemic allowed me to prioritise what's important to me. Learning to adapt to what matters most, especially when I am not in control of the situation, was a huge learning experience. Management of time and getting things done was something of a challenge that I learnt. Resilience, agility, empathy and self-realisation were my key takeaways from the pandemic. As humans and as leaders, we need to demonstrate a strong mindset that is not afraid to face challenges.  
Presenting cutting edge MarTech solutions with a practical approach, Vibe Martech Fest (VMF) is presented by Sprinklr and hosted by Martechvibe – the region's only and world's fastest-growing MarTech media brand. The other key event partners are Tealium, Sitecore, OneTrust – PreferenceChoice, SAP, and Merkle. The media partners are EnterpriseTalk, Talk CMO, and ITSecurityWire.
Written By: Khushbu Raval, Chandni U, Soumyadeep Roy
Edited By: Soumyadeep Roy