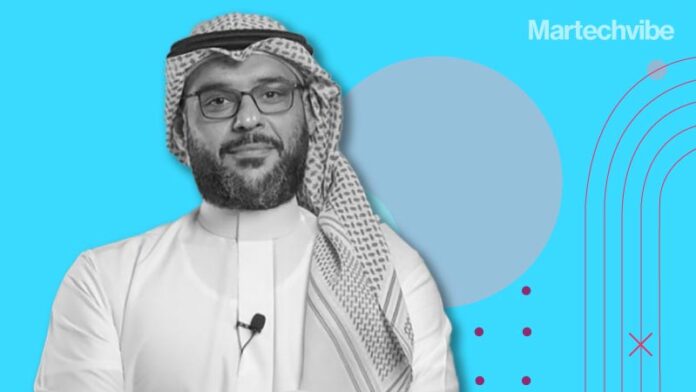 Destination marketing expert Waleed Al-Toukhi says  technology-driven strategies can  boost the travel and hospitality industry
"Metaverse travel and tourism solutions can significantly improve booking procedures by giving essential information that other methods cannot communicate appropriately. It will increase the likelihood that a consumer will complete the booking rather than cancel it," said Waleed Al-Toukhi, Executive Director of Sales and Marketing, Abdullah Al Othaim Investment Company.
With over 15 years of experience developing and executing business and marketing strategies, Waleed talks about KSA's digital transformation and how different technology trends, including the metaverse, can impact the tourism and hospitality industries. He urges companies to strive for a data-driven personalisation strategy that can deliver a fantastic customer experience (CX).
Excerpts from the interview
What significant changes did the tourism industry undergo in the last two years? How have customer expectations changed?
Tourism has grown steadily over the last few decades, becoming one of the world's fastest expanding economic sectors. International visitor arrivals increased by 59 per cent during the decade, from 880 million in 2009 to 1.5 billion in 2019.
However, the rise has been interrupted in the last two years because of the pandemic. Countries implemented travel restrictions to curb the spread of the coronavirus. Restoring tourism will necessitate actions to ensure that people feel comfortable when travelling. The World Travel & Tourist Council (WTTC) awards global safety and hygiene stamps to nations that demonstrate their commitment to reopening their tourism industry.
CX has evolved into a significant distinction in the travel industry. Putting the consumer first has become a must for sustaining and growing a successful tourism company. However, it is not as straightforward as it appears. The customers are concerned about their safety now more than ever.
The travel ecosystem is related to policymakers relaxing restrictions, businesses establishing travel rules for their staff, and scientists developing vaccinations and therapies. Consumers closely monitor each of these variables, but they are also eager to return to travel – some even more so than last year. However, travel may increase as people adjust to a new reality of paramount health and safety.
What tech trends do you see gaining prominence in the hospitality industry as the economy opens up?
The hospitality industry is constantly searching for new and innovative methods to attract customers and make their stay as memorable as possible. One way to do this is by capitalising on current trends. However, trends are constantly changing, and keeping on top of your guests' expectations may be challenging.
Check-In through Facial Recognition: Checking in is a specific event in the industry. Computers have made the process faster, but for the most part, it hasn't altered much since before the internet. However, things are beginning to change. The check-in procedure is made easier for visitors by using face recognition technology.
Virtual Reality Tours: Hotels are taking advantage of what technology can now accomplish by providing virtual reality tours. The Shangri-La hotel is an excellent example. It features virtual reality tours of the premises and nearby attractions.
Augmented reality (AR): Compared with virtual reality (VR), AR enriches the real-world environment in real-time rather than replacing it with a wholly virtual one.
In recent years, AR has evolved as an essential idea in hospitality management. It enables hotels and other associated enterprises to improve the physical environment they are selling or the experience of exploring the surrounding region.
Chatbots: An intelligent chatbot will answer the most frequent inquiries without human assistance. Therefore, it is a technology guaranteed to gain prominence in the upcoming years.
How do you use data to offer personalised experiences to travellers?
Successful data is the foundation for good personalisation. However, where can one get the most reliable information? How should they put it to use? Travel businesses are drowning in data, but obtaining the correct data for personalisation is tricky.
To be successful at personalisation, you'll need a combination of first-party data and third-party data. Once travel firms have gathered the necessary data, the next step is to choose and apply the appropriate technological solutions to provide tailored experiences throughout the client journey.
Personalisation is significantly more challenging to offer throughout the client experience and its touchpoints without this comprehensive picture across diverse internal systems and databases. So you need to have a clear image of all the processes to provide customers with a fantastic experience.
Providing a personalised experience also entails providing a connected experience, understanding what clients have been doing in other areas of the hotel, and exchanging information across various hotel departments. This allows hotel employees to know their guests' demands.
However, to create personalised experiences to the next level, hotels must ensure that data is used to its most significant potential. That includes obtaining it as soon as feasible and sharing it across all hotel locations.
How can the metaverse enhance sales and marketing for the entertainment and the tourism industry?
The metaverse goes beyond traditional advertising towards creating brand experiences that are more engaging, thrilling, and less intrusive than those currently available through digital advertising. It gives marketers in the entertainment and tourism industry an upper hand.
Metaverse travel and tourism solutions can significantly improve booking procedures by giving essential information that other methods cannot communicate appropriately. It will increase the likelihood that a consumer will complete the booking rather than cancel it.
Hotels, for example, may utilise virtual reality tours or digital avatars to allow guests to walk around a realistic replica of their property, gaining a feel of how big rooms are and what amenities are available.
One significant advantage of metaverse tourism is that it may serve as an inspiration for travellers. With virtual reality experiences, potential visitors may learn more about the place they're interested in or how long it will take to get there.
How is the digital transformation changing the way global travellers view KSA as a destination?
The digital revolution in Saudi Arabia is being accelerated due to the country's solid digital infrastructure. This framework has allowed the Kingdom to meet the needs of its citizens and its businesses, schools, and government agencies. The Kingdom's comprehensive digital infrastructure has earned it a spot among the world's top ten most developed nations.
The government has developed due to global technological advancements. Digital techniques have taken the place of the old ones, and many plans have been made to pace up digitalisation, which is why travellers now view KSA as a destination.
A vital component of Saudi Vision 2030 strategy is developing services in entertainment, leisure, and tourism.
Government and commercial businesses in Saudi Arabia are quickly adopting digital infrastructure to cope with various issues. Many private companies invest in big data and analytics, robotic process automation; artificial intelligence; and machine learning. This digital revolution is undoubtedly going to impact their tourism industry as well.
The country with the most up-to-date technology will provide more facilities to tourists than the country with outdated technology. So, with the rise in digital transformation, travellers' view of KSA is changing as a global destination.
If you liked reading this, you might like our other stories
Checking In: A New Chapter In Hospitality 
API Is The Magic Bullet To Be Digital-Ready