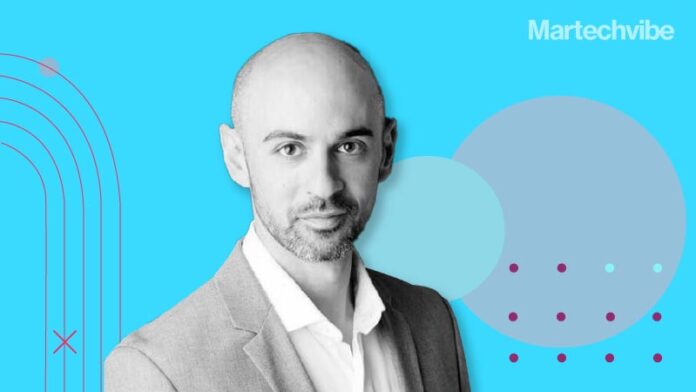 Microsoft brought a taste of what the future of mixed reality will look like to GITEX Global 2022, as the region's premier technology exhibition got underway at Dubai World Trade Centre.
Martechvibe spoke with Waseem Hashem, Go-To-Market Lead at Microsoft UAE, about the kinds of features at AI Everything to explain the existing trends driving culture changes across the region in preparation for low code, no code and the integration of smart solutions.
"It is here at GITEX that we predict and project; it is here that we showcase the new product, service or opportunity. Microsoft has been the UAE's partner on this journey for more than three decades, and our involvement in GITEX Global 2022 will be our biggest presence as we look ahead towards a digitally connected future," says Hashem.
Excerpts from the interview;
As a key partner of GITEX for many years, what are Microsoft's primary business objectives for this year's participation?
The UAE has always been a leader in the region for adopting new technologies to solve customer problems in businesses and society. And GITEX is the largest technical forum that speaks to that spirit.
As Microsoft, we have been partners with the UAE for over three decades. And we have a business, social obligation and a responsibility to be strong partners in the area. That's why we are working closely with the UAE government, private sector, and society to enable them through the journey.
If you look into the world's challenges now, we are moving into a hybrid workplace, which requires a lot of technology and investments. And this is the main focus of Microsoft in this area. GITEX marks the third year anniversary of establishing our data centre region in the UAE – in Abu Dhabi and Dubai.
This shows our commitment to the region, the country and empowering the ecosystem, services and solutions to the customers, the government and the country. Our focus this year is based on the insights we learned from the customers and partners trying to move into the hybrid workplace and the digitalisation of their work environments.
And that speaks to four areas that we focus on. One is the metaverse and how it will be a strong enabler for customers to move into a digital transformation. The second one is security; this is prime and very important, especially for customers that adopt a multi-cloud strategy and need to secure their cloud and assets across clouds and different workloads. Also, scaling on training will be a major part of that aspect because technology is one aspect of the equation. Having a workforce that can deploy it and manage it is another aspect; we have a lot of work to do in that area. And we have contributed a lot in scaling and managing the knowledge transfer for it.
What advice would you give product teams to stay agile in the face of changing market dynamics?
My top advice is to understand the unique nature of customers; the notion of one-size-fits-all does not work anymore. Customers are demanding more customised solutions tailored to their business needs. That's why they look at partners to be agile with them and cope with that change.
My second advice is to leverage all the available scaling and training for Microsoft. We have a lot of programs online, and we participate in many events for scaling. Developers and engineers should leverage that to advance their skills and cope with customer needs. Partners are the gatekeeper to customers to adopt new technology that meets their business objectives.
For example, when they're digitally transforming and moving to their hybrid workplace, customers will look to partners to educate them and help them through the metaverse and how that will help them transform into a hybrid lease.
My final advice is to specialise; partners are encouraged to be journalists sometimes. Sometimes they need to specialise because customers now look for specialities and best-of-breed when it comes to technology and partners.
What is the potential of the Middle East and African markets for Microsoft technologies?
The potential is enormous. If you look into the first day of GITEX, we released a study that talks about the potential and opportunity for the cloud in the region.
For example, in the next four years, Microsoft Cloud is going through Microsoft and Ecosystem Partners is looking into an opportunity of 49 billion. In four years, the investment that Microsoft is looking to put along with partners is 4.6 billion, an investment of 16 per cent of that related to the local and regional data centres we established in Abu Dhabi and Dubai.
For example, if you look into the partner opportunity, the study shows that starting from 2020, partners are expected to do $6.40 for every $1 that Microsoft makes in revenue. And that is a huge opportunity that will continue to rise until roughly $8.9 in 2026.
Microsoft is the founding partner of the Code Infinity key program targeting developers and coders. Why is it important to engage with this community?
That's a great question; it takes us to the discussion that technology is just one aspect of the solution. You still need partners and skilled people to deploy it.
Suppose you go back to the previous question and talk about the opportunity in the region, besides the 49 billion opportunities happening in the next nine years out of Microsoft Cloud's ecosystem. In that case, the study shows that there are expected to be roughly 30,000 IT skill jobs.
That's partners and the customer ecosystem. This number of skilled IT jobs would require training. And especially since technology is evolving fast and businesses are getting more agile in adopting technologies that solve their problems, it's no longer a five-year or three-year journey with the cloud. Customers change fast.
The business needs to change fast, and technology needs to adapt quickly, and that's why partners and the skills need to be at the bar; digital transformation is happening. This is no longer something we discuss, as it will happen in the future. We're seeing it firsthand, and Microsoft and partners are working with customers on that.
What main innovations and product solutions have you showcased at the GITEX Global 2022?
There are a lot of exciting things happening here. Let me start with our flagship showcase. With the partnership with Kagool, we're demonstrating a use case for an advanced metaverse technology in tourism.
If you visit the grounds of genetics, you're going to see a complete experience where a tourist, from the comfort of their home, can visit some tourist attractions in Dubai. They can walk through the hallways. They can have a digital assistant to answer their questions and help them in their local language. And eventually, once they visit all the sites and decide what they want to see in Dubai, they take them into digital ticketing or a booth where they can book their flight, their accommodation and everything to come and visit Dubai.
This is important for us to demonstrate because Microsoft looks at the metaverse as an enabler and technology to augment reality and not to replace it. And this is the biggest example—nobody is going to look into that. This is a replacement for visiting Dubai as much as it is helping me capitalise on my visit to Dubai and get excited about the trip. So that's our flagship showcase.
I encourage everyone energetic to go and take a look at it.
That also is aligned with the fact that we are shining the spotlight on the HoloLens 2 recently released in the UAE market and how it will be used in crucial use cases in the metaverse and digital twin.
For personal users as much as industrial users, please think of how industries would be able to use the HoloLens for engineers to be in places where it's too dangerous to have a human or to have a replica of a machine or a building so they can analyse it and do the what-if analysis without bearing the cost of that application.
We are also showcasing Windows 11, the most secure Windows version in the history of all Windows releases. And that speaks to our commitment towards security in the cloud when we are also showcasing a defender for the cloud and how customers can use our solutions to protect their assets and control their security, compliance, identity and management holistically across multi-cloud their workload.
Besides that, we are going to be participating in multiple forums. For example, we are speaking at the summit to discuss some challenges startups face and how digital experiences will continue to evolve in that sector. I spoke about the Hackathon we held as a competition on the first day.
We also have a three-day certified coding master class to emphasise our commitment to skilling and developing IT skills and developers. We will also leverage our position as a silver sponsor and founding partner in DevSlam to showcase the opportunities of mixed reality and the impact it has on specific industries.
What technologies do you see disrupting enterprises in the future?
When we look at the past couple of years, the cloud has become a reality and everyone's moving to the cloud. With that, the hybrid workplace became a reality that we are working toward, and we are going to see more of that happening. And for this to happen, there are a few technologies that we look at that are disrupting that, and we need to keep a good eye on them.
Use it as a guiding trail for us, one of which is the metaverse. We talked about that and how it is going to be an enabler for customers to achieve a hybrid workplace, not only to allow people to work remotely, but also to multitask and at the same time maintain a good social – being able to remain social and relevant in the workplace. And that will require training.
Think of scenarios of the metaverse that are being used for training, onboarding, or engagement in general. Another disruptive technology we are looking at is artificial intelligence, which is beyond having a bot that can carry a conversation. We are thinking about scenarios, for example, where the AI can take the repetitive and task-oriented jobs from the human so that humans can focus on more collaborative and cognitive workloads.
This not only makes them more efficient but also removes the boredom of the job, making them feel that they're making a significant impact.
As we started the discussion, the cloud will be essential to all that transformation. Adopting a high level of security built into the design is crucial because security is, especially in the cloud. The increase in cyber attacks that we have seen recently in the world has become paramount. That would require a mind shift from customers to start thinking of security as a culture and not only as a solution they deploy.
If you liked reading this, you might like our other stories
Loading Your Metaverse Tool-Belt 
5 Winning Moments With Virtual Reality