Vibe Martech Fest Will Spotlight Marketing Leaders from South Africa's Leading Brands
The marketing technology landscape in the region and globally is at an inflection point, with a renewed focus on customer privacy and the deprecation of the third party cookie. Vibe Martech Fest prepares marketers to build future-proof strategies.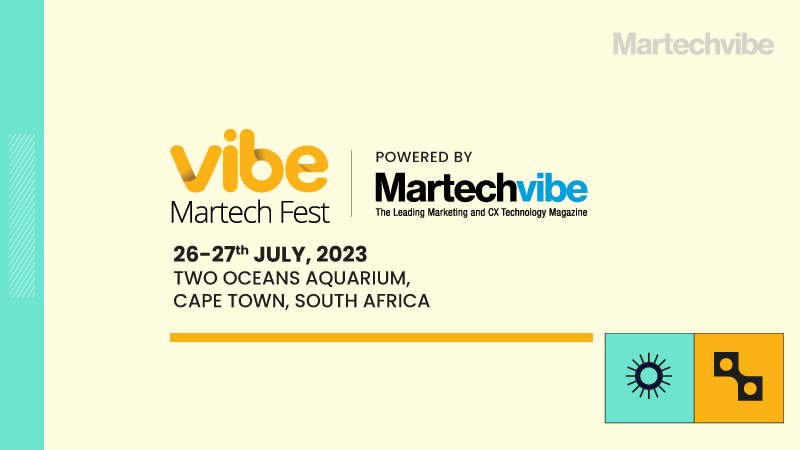 Vibe Martech Fest – the region's biggest marketing and technology summit will take place on July 26 – 27, 2023, in Cape Town, South Africa. 
The African continent is being viewed as retail's next big gold rush, given its population of 1.4 billion people, of which more than 500 million are internet users and over 330 million are ecommerce consumers. As the landscape eyes the future, brands are setting their foot towards implementing a customer-obsessed mindset. 
"Brands have to be purpose-led and infuse their origin story with that of the customer, along with shared values," says Sipho Sepeng, Digital Customer Experience Design Lead at Nedbank in South Africa. "Customer service is a component of the customer experience that occurs at a point in a journey. The brand has to proactively manage customer perceptions before this moment of truth and deepen its relationship based on shared value after the transactional value exchange," adds Sepeng. 
Vibe Martech Fest brings together global industry experts and marketing leaders from leading brands regionally to add context to this conversation. Putting technology and consumer insights at the centre of marketing, the martech summit will gather marketing and CX experts and conduct meaningful and engaging sessions, where attendees can learn about the latest trends, products, and technology to accelerate their business, upgrade their tech stack, and expand their network.
Key sessions at the Vibe Martech Fest's South Africa edition include;
The Final Word in Conversational Commerce 

Brand Suitability as an Extension of Brand Safety

What Can Marketers Learn from Social Media Listening? 

Can Generative AI Ease Your Marketing Team's Workload?

Joining the Dots with Real-time Customer Experience
The event will provide a platform to learn from over 150 industry leaders and engage with peers and solution providers to find the right strategies for your marketing, sales, and product innovation.
mParticle comes onboard as a gold sponsor for Vibe Martech Fest, South Africa. SAP is a silver sponsor, and AppsFlyer is an associate sponsor for the event. 
For more information and registration, visit Vibe Martech Fest – South Africa