How Digital First Is Driving The Modern Marketer
The latest episode of Martech Mandate illustrated the changing role of the modern marketer, who must strive to close the gap between technology and changing customer behaviour to strengthen customer lifetime value.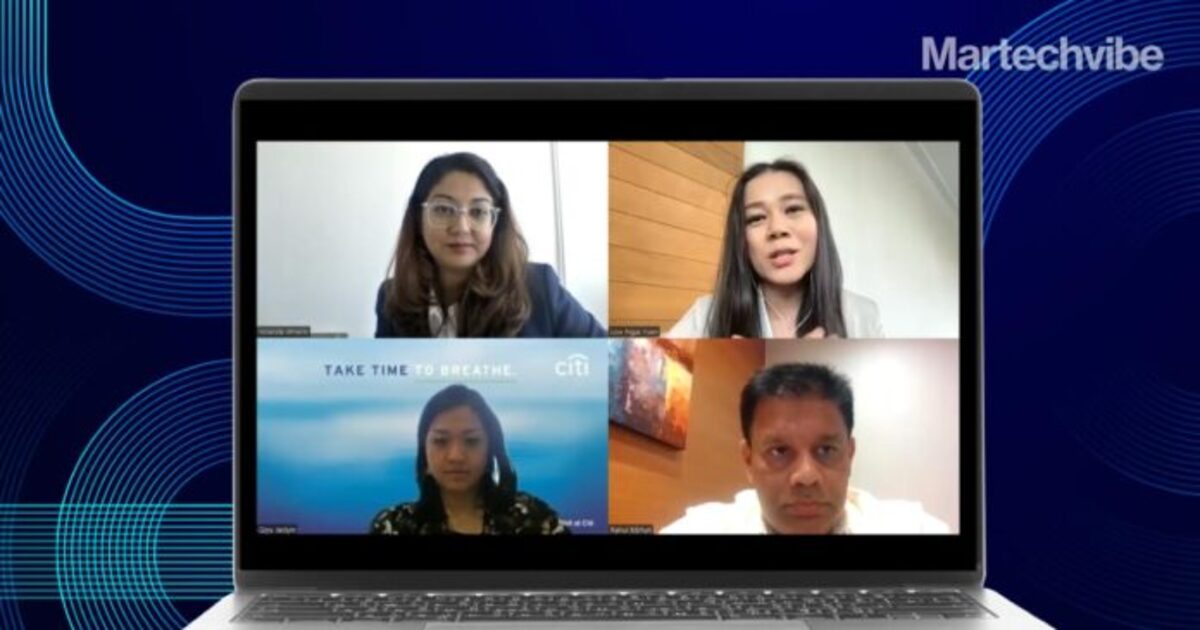 It's a new world order, and technology is the driving force. Brands that can't keep up, unfortunately, stand the risk of being left behind in the current landscape. And the same can be said for marketing leaders in the community as well.
Today, the modern marketing function is fused with the use of technology to achieve many different things, and in the process, marketers have become active shoppers themselves.
As part of the Martech Mandate series, Martechvibe hosted a webinar, How Digital First Is Driving The Modern Marketer. The panellists Low Ngai Yuen, Group Chief Merchandise And Marketing Officer at AEON Co Malaysia | Jaslyin Qiyu, Head of Client Marketing, Channels, and Content at Citibank Singapore | Rahul Bibhuti, Marketing Director at Reckitt Indonesia | Yolande D'Mello, Editor at Martechvibe, discussed the changing role of the modern marketer.
Here are five main takeaways from the webinar:
Physical stores are not a sunset business, it's becoming bigger and better.
Physical stores are all about the experience today. With banks making onboarding processes and transactions completely digital, are physical branches necessary? Absolutely, if you can be innovative.
"Brick-and-mortar stores are not going away. It's all about what they symbolise. For the future of bank branches, it's going to be a setting where customers come to us not for simple transactions, but rather to get financial advice.
Meanwhile, for those customers who already have a relationship with us, we welcome them to what we call a wealth hub," said Qiyu. Citi calls it the "engagement areas" where clients pop in, invite their friends, have coffee, and talk about finance. "It's a safe space for them to do their own meetings."
A marketer needs to have ten minds, see patterns in the chaos.
From a very simple, linear approach to marketing, marketers have come to become multi-dimensional, looking at multiple factors. "Marketers need to take a leap of faith, try various approaches, and be accountable for every penny spent. Brand love and customer intimacy are also crucial. No matter what, we have to win the hearts of our customers," said Bibhuti.
As a marketer, it is crucial to ensure that the customer's lifetime value is kept intact, which means delighting customers at different points of time throughout the entire life purchase journey.
"The idea is to drive brand love. Customers are bombarded by different choices, so it's important to be sharp, honest, and authentic in your overall conversation and focus on adding value to your consumer. Wear the heart of your consumers," he added.
Creating the endless loop of marketing, tech partners and customer relationships.
"Marketing is no longer just about building awareness or generating leads. It's about the end-to-end experience of the customers. And it's important for internal teams and technology partners to support each other and figure out a way towards the end of the tunnel," said Yuen.
It's important that technology works in the context of business and marketing priorities. With customers flying in from various omnichannel windows, it's essential to have a 24-hour working system for customers and have an understanding with technology partners too. How does one manage this loop of communication?
"Management of customer data is most important for everything to be connected. We can no longer be standalone teams, but we need to be part of the bigger business system and need our suppliers and technology partners to work alongside. It is no longer a competition between different loyalty systems and different CRMs—it's more about various CRMs, some similar and some different, being in the same space and serving the same customers," she added. It's time to say goodbye to siloed ecosystems.
Marketers need to lead the disruption, be the disruption.
Technology is everywhere, and marketers have become shoppers themselves. While the world waits for the next technological disruption, Yuen has a different perspective.
"Something that's more important than external disruption is the internal disruption, and we need to create it. As much as marketing is always ahead of the curve, it is important to ensure that we carry the business with us as we move. While digital transformation takes its own pace, marketers need to be the driver. The disruption needs to happen and start from marketing itself into each of the processes inside the business," said Yuen.
In this case, technology is just an instrument. For instance, ensuring great customer experience is almost a thing of the past. Marketers need to think ahead and use technology to predict customer behaviour better.
"I urge a lot of marketing teams to really consider technology themselves. Don't wait for the business to tell you what to do, but lead the disruption and be the disruption that you need to be."
For example, when a random customer walks in, marketers will be able to have all possible customer queries on stand-by, even if the customer doesn't know it yet. Sounds far-fetched? Maybe, maybe not.
Despite intelligent technology advances, humans will have the upper hand
Even though ChatGPT has taken the world by storm, has it really taken over jobs? It's more likely that it has become instrumental in refining a job well done. Meanwhile, some industries are not tolerating intelligent technology as it hasn't passed their vibe check – ethical, bias-free, error-free, and iron-clad privacy.
Qiyu talks about how ChatGPT was banned at their workplace, even from their phones and for all the right reasons. "I think it's valid due to the tech's current state. It is not bound by ethics nor is it regulated. Human intelligence is crucial to ensure that any AI being rolled out actually makes sense and is beneficial."
Human intelligence still plays a vital role in ensuring that we maintain that ethical boundary and guide AI better to work for the greater good of our consumers.
"From a marketing perspective, we cannot ignore this type of technology and pretend that everything is all good and we are still ahead of the curve. You need to understand how it works and if it can add value to your job," added Qiyu.
Martechvibe brings this episode of Martech Mandate as the publication enters the Indonesian landscape, with its flagship marketing technology summit, Vibe Martech Fest, happening on 1-2 August 2023 at Four Seasons Hotel, Jakarta. The conference will focus on technology trends supporting marketers in evolving with the digital economy.
For more information and registration, visit Vibe Martech Fest – Jakarta