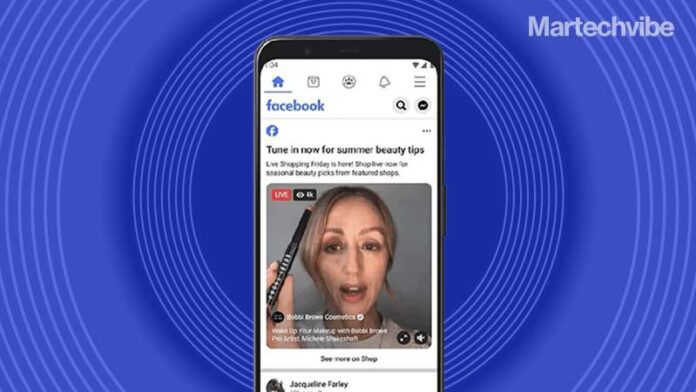 This announcement came a few days after, Meta reported a revenue drop for the first time in the platform's history and cautioned that it would further decline in the year's second half.
Starting from October 1, there will be no Live Shopping streams on Facebook. The social media giant is wrapping up this option less than two years after its launch.
Facebook introduced Live Shopping in November 2020, an interactive way to sell items, connect directly with viewers, and gain potential customers in real-time. Brands showcased their products, tips, demos, and more through Live Shopping Fridays. This initiative began in 2021, and brands like Abercrombie & Fitch, Alleypoop, and Bobbie Brown Cosmetics participated in these events.
Facebook announced closing the service through a blog post "From 1 October 2022, you will no longer be able to host any new or scheduled live shopping events on Facebook." The company added that Facebook Live would still be available to broadcast live events and not to create product playlists or tag products within live streams.
Short-form videos
As consumers' viewing behaviours shift to short-form videos, Facebook is shifting its focus to Reels on Facebook and Instagram. Meta's short-form video product said the blog post.

Facebook is promoting Reels across its business. "If you want to reach and engage people through video, try experimenting with Reels and Reels ads on Facebook and Instagram," the blog post advised. Meanwhile, people having existing accounts with shop with checkout can set up live shopping on Instagram.
This announcement came a few days after Meta reported a revenue drop for the first time in the platform's history and cautioned that it would further decline in the year's second half.
Insta Users Prefer Photos
Following the recent temporary changes on Instagram feeds, the emphasis on reels forced Instagram users to express their concerns. The feedback pointed out that they preferred this app as a platform to share photos with friends. Instagram CEO Adam Mosseri received backlash from the users for informing them how the platform would focus on videos. As this opposition did not go down well, Instagram had to back down on some of its changes.
Tik Tok Experience
This development does not come as a surprise but is a well-thought-over move by social media platforms to move away from ecommerce. Tik Tok cut down its live shopping plans for the US and Europe.
Contrary to its popularity in China, Tik Tok dropped its plans for Uk after influencers allegedly backed off and aborted expansion plans for Germany, France, and Italy due to low consumer awareness and weak adoption.
Shop Live Players in the Market
It is interesting to see what happens next to live shopping platforms like GoLive, Bambuser, NTWRK, Amazon Live, Instagram Live Shopping, Livescale, ShopShops, TalkShopLive, and Popshop Live that have continued their journey so far.
Contrary to Facebook and Tik Tok moving away from online shopping, YouTube announced its partnership with Shopify in last month to allow creators and merchants to feature their products on their channels. Eligible creators can now link their Shopify store to their YouTube channel.