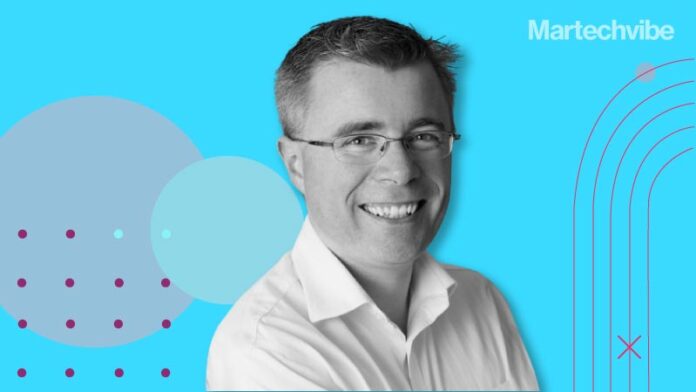 "Companies must prioritise digital transformation across their entire ecosystem, taking a measured approach that evolves the business at pace without causing massive disruption. This is still a challenge for many companies transforming their customer experience and business models in a rapidly evolving digital world to ensure their survival," said James Kirby, SVP & Head of EMEA Business at CSG. 
James is responsible for go-to-market strategy and business development across the GCC. Internal silos are the biggest challenge to delivering an improved customer experience, according to him.  
What are the new challenges for enterprises in a post-COVID world, and how is it changing how we do business? 
The pandemic magnified the need to address digital transformation. Many companies had to quickly pivot to digital engagement and accelerate their transformation from years to weeks. In the process, COVID-19 created a competitive gap between companies that continually invest in innovation and those that do not.
Over the past year, customers have become accustomed to a particular way of life. Companies have had to adjust and put their customer experience at the centre of everything they do. New technology, increasing mobility, and growing connectivity have changed expectations across the board. Now more than ever, customers want proactive, personalised, and seamless experiences on par with the service they get from major digital players such as Amazon, Netflix, and Uber.
Businesses have also had to fundamentally rethink how they accelerate and innovate each of their digital transformation programs. Operating collaboratively in a more distributed environment has increased the need for virtual meetings and online collaboration tools. As they continue adapting to new ways of operating, companies face a significant cultural pivot in the short and long run.
Companies are at different stages in their digital transformation. How should they prioritise their digital acceleration to evolve the customer experience? 
Companies must prioritise the digital transformation across their entire ecosystem, taking a measured approach that evolves the business at pace without causing massive disruption. However, this is still a challenge for many companies transforming their customer experience and business models in a rapidly evolving digital world to ensure their survival.
In a survey of marketing and customer experiences decision-makers that we conducted last year, 38 per cent of participants indicated that the top challenge of delivering a good customer experience is internal silos. Given that this can be a common problem for many businesses, it is critical to address it. Not only to help them offer better customer experiences but to improve their business overall.
From a marketing and customer experience perspective, in particular, silos can be a significant hindrance. It prevents the dissemination of valuable data necessary to provide exceptional, personalised experiences for the customers. Businesses can address this by connecting departments, channels, and technologies through a single, integrated platform that bridges the gap between information silos and taps into the power of unified customer interaction and behavioural data. Ultimately, this will help them produce meaningful, end-to-end customer journeys.
Once the challenge of internal silos is resolved, they can consider leveraging new technology, such as conversational AI and customer journey orchestration, to optimise the customer experience at every touchpoint and simultaneously build trust and loyalty.
How is the customer journey changing in the travel and hospitality industry?
As the global economy slowly but surely reopens, demand is high for immediate access and customised services. Government information, contact tracing, travel and health advisories, and other safety measures are already becoming the norm in travel. Hospitality and travellers don't want to wait until they can get to the nearest Wi-Fi hot spot to pull up this information.
Companies can use this changing journey as an opportunity to leverage customer data insights and create a differentiated customer experience that provides relevant information in real-time. With the evolution of 5G, automation, and roaming data access, communication service providers (CSPs) can meet customers where they are and provide personalisation, new and enhanced experiences, and improved service quality overall.
CSG's recent acquisition of Kitewheel, the leading provider for customer journey orchestration and analytics, tackles these very issues. Consumers have long been frustrated by automated systems that send them on an endless cycle of irrelevant content. Kitewheel's journey orchestration and analytics software-as-a-service technology use behavioural data to enable real-time customer interaction and meaningful customer journeys within an agile and intentional end-to-end solution that companies can leverage to wow their customers. Now, CSG is in pole position to create differentiated, thoughtful, and extraordinary customer experiences.
Also Read: IoT in the Middle East: Embracing the Technology
CSG shifted its regional headquarters to Riyadh this year. Tell us about your work in the region, and enterprise trends that you have witnessed. 
We could not be more excited to start our journey on the grounds in Riyadh. CSG has been operating in the Kingdom of Saudi Arabia for well over a decade, beginning with our strategic partnership with Mobily in 2008. This engagement has turned into a new contract relationship, enabling them to accelerate growth, introduce new products and services, and evolve the customer experience through traditional and digital channels. Our portfolio has grown to include Batelco, Etisalat, Omantel, and Ooredoo Qatar Group across the wider GCC, as well as DU, MBC, and Telecom Egypt.
CSG's most recent work has centred around helping companies in Saudi Arabia, and more broadly in EMEA, migrate from legacy systems to enhance customer engagement and customer experience across their businesses. This work is critical to our customers as legacy systems can be a hindrance to digital transformations and other customer engagement initiatives they have planned. We enable companies of all sizes in the region to expand into the digital world while minimising overall costs. For example, CSG recently worked with Mobily to deliver increased process agility and go-to-market flexibility, empowering the operator to accelerate growth, innovate their product offering with exciting digital products and services that enhance their customer journey and experience.
The Middle East is a leader in 5G implementation. With 5G-enabled devices constantly coming to market and networks deployed more widely, the local industry's focus is shifting to monetisation and the need to build healthy ecosystems and managed services. This is particularly salient as the region moves away from oil and towards tourism, sports, motor racing, and other entertainment.
Marketers want to understand how to manage global brands locally. Tell us about how you manage larger brands that require more specific cultural considerations for regions within the GCC.
No matter what region CSG operates in, we are flexible in our approach and respectful of the cultures and norms of our customers, and we adapt our business to meet the needs of any local market. For the GCC, our working hours align with the region's culture and religion, seeing the workweek running from Sunday to Thursday, and appreciating observances for Ramadan and Eid. To provide education and create awareness of cultural identities, we hold thorough briefings with our regional project teams before we kick off the local engagement for any project.
How is IoT and 5G changing the communications service providers (CSP) landscape?
With Internet of Things (IoT), artificial intelligence (AI), and the rollout of 5G, enterprises need to re-evaluate their business models as the existence of legacy systems within a business can cause challenges for the implementation of these new technologies and protocols. 
IoT and 5G systems are fundamentally different from their predecessors and use specific technologies like network slicing and virtualisation. Legacy systems can not handle the high volume, variety of data, information security, and complex partner relationships of IoT. Similarly, traditional systems can not bear the power of 5G and its lower latency, faster speed, and support capacity for multiple devices connecting to the network simultaneously. To effectively monetise 5G networks and IoT, CSPs have to adapt their systems to align with new technologies and support their operating modes.
CSG recently published a survey with Analysys Mason on large enterprises' demand for communications and IT services. The survey found that 92 per cent of the respondents have accelerated their plans to use more IoT, security, cloud, and unified communication services in response to the pandemic. While this appears as an opportunity for CSPs, the survey found that few have a broad enough portfolio to meet this demand. This is unfortunate because 70 per cent of enterprises surveyed said they would consider buying these services from their main CSP. As enterprises will then go elsewhere, this is a real challenge for CSPs but at the same time represents an opportunity for those who are agile enough to move fast.
CSPs can play a vital role in the evolution of IoT and invest heavily in providing the most expansive, reliable, and high-capacity connectivity for subscribers. In doing so, they can maintain their original business model of monetising connectivity while amplifying their services with IoT and 5G. 
Also Read: Is MENA Ready for 5G and Mobile Advertising?
Could you comment on the role of AR and its implications on creating more immersive experiences?
As COVID-19 has shown, we no longer need to conduct business in person. Social distancing changed how broadband, cable, and satellite providers could interact with their customers when in-home technical support or new service installations were required. AR played a significant role in helping solve problems that were not possible to diagnose in person.
For example, during the pandemic, CSG's Visual Connect gave providers a lifeline, enabling technicians to virtually troubleshoot and resolve issues with customers without entering the home. This augmented reality solution ensured the safety of both technicians and consumers. It also ensured that consumers had the critical IT services they needed to work and learn from home.
This will become the norm as it reduces time to resolve issues, particularly those that do not require technician dispatch. It will also reduce contact centre costs while enhancing the customer experience with a virtual, hands-on approach.
Although forced isolation is facing out, we can expect consumers to hold on to the digital, at-home, and low-touch interactions they've encountered during lockdown periods. Consumers all over are showing a preference for contactless operations, and digital-led experiences like AR will only continue to grow in popularity as restrictions continue to ease.