VMF 2021:The Third Seismic Brand Shift Of Our Time, Purpose
With the same energy and enthusiasm as before, the second day at VMF 2021 powered through with motivating and inspiring sessions by world class leaders. Discussing the need for brands to focus on purpose was Roy Hutchinson, CMO, Deem Finance LLC.  According to Hutchinson, 'Brands as we knew do not exist anymore. Today we are […]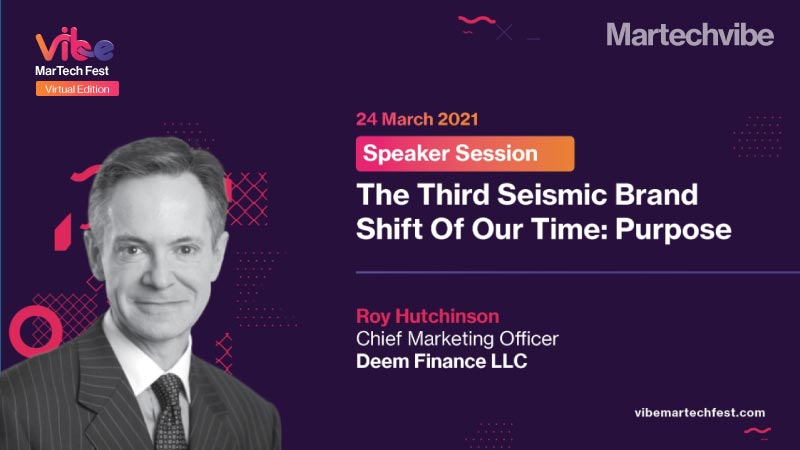 With the same energy and enthusiasm as before, the second day at VMF 2021 powered through with motivating and inspiring sessions by world class leaders. Discussing the need for brands to focus on purpose was Roy Hutchinson, CMO, Deem Finance LLC. 
According to Hutchinson, 'Brands as we knew do not exist anymore. Today we are in a dynamic environment where change is constant. Marketing is not about just embracing technology, it is about understanding the nuances surrounding it. They have to focus on purpose.'
'Social Media today has a big role in how brands are built. Social media gives a platform to customers to converse, compare and decide what brand they would like to support, or be associated with,' Roy said.
The pandemic has only hastened what was already in process for a long time. Hutchinson claims, 'The pandemic brought marketers out of a reverie and put the focus on brands and what they were doing to help customers. It put forward a multitude of challenges, but it would be incorrect to assume that the challenges will go away once the pandemic is over.'
'We live in a time of seismic change for brand management, the third of its kind in the last three decades,' said Hutchinson. With the belief that brands have a deeper message to convey, he added. 'Brand purpose and the message it conveys has become a major trend.' 'The connection it establishes with the customer is of utmost importance. The brand has to be understanding and caring towards the customers needs, sentiments and overall well-being.'
Also Read: An Overview of Vibe Martech Fest 2021
Covid-19 brought to the surface what has been accumulating in the market for years. Specifically, the need for brands to focus on their purpose to attract millennial consumers – the highest quality consumers. With this thought, Hutchinson added, 'Brands need to showcase what they do for the greater good, how they treat their employees, and their actions to protect the environment if they want to cash in on millennial consumers' new spending power. Today's customers are more purpose-oriented than before. Any brand today needs to have positive brand equity. Today's generation expects a brand to be a positive source of information.'
'Brands have a duty towards the community. The message has to be conveyed to the customers,' Roy says. 'The customers of today expect brands to be receptive and solve societal problems. Brand must be a visionary, be a positive source that shapes our culture,' he added.    
In conclusion, he talked about the emotional connection with the brand. 'The message does not have to be always about selling. Brands can advertise or imply through their advertising about doing what's right, doing your bit for the community, and giving back to society. 'You don't have to necessarily buy from us, but just go out and do your bit.' Once this message is often repeated and explained, customers will automatically flock to you. Society today expects a lot from brands. Failing to deliver that is not an option.' 
Presenting cutting edge MarTech solutions with a practical approach, Vibe Martech Fest (VMF) is presented by Sprinklr and hosted by Martechvibe – the region's only and world's fastest-growing MarTech media brand. The other key event partners are Tealium, Sitecore, OneTrust – PreferenceChoice, SAP, and Merkle. The media partners are EnterpriseTalk, Talk CMO, and ITSecurityWire. 
Written By: Khushbu Raval, Chandni U, Soumyadeep Roy
Edited By: Soumyadeep Roy