VMF 2021: Keynote Address: Leveraging Data for Brand Evolution
The second day of the VMF 2021 began with a keynote address from Banali Malhotra, Director of Marketing, RAKBANK. Banali is responsible for maintaining and growing RAKBANK's brand dominance in the retail banking segment. With over 20 years of experience across regions, she has successfully launched several campaigns and products that have earned many international […]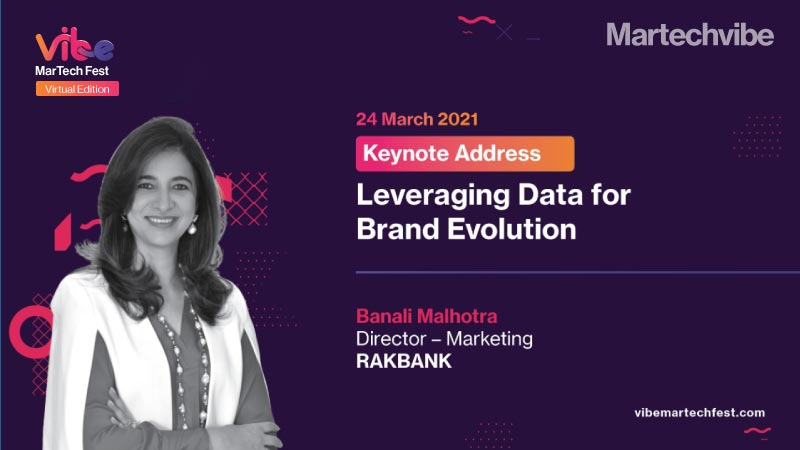 The second day of the VMF 2021 began with a keynote address from Banali Malhotra, Director of Marketing, RAKBANK. Banali is responsible for maintaining and growing RAKBANK's brand dominance in the retail banking segment. With over 20 years of experience across regions, she has successfully launched several campaigns and products that have earned many international accolades, like the Summit International Creative Awards and Marketing campaign of the Year award.
'We know that data is the most important, but it's important to know why it is important.' With these words, Malhotra began her exciting keynote address. Talking about data-driven marketing, she said, 'While data-driven marketing is very important, building the brand image is important. A balanced marketing act is when data and brand are given equal importance.'
The industry has begun to realise the importance of CDP and other customer data measurement platforms in terms of customer behaviour and demands. In turn, studying customer behaviour helps brands understand what makes customers click on the CTAs. Considering the amount of data gathered from CDP, it's not surprising that customer data and analysis can be thorough.
Also Read: VMF 2021: Speak Like a Leader
Brands are the essence of people's perception. 'When we can maintain the brand image, we desirably build the brand. Data-driven marketing can only help cement that position your brand has acquired,' claims Malhotra.
According to her, a meaningful brand helps one choose the right customer. One can care for a premium, but it, unfortunately, decides the value. 'Consumers today have multiple options, and the concept of brand loyalty is eroding.'
Talking about how balanced marketing is done, Malhotra said, 'Brands need to give marketers something to dream of, build on and look forward to. They need to connect with customers. Data helps us identify the customer base, which in turn helps marketers develop the products that customers look forward to.'
In conclusion, Malhotra spoke about Return on Data. She believed that return on data could help brands understand what is the return or benefit when it comes to investments in data. 'Don't lose your brand at the cost of data or big data. A healthy balance of both is a necessity,' signed off Malhotra.
Presenting cutting edge MarTech solutions with a practical approach, Vibe Martech Fest (VMF) is presented by Sprinklr and hosted by Martechvibe – the region's only and world's fastest-growing MarTech media brand. The other key event partners are Tealium, Sitecore, OneTrust – PreferenceChoice, SAP, and Merkle. The media partners are EnterpriseTalk, Talk CMO, and ITSecurityWire. 
Written By: Khushbu Raval, Chandni U, Soumyadeep Roy
Edited By: Soumyadeep Roy