VMF 2021: Is A Customer Data Platform Right For You: How Seera Travel Group Assessed CDP Readiness
In today's world 'data is the new oil'. Discussing why a customer data platform is right for your business and how Seera Travel Group assessed CDP Readiness was Lousie Blake at the VMF 2021. Louise Blake, VP of Data at Seera Group. She comes with 15 years of experience in the data and analytics field, […]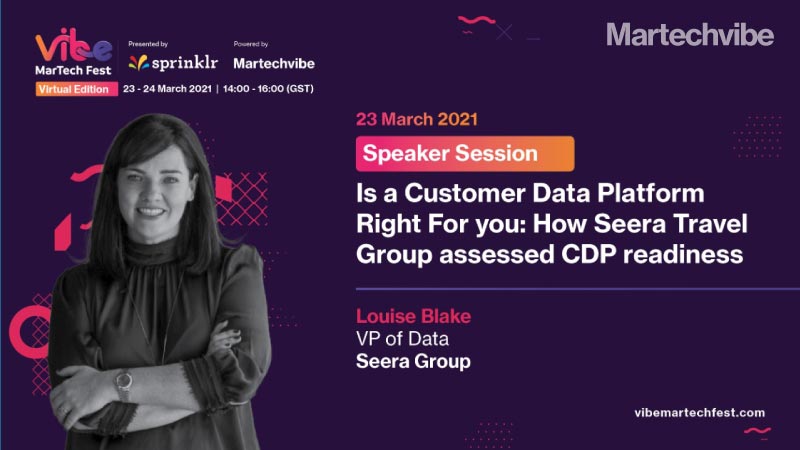 In today's world 'data is the new oil'. Discussing why a customer data platform is right for your business and how Seera Travel Group assessed CDP Readiness was Lousie Blake at the VMF 2021.
Louise Blake, VP of Data at Seera Group. She comes with 15 years of experience in the data and analytics field, across government, agency, big corporates and startups. Louise is a keynote speaker at Data, Marketing and Travel conference such as AWS Summit, Skift Conferences, Dubai Smart Data Summit, Arabian Travel Market (Dubai), Travel Tech (Amsterdam), DataCon (Cairo), STEP Conference (Dubai), Tableau Conference (Dubai and London), plus regular panellist at digital meetups. She holds a BSc degree in Social Science from Southampton University.
Is a CDP right for you? Blake brought forward the most asked questions. 
Does CX matter to you?

Do you want to become more efficient and improve revenue?

Do you want to understand and know your audience better?

Does retention and loyalty matter to your business?
"If customer experience matters to you for your business, then it's suggestible to add a customer data platform (CDP) in order to become more efficient and improve revenue," said Blake. 
She talked about how in the larger enterprises, a lot of data capabilities have been developed on the go. They start from a time when there was no formal concept of a CDP in the first place. Everyone had to collect, analyse and apply solutions organically. 
Also Read: CDP, DMP, Data Lake and Data Warehouse – What is The Fuss All About?
There are also challenges including companies unable to track customer journey, the impact of Covid-19, and a lack of real-time interactions. Addressing the challenges with suitable solutions, Blake said, "Marketing teams should evolve their marketing approach and make it more data-driven and customer-centric. As the numbers of touchpoints increase, the possible channels for communication increases." 
Additionally, Blake discussed the CDP opportunities for Seera Group. Ranging from audience segmentation, personalisation across all channels, to increased data quality across the business, Blake elaborates on the eva luation process. "We follow a multifaceted assessment process with various teams including marketing, product, digital delivery, IT security and data. An in-depth evaluation of the tech stack and integration capabilities is also done. Furthermore, we always focus on security and governance."
Blake ends her session with future insights. What's next for Seera? " We are in the process of developing a deep understanding of our converting and non converting customers. We will also partner with Tealium for use case development."
Presenting cutting edge MarTech solutions with a practical approach, Vibe Martech Fest (VMF) is presented by Sprinklr and hosted by Martechvibe – the region's only and world's fastest-growing MarTech media brand. The other key event partners are Tealium, Sitecore, OneTrust – PreferenceChoice, SAP, and Merkle. The media partners are EnterpriseTalk, Talk CMO, andITSecurityWire. 
Written By: Khushbu Raval, Chandni U, Aarti Chawla 
Edited By: Soumyadeep Roy