VMF 2021: Driving Revenue With Personalised Experiences 
In conversation with Jesper Broberg about how experiences marketing drives revenue through customer loyalty with personalised experiences and creating customers for life. Jesper Broberg, Vice President of Business Development for Sitecore in the Middle East & Africa. He comes with more than 20 years of experience in the IT industry, working for Business Development across […]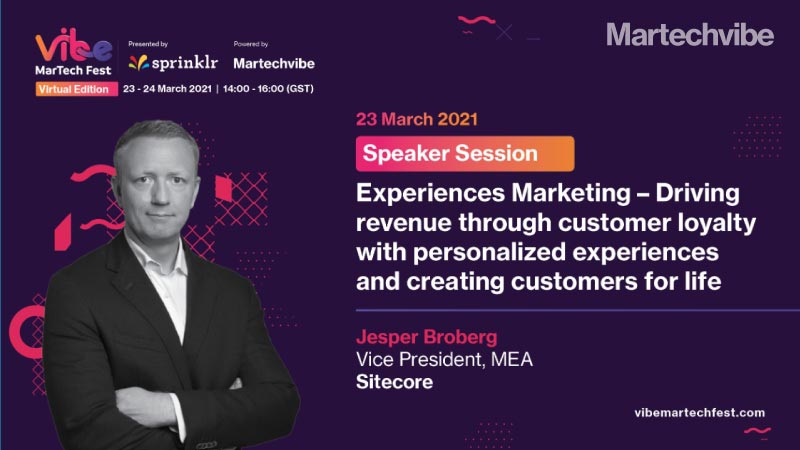 In conversation with Jesper Broberg about how experiences marketing drives revenue through customer loyalty with personalised experiences and creating customers for life.
Jesper Broberg, Vice President of Business Development for Sitecore in the Middle East & Africa. He comes with more than 20 years of experience in the IT industry, working for Business Development across Sales, Pre-sales, Partner/Account Management and Project Management. Jasper's international experience in fast-paced regions is now set to focus on developing Sitecore business across MEA.
Sitecore started as a CMS building concoct, and 20 years later, it channelled into a digital transformation business. Talking about driving revenue through customer loyalty with personalised experiences and creating customers for life, Broberg said, "The very basic personalisation has been seen. Now, we were talking to companies about the digital transformation to the customers. There was a lot of data getting gathered, and we started keeping them in different silos. People wondered how we would utilise the data to build a perfect CMS." It all worked out.
Covid-19 brought a digital transformation 2.0. While it has helped companies refocus on CX, many organisations are still trying to get data from the silos that everyone built and solve real-time issues. "CX is driving business. Customers no longer base their loyalty on the price but the personalisation that brands provide to them. Our purpose is to create human connections in a digital world," said Broberg.
According to him, 75 per cent of executives believe that content is the strategic key to growing customer lifetime value. It can be words, pictures, videos, similar to what we use to market to the customer. "Also, 97 per cent of executives say that producing and publishing personalised digital content more quickly has become a top priority," added Broberg. 
Read Also: Customer Loyalty Comes With Personalisation
Towards the end of his session, Broberg shared lessons and strategies from the Sitecore Content Hub. He suggested executives own the entire content management and delivery lifecycle from plan to publish across all their channels. "Review your existing content and plan out the creation of new and complementary contempt. You should manage content and provide all stakeholders with a single version of the truth. Also, leverage content across channels and elevate the experience you provide to your customer," added Broberg. 
In conclusion, Broberg spoke about how executives should provide personalisation to customers when they are not ready to share their personal information as a matter of security? "Whenever they come to visit the website through their browser or mobile, we can actually record and profile their behaviour. Making a pattern out of it even if they are anonymous can help brands gain insights on the possibility of their return." 
Presenting cutting edge MarTech solutions with a practical approach, Vibe Martech Fest (VMF) is presented by Sprinklr and hosted by Martechvibe – the region's only and world's fastest-growing MarTech media brand. The other key event Partners include Tealium, Sitecore, OneTrust – PreferenceChoice, SAP, and Merkle. The media partners are EnterpriseTalk, Talk CMO, and ITSecurityWire. 
Written By: Khushbu Raval, Chandni U, Aarti Chawla 
Edited By: Soumyadeep Roy