Announcing Rise Up – A New Summit for New Gen Marketers
Co-located with Vibe Martech Fest – Rise Up is a first-of-its-kind summit for practitioners and aspiring CMOs looking to make their mark in the world of Martech. This stage will focus on how to win with emerging tech, trend-spotting, and building readiness for the future martech leader's role.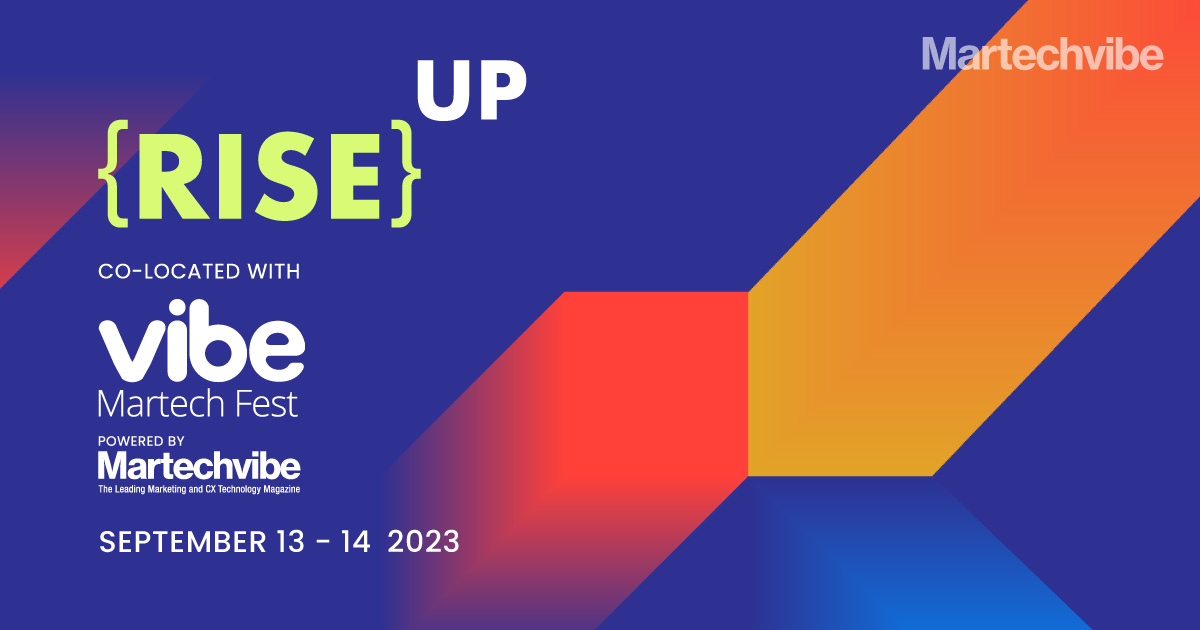 Rise Up is a summit for upcoming martech practitioners looking to fast-track their way to the boardroom. It will take place on September 13 – 14, 2023, in Dubai, UAE, and will be co-located with Martechvibe's flagship conference – Vibe Martech Fest. 
Exploring a new format designed for future martech leaders, Rise Up is a stage for marketing specialists across 15+ marketing domains like customer experience, CRM, data and analytics, etc., to explore what the industry has to offer in terms of the latest products and technologies. The Rise Up summit is an opportunity for attendees to familiarise themselves with the latest technologies and leverage them to put their ideas into action.
Business leaders are investing in and onboarding new technologies that can deliver data-driven results, inject personalisation in customer interactions, offer first-contact resolutions, and beat the competition at offering more value to the customer. Towards these objectives, content marketing, email marketing, and social media have become increasingly important components of the digital marketing mix. 
According to Martechvibe's 2023 State of Martech report, close to 64% of marketing heads said investment in technology is their top priority while deciding critical elements of their marketing budgets. With 20% of respondents reporting investing in CDPs, the end-user plays a crucial role in the decision-making process. The martech practitioners leveraging the technology on a routine basis have a lot to say about what goes in the martech stack for the best results. 
"Marketing and technology are indivisible; the former cannot exist without the latter. In this changing dynamic, the martech professional's function is strongly linked to data. We want to address the younger breed of marketer as he or she makes their way up the ladder. As a martech native, they are the best at understanding real-world  challenges, and crafting future-proof strategies," said Sanjay Swamy, Director at Martechvibe. 
With this view in mind, Rise Up presents an impactful line-up of sessions that will discuss relevant technologies and trends in the evolving martech terrain. Martech specialists, who are looking to maximise the potential of the technology in achieving their goals, will benefit from the insights shared by industry veterans. The objective of the summit is to offer attendees practical approaches to real-world challenges, learnings from leading brands, and a chance to network with industry leaders. 
Key sessions at the event include;
Unlocking Retention Secrets with Churn Analytics 

Attribution: The Show and Tell of Success Metrics

What Do Gen Z Consumers Want? 

Formulating Success with Marketing Science

How to Tackle Cart Abandonment
Rise Up will be co-located with Vibe Martech Fest (VMF), the region's largest martech summit. Since 2018, VMF has led the conversation on martech by bringing together CMOs of the region with global leaders. Previous speakers include Scott Brinker, Sir Martin Sorrell, Brian Solis, Fernando Machado, David Raab, Rob Bloom and Steve Lok.
For more information, visit Rise Up