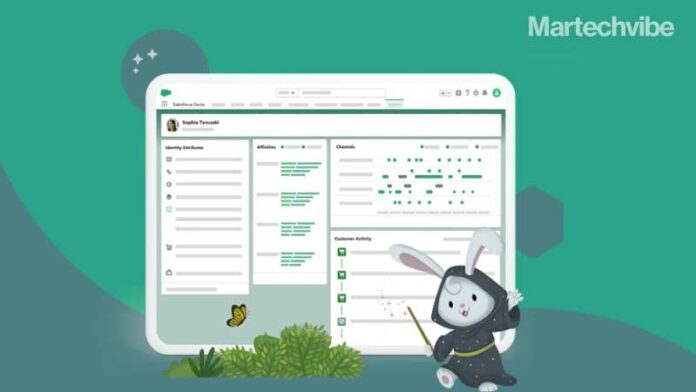 Genie makes every part of Customer 360 more automated, intelligent, and real-time.
Salesforce, the CRM company, unveiled Salesforce Genie, a hyper-scale real-time data platform that powers the entire Salesforce Customer 360 platform. With Genie, every company can turn data into customer magic, delivering seamless, highly personalised experiences across sales, service, marketing, and commerce that continuously adapt to changing customer information and needs in real-time, mentioned the release.
Genie takes billions of data points about customers in real-time from any system or interaction and harmonises them into one dynamic source of truth that changes as a customer does.
Seventy-one per cent of customers expect every interaction with a business to be personalised. However, data remains siloed and duplicative across most companies. Companies, on average, have 976 separate applications to run their business — that's potentially 976 versions of a single customer, leading to disconnected digital experiences. Responding to customer needs in real time is more critical than ever. Still, it is becoming more challenging as the amount of data created, captured, replicated, and consumed each year will double by 2026. Companies must seamlessly connect digital and real-world customer interactions to provide the most relevant, personalised, and compelling experiences in every moment.
A sales rep can no longer rely on in-person communication to close a large deal — agents need real-time insights about every customer, based on real-time and historical data, to act on the most relevant information at the moment. A service agent risks losing a valuable customer if they lack a complete, real-time view across every touchpoint — every agent needs a source of real-time customer truth. Healthcare providers can deliver proactive guidance and care recommendations with real-time patient data. Genie makes every part of Customer 360 more automated, intelligent, and real-time.
"Every business leader wants to take advantage of real-time data to create compelling, personalised customer experiences — milliseconds matter in this new digital-first world," said David Schmaier, President and Chief Product Officer of Salesforce. "That's why we built Genie, our most significant innovation ever on the Salesforce Platform. Genie makes every part of Customer 360 more automated, intelligent, and real-time."
Salesforce Genie: Unify data to build a real-time customer graph and a single source of truth
As the heart of real-time Customer 360, Salesforce Genie ingests and stores real-time data streams at a massive scale and combines them with transactional data. Genie includes built-in connectors that bring in data from every channel (mobile, web, APIs), legacy data through MuleSoft, and historical data from proprietary data lakes.
Genie transforms the data into a real-time customer graph – a unified customer profile record. Because Genie is built using the Salesforce metadata model, everything in the customer graph is visible and actionable across the entire Customer 360, every industry solution, AppExchange, and customer apps.