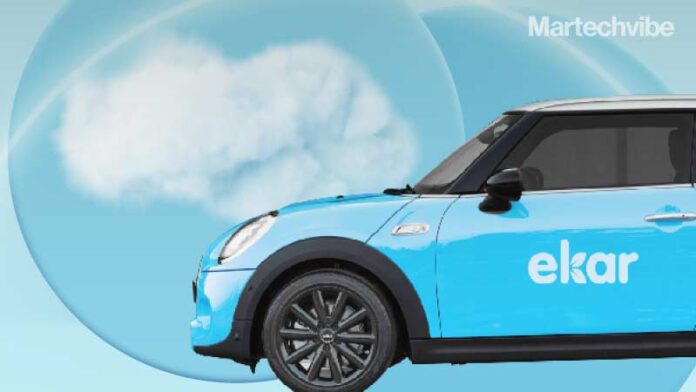 The company's digital peer-to-peer solution does away with the cumbersome and frequently time-consuming "key handover," which requires the host and renter to meet physically.
A recent McKinsey report revealed a shift in the automobile industry. The findings showed a significant decline in private car ownership and increased interest in shared mobility and rentals as it provides flexible transportation. This is where ekar, the Middle East's first and largest personal mobility company, chips in. The startup helps a customer drive a car without owning one while providing vehicle owners the facility to rent unused cars and earn a regular income.
Founded in 2016 by Vilhelm Hedberg, the company operates in the UAE, and after receiving $17.5 million in funding in Series B, the team expanded to Saudi Arabia as well.
Up for a hassle-free ride
Six years ago, Vilhelm noticed a gap in the car-sharing market and decided to start a 15-vehicle pilot programme for the working crew members of Emirates Airlines and Etihad Airways in the Middle East. Why so? Simply put, the crew members spend most of their time abroad because of the nature of their work and prefer staying in nearby accommodations. Hence, buying a vehicle made no sense to them. This challenge paved the way to a solution – that's how this company was born.
To simplify, the company offers consumers on-demand access to a vast network of available vehicles on rent or a leasing subscription. Users need to download the mobile app, register using a legitimate driving licence, rent the car of their choice for minutes, hours, days, or a week, or even choose long-term monthly rentals and pay accordingly. The long-term monthly rentals include fuel, free parking, insurance, maintenance, and round-the-clock customer assistance. Moreover, customers can pick up and drop vehicles at any location; there is no need to go to a rental facility.
The platform provides customers multiple options, including the Nissan Micra, Mitsubishi Attrage, MG ZS, Mazda 6, Peugeot 3008, Chevy Spark, Ford EcoSport, Hyundai Accent, and more.
With government-imposed Covid19 lockdowns preventing the service at the beginning of 2020, the company realised the need to turn towards technology aggressively to cater to increasing consumer and business demands.
Tryst with technology
Sensing the urgency, the company rolled out ekar Mobility OS – the telematics agnostic software that enables automobile rental and leasing companies to digitally rent and unlock their cars using a mobile app – under the 'ekar fleet' programme.
Unlike traditional peer-to-peer businesses, the company's digital peer-to-peer solution does away with the cumbersome and frequently time-consuming "key handover," which requires the host and renter to meet physically. The peer-to-peer network is entirely contactless. The keys need to be securely left inside the car. The vehicle remains immobilised until opened and unlocked via the app, which is directly connected to the vehicle's onboard computer.
The company is also concerned about theft or illegal access; cars are locked and will not start without the app's verification. A tremendous amount of data, including location, time, driver information, driver behaviour and scoring, and vehicle identification, are constantly monitored and analysed by unique AI. Further, the app provides a dynamic pricing feature within Mobility OS. The proprietary algorithms automatically adjust automobile rental rates according to geography, seasonality and peak timings. Also, the Mobility OS is accessible remotely by all hosts, giving them access to real-time performance and revenue indicators for their vehicles.
As the company grew rapidly, it started looking for a scalable solution for its registration process. Users need to upload scans of their ID and driver's licence on the app. The step is necessary to confirm their identity and verify their information. To that end, the company onboarded San Francisco-based Jet Admin.
The built-in image viewer and field widgets of Jet Admin are being used by account managers, who validate this data to check that all necessary papers are present.
Similarly, call centre representatives get the capabilities with the platform to sort customers' issues on a kanban board and change their real-time status in a table view. The team maintains all photographs and receipts associated with a certain issue and the user in a record. This helps the company save significant time that would otherwise be spent searching for these images in chat or databases.
Agents can quickly and easily search through large datasets with the help of the Filter feature. For instance, looking for an automobile using its licence plate number or a user's record page using their email address or reservation number are both quite convenient.
Overall, the partnership improves operational efficiency and helps make data-driven decisions.
Recent tie-ups
In May 2021, ekar teamed with CarPro, a rental fleet management platform, to enable car leasing. Further, it provides rental companies with more than 500,000 rental cars to rent cars digitally via the platform.
CarPro will integrate Mobility OS into its fleet management software to help realise its vision of becoming the world's largest personal mobility provider. Car rental companies can use the app's capabilities, such as the contactless rental process, higher fleet utilisation, driver behaviour analytics, and real-time vehicle tracking.
The startup aims to help other brands in the region provide better customer experience to users. In June 2022, the company announced an agreement with SellAnyCar.com. With the app, customers can now sell their cars instantaneously and drive away without any paperwork or down payments for a fraction of the price of a taxi or ride-hailing service.
"Symbiotic partnerships such as this add tremendous value to all stakeholders," said Stas Betin, Chief Commercial Officer at ekar, in a press release. "Combining the SellAnyCar.com hassle-free 'Sell your car in 30 minutes' service with ekar's seamless mobility services is a no-brainer. We saw the complementary effect that ekar could bring to an individual after selling his vehicle and jumped at the opportunity."
To sum up, ekar's innovative solutions not just ease the mobility issues starting from the Middle East and slowly spanning across the globe but also help reduce the carbon footprint, thereby creating viable, sustainable transportation for the future.
If you liked reading this, you might like our other stories
Martech Spotlight: Zain Saudi
Martech Spotlight: Careem