Top Lists: Email Marketing Platforms
Email Marketing is one of the oldest yet most powerful online marketing channels, and it's getting smarter. Read more about Email Marketing Platforms here. According to the National client email report', over 36 per cent of marketers make $70 or more for each dollar invested in email marketing. According to a Statista report ', the […]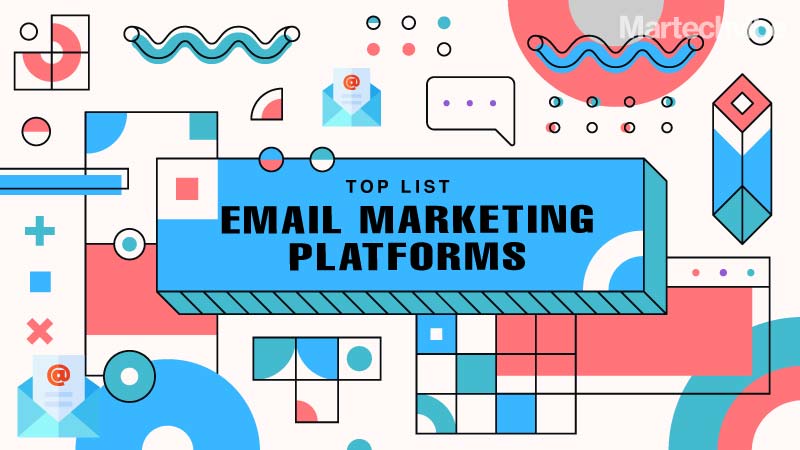 Email Marketing is one of the oldest yet most powerful online marketing channels, and it's getting smarter. Read more about Email Marketing Platforms here.
According to the National client email report', over 36 per cent of marketers make $70 or more for each dollar invested in email marketing. According to a Statista report ', the number of email users worldwide could reach up to 4.48 billion by 2024.
Email marketing is excellent for building community and involving customers on a personal level. However, if there's no right infrastructure in place to manage email marketing, it's impossible to reach desired subscribers and customers to promote engagement, build relationships, generate more leads, and increase sales. 
Here's a list of top email marketing platforms, with a brief on their features.
One of the biggest names in the email marketing industry is Mailchimp. Around 1 billion emails are sent every day through their platform, and they already have an impressive base of over  12 million consumers as of 2020.  Mailchimp's free plan serves around 2,000 subscribers. Over 12,000 emails are sent each month, a requirement that can satisfy SMBs. The free plan also includes transactional emails, auto-responders, analytics, and multiple third-party integrations. A Mailchimp app for mobile devices is also available.
Charges depend on the size of the email list; for instance, if a company goes over the threshold of 2,000, they can join their 2,000-2,500 plan at $30 per month. 
Working on HubSpot is the easiest way to optimise, design, and send excellent-looking emails. They offer users various custom features and templates to pick from, plan, upgrade, irrespective of the enterprise's size. 
Businesses can use their pre-made email templates or customise their own template for emails. The templates enable users to add text, buttons, images, dividers, and many other customisable features that help enterprises personalise their emails. Another strength of HubSpot is personalisation. Like standard tools, users can personalise their content based upon common merge tags such as the recipient's first name. 
Users can likewise personalise content based on the device they're using, geographic location, and list segment. Users can also A/B test their content and subject lines to maximise their emails' open and click rates. When it's time to view and measure metrics, the HubSpot analytics dashboard offers data on the number of opens and clicks. It also provides information on the amount of time spent while viewing email.
Staying connected with users is an added advantage of HubSpot, and it's easier with their 99 per cent email deliverability rate. 
HubSpot includes email marketing and everything else to align sales and marketing efforts. It also offers full-featured CRM, automated sequences, mobile optimisation, personal calendar to schedule appointments, Gmail extensions to track email sends and automate outreach, form builders, inbound lead, email, and ad analytics, phone, and email support.
Zoho Campaigns is a reliable email marketing application with a focus on SMBs. As an independent solution for creating email campaigns and newsletters, it provides a fair amount of fixed templates. It can assist beginners through the process of creating engaging emails instantly and simply for the most part. Current user interface (UI) overhauls and unique functionality make Zoho Campaigns an engaging SaaS solution provider that meets customer expectations. 
Also Read:2021 Business Trends: The Road to Recovery
Netcore is a Martech Product company that helps B2C businesses design a fantastic digital experience with various products that help acquire, engage, and retain. Netcore is a robust foundation of email technology with around 18 years. It assists to optimise enterprise email solution that properly suits the business requirements. Netcore provides greater flexibilities to its consumer. It helps businesses select the best email solution according to organisation requirements and usage.
It's a multiservice shop for all the organisation's corporate emails, email security, and email archiving requirements.
It is made by creators, for creators. ConvertKit boasts engaging forms, organises subscribers to maximise engagement, and increases conversion rates with automated emails. Besides, they provide much-advanced email sequences based on action within emails and site actions. 
It's also a wonderful choice for reasons such as; latest segmentation based on various actions to personalise email funnels, looks professional and avoids annoying email branding, and the best emails will be rigorously text. Users need not have to worry about fancy design features, attaching logos, and collections of photos.  Even though they don't offer a free plan, their base plan starts at $29 per month with a 14-day free trial. It's an excellent option for bloggers who focus on building high-converting sales funnels.
GetRespone is a combination of online marketing platform to grow business. They provide high-converting landing pages, email marketing campaigns, and webinar software to assist users with their marketing efforts. 
The actual standout here is the Autofunnel tool. It offers more than 30 prepared landing pages, sequences to generate, and email templates. Users can pick their end goals. Autofunnel is the solution if users want to stimulate lead generation, webinar registrations, or product sales. One of the biggest strengths of GetResponse is its automation tools. Users can create multiple advanced conditions to segment their lists automatically. 
On the whole, GetResponse is a helpful email marketing tool to create automated sales funnels and landing pages. They offer a 30-day free trial alongside their basic $15 per month plan.
Sendinblue is a convenient email marketing service with a free plan that provides unlimited contacts and 300 email newsletter sends each day. If a business is looking to grow its list, Sendinblue's lite plan is the best choice which starts at $20 per month and offers over 40,000 sends per month without a daily sending limit. 
Sendinblue's free platform is built on ease of use. Its integrity offers users to easily create clean templates, website opt-in forms, and automated welcome emails. They also offer live chat and CRM in their free plan, which involves automation workflow for over 2,000 contacts. It also uses AI and machine learning (ML) to send emails at the best time of the day to maximise engagement. 
Users can also view real-time statistics with significant reports that provide metrics such as click-through rates, heat maps, open rates, and deliverability. If a business wants to opt for the latest email marketing automation software on a budget, they can begin with their Lite plan for $20 per month. 
Pardot is an all-up marketing automation solution that offers features such as list-building, contact tags, lead-scoring packages, campaign rules, and a host of other automation capabilities. With all the potential complexity, Salesforce has still managed to design Pardot, which is easy to use, even the analytics and integration modules. 
This platform offers everything, like a quick start onboarding package that assigns the user a Pardot Implementation Manager who can get the team trained, up and running on the platform. Salesforce Pardot offers a plan at a $1,250 per month subscription cost.
Constant Contact's ultimate goal is to assist small businesses to harness the potential and use the power of the web.  Constant Contact features more than 100 mobile-optimised templates to engage and transform consumers, bonus features like coupons, polls, and events, and real-time reporting and analytics.
According to EmailToolTester, Constant Contact's email deliverability is above average, and it scores above 85 per cent in the email service providers list. Constant Contact's plans start at $18/month for up to 500 contacts.
Keap (formerly Infusionsoft)
Technically a CRM service, Keap also offers strong email marketing, sales tools, and automation, which pushes them on the list of top email marketing platforms. Keap provides quotes, templates for emails, invoices, and proposals, and automation and workflows, along with the other apps and business tools. It was built on the same framework as Infusionsoft, which is still the premier product.
If an enterprise thinks that marketing and sales are not separate functions and instead view them as a combined process, Keap is one option worth considering. It offers some features like advanced sales and marketing automation, app integration to power growth, and customisable campaigns. It captures the new leads automatically, assigns tasks, and generates personalised messages. Users can control contacts and leads in Keap and sync their outlook and Gmail. Small businesses and enterprise users whose requirements are less rigid can make a profit from an integrated solution. 
Salesforce Email Studio helps users in creating highly personalised emails with ease, merely with a drag-and-drop. It's trusted by the largest email senders globally. It integrates the power of data-driven campaign management, content management, automation tools, and native predictive intelligence. It also combines offline and online data to generate personalised email messages throughout the customer journey.
Businesses can work with Salesforce Email Studio to create promotional emails such as flash sales, loyalty programs, newsletters, promotions, events, and coupons. It also works for transactional and triggered emails such as bank statements, shipping notifications, hotel reservations. And for E-commerce emails such as order confirmations, abandoned shopping cart emails, receipts, and so on.