Quotible Partners With Momentum CRM
Quotible announced its partnership with Momentum CRM, a proprietary CRM software designed specifically for the automotive industry. By combining forces, Quotible and Momentum will make it easier than ever for dealerships to attract and retain satisfied customers. Since its inception, Quotible has changed the way that dealerships communicate with customers, exchanging stale, static messaging templates […]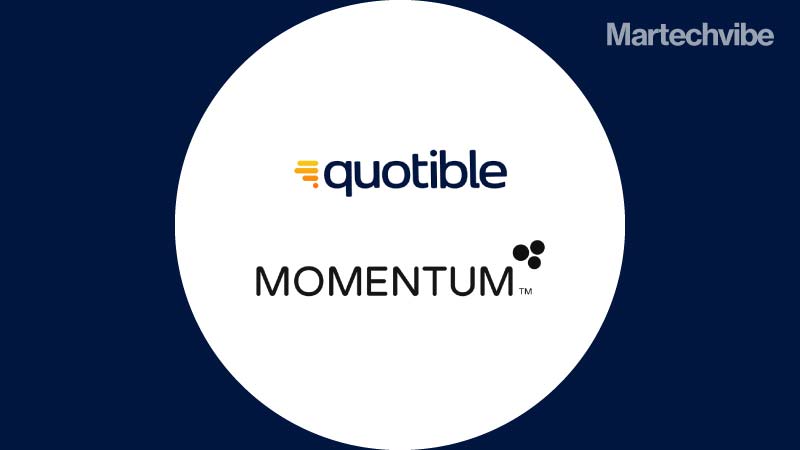 Quotible announced its partnership with Momentum CRM, a proprietary CRM software designed specifically for the automotive industry. By combining forces, Quotible and Momentum will make it easier than ever for dealerships to attract and retain satisfied customers.
Since its inception, Quotible has changed the way that dealerships communicate with customers, exchanging stale, static messaging templates for interactive and immersive forms of communication. The result has been unprecedented rates of engagement, including 88-92 per cent quote visit rates and an average of four minutes spent on each quote.
Also Read: Best CRM Software for Every Business 
"We are super excited about launching our deep integration with Momentum," says Nick Kaptain, the co-founder of Quotible. "Dealers using Quotible can start the quote building process from directly within Momentum CRM by simply clicking the 'build quote' button. All activities and actions taken on the quote post back to Momentum in the notes section within the customer record, creating a seamless process that doesn't break the dealer's workflow." The quoting and communication platform, now combined with the automotive CRM, have their sights set on taking the industry to a new level. Higher customer loyalty, increased sales.