Key Insights from 'The Martechvibe State of MarTech Survey 2020'
Acquiring new customers is a major priority for most marketers. Customer acquisition and retention are critical and urgent focus areas for the marketing leaders Any modern marketer can attest that marketing technology has exploded over the past decade, and there are no signs of it slowing down. At the beginning of the pandemic, marketing technology […]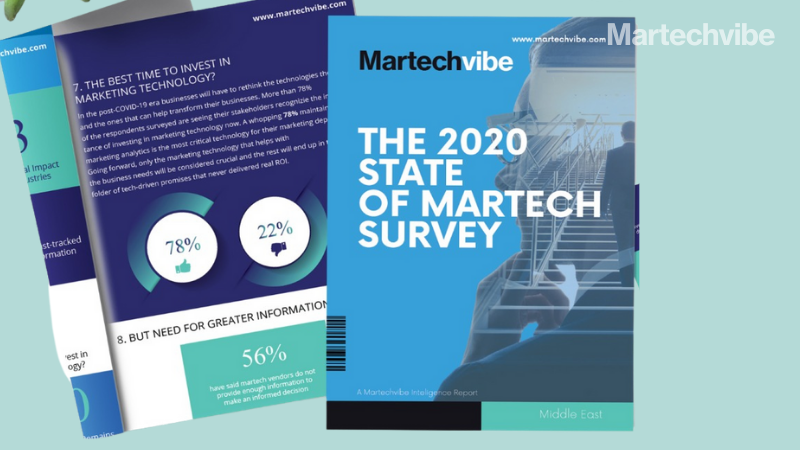 Acquiring new customers is a major priority for most marketers. Customer acquisition and retention are critical and urgent focus areas for the marketing leaders
Any modern marketer can attest that marketing technology has exploded over the past decade, and there are no signs of it slowing down. At the beginning of the pandemic, marketing technology was one area that remained unscathed from initial budget cuts. But, new findings from the 'Martechvibe State of MarTech Survey 2020' reveal that nearly 40% of CMOs surveyed expect moderate reductions of about 31% to their martech budgets due to pandemic-related disruptions.
The pandemic also created drastic changes to marketing, advertising, promotional, and ad spends, forcing businesses to re-evaluate their strategies about current and future marketing and advertising campaigns to maintain a steady stream of income. 62.16% of the respondents have said generating traffic and sales is one of the top challenges their brand faced during COVID-19.
Josh Wetzel, Chief Revenue Officer, OneSignal, says, "Marketing teams and tools must adapt to the newly changing landscape, as COVID-19 has collapsed a typical 5 to 10-year technology adoption cycle into just one year.
To survive, marketers must invest resources in digital marketing and messaging tools that go beyond a website and email list. To thrive, they must have a mobile-compatible site, add additional messaging channels, incorporate social video to tell their business story, and deliver a cohesive message across all digital channels. Anything less limits your addressable market in a digital-first economy."
Marketing in 2021 is all about staying in the know, continually updating skills, and optimizing marketing activities with the right technology. Businesses that have not made the digital transformation yet will need to get onboard. According to the survey, 86% of the marketing leaders have said they experienced COVID-19 driving their company to fast-track digital transformation.
With remote working policies becoming an essential part of the current workforce, many businesses and marketing teams rely on technology to manage work. The study revealed that 78.38% have seen their stakeholders recognize the importance of investing now in marketing technology but have witnessed only 11-20% of their marketing budget allocated towards technology.
Furthermore, 88% of the marketing leaders have said customer acquisition is their top priority, while 85% agree that customer retention is another key priority. Initially, customer acquisition was associated with expensive, unsustainable practices like in-depth discounting strategies and aggressive advertising budgets. But, today, customer acquisition is more than that, and robust strategies need to be in place to get customers to stick around after their first purchase.
While brands strived to strike the right tone during the global health emergency, the future signals increased competition, market alteration, and a demand for creative and aggressive marketing practices.
Tricia Binder, co-founder of Muros, "I anticipate we'll see an increase in confidence in 2021 among marketers as they navigate through uncertainty. Businesses across all industries had to get extra creative in 2020 to find digital or other inventive solutions that fit client's needs. Pivoting your strategy and offering flexibility for your customers will remain a high priority."
Read More: A Marketer's Guide to Account-based Marketing
"We'll also see brands striving to be more genuine in their messaging. This year cut right through the clutter and consumers are no longer letting inauthenticity slide. We've learned empty gestures can do more harm than good, and it's not that brands should go silent, but instead dig deeper and question what they're truly doing to help communities and causes. From setting a good example during the pandemic to joining the fight for equality, brands must continue to ask themselves the hard questions to ensure they're not just checking a box", she adds.
Data analytics has become integrated into almost every application, software, and platform with the dawn of the big data era. Companies have started making data a more integral part of their operations. They realize the power of information to help them manage business productivity and inform their business decisions, customer behaviors, and purchases.
Cristina Bravo Olmo, VP of Marketing, Sigma Computing, "As we head into a year with more uncertainty, real-time access to data becomes even more critical and so does continuous visibility into not only the key marketing metrics we're used to reporting on but a few new ones as well.
Marketers have traditionally tracked Campaign Performance, Marketing Spend Attribution, and Customer Journey 360, but as budgets shrink during recession times, marketers are under even more pressure to show an optimized spending strategy, not to mention taking on a more active role in retaining customers and expanding their engagement."
But, data is useless without someone who has the skills to analyze it. This means companies are on the hunt for top talent who have strong data literacy skills. As per the research conducted by Martechvibe, data analysis is the skillset 78.38% of the marketing leaders look for in new recruits.
In today's technologically advanced world, the whole game of Marketing Analytics has transformed. The coming of age for analytics within social, mobile, web, video, in-app, and e-commerce has pushed the barriers for the modern CMO.
78.38% of the CMOs surveyed have said marketing analytics is the most critical technology for their marketing department. Marketing analytics has risen like a superstar, benefiting its clients over conventional strategies. It is enabling marketers to identify opportunities for improvement by studying key business metrics. 
Professional networking is one area that is not getting the attention it deserves. A well-built and maintained a professional network is a powerful tool for business advancement. With a robust internal network, marketing and business leaders can build strong relationships with key stakeholders.
According to the survey, 70.27% of the CMOs say networking with fellow marketing leaders is extremely valuable. A professional network is a powerful source of information and new ideas. Leaders can leverage this to keep their finger on the pulse of their industry. Leaders typically don't just connect with fellow leaders they expect to work with one day; they connect with people within their industries to bring together as many diverse voices as possible and enable the free exchange of ideas.