Folloze Announces Folloze plus Outreach
From the first human touch, sales and marketing teams can now leverage the power of Folloze BX 3.0 and Outreach to save time and improve relationships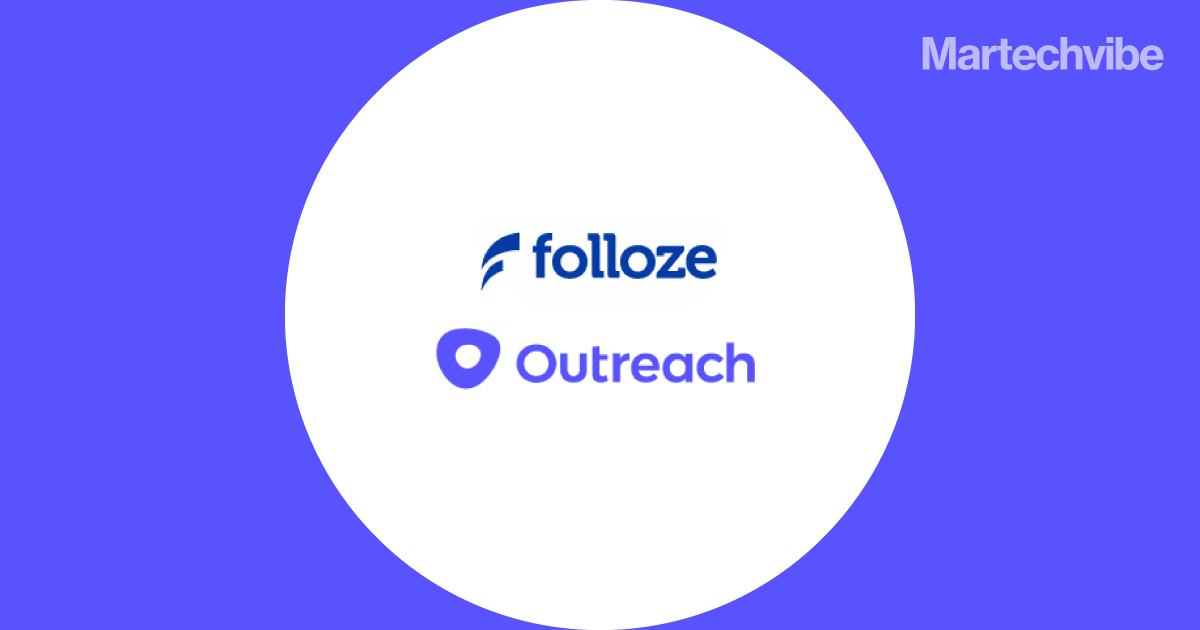 Folloze, creator of the world's first and only no-code B2B Buyer Experience Platform (BX 3.0), announced Folloze plus Outreach, a new integration that enables customers to connect the power of Folloze BX 3.0 and sales engagement within the Outreach Sales Execution Platform. This new single interface allows sales and marketing to auto-personalise content experiences via Folloze boards to Outreach sequences with just a few clicks, unlocking agility and productivity while starting a long-term, rich, data-driven relationship. Additionally, first-party behavioural analytics are now easily accessed through a dashboard that allows sales professionals and managers to focus their resources on the best opportunities, winning more deals faster.
"Folloze and Outreach provide teams with the ability to uplevel sales and marketing activities in their own respective ways," said David Brutman, Co-founder and Chief Product Officer at Folloze. "The integration addresses a critical gap as budgets are shrinking and organisations strive to garner better results with current or reduced investments. By bringing these dynamic platforms together, joint customers that lean on their sales channels as a critical driver of engagement and pipeline acceleration will now have a more unified experience that amplifies value and drives greater performance and personalisation."
Folloze and Outreach help sales and marketing teams play to win from the first human touch by creating a better initial experience and the backend data to prioritise the most engaged and best opportunities. Marketers can orchestrate campaigns through a variety of channels such as ads, social media, physical mail, and marketing emails, as well as with the sales team, all reinforcing each other with consistent messaging and content and one standardised analytics stream handed over directly to sellers. This provides the foundation for persistent profiling and ongoing experience continuity, enabling a stronger communication channel with less back-and-forth email messaging, which saves time and improves relationships. Campaign efforts result in actual pipeline creation, building a revenue engine like never before.
"Outreach is committed to making it easier for our customers to create pipelines and close more deals. We seek partners who further this mission and Folloze definitely fits our criteria," added Phillip Friedman, Head of Partner and Ecosystem at Outreach. "This integration helps sales and marketing teams become both more strategic and personalised in their prospect interactions, making each sales rep's touch that much more impactful."
The integrated solution makes that all-important first touch even more compelling for joint customers by allowing Outreach users to understand prospects' behaviour with Folloze's first-party intent signals within the Outreach platform. This deep behavioural data allows sellers to focus on the most likely prospects and quickly respond to capture moments of interest with personalised content. These benefits lead to far more cohesive, efficient, and effective sales and marketing efforts.