Campaigns that Clicked: 2021
Martechvibe shares ten marketing campaigns from the last year that hit the ball out of the park with their innovative use of creativity, context and technology. TikTok for Business One of the most popular hashtags of the year 2021 was #tiktokmademebuyit, with over three billion views. TikTok transformed an array of brands with the help […]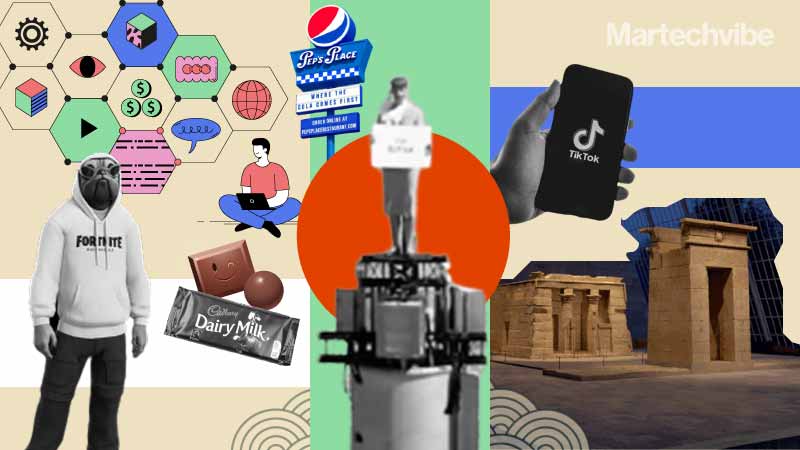 Martechvibe shares ten marketing campaigns from the last year that hit the ball out of the park with their innovative use of creativity, context and technology.
TikTok for Business
One of the most popular hashtags of the year 2021 was #tiktokmademebuyit, with over three billion views. TikTok transformed an array of brands with the help of social proof as users shared affordable or life-changing products. For example, a TikTok campaign for its Aerie brand generated 2 billion impressions and boosted sales. Their magic leggings have since become infamous. Following this, American Eagle Outfitters launched their back-to-school marketing campaign shot entirely in the style of a TikTok video using top personalities like Addison Rae.
The biggest proof of success came when Amazon responded to the craze by launching a Famous Internet storefront packed with various items that have gone viral on TikTok.
Domino's
An NFT is a one-of-a-kind digital asset that can be bought and sold online as a collector's item. The market for these digital works has exploded recently, with some selling for millions. Domino's jumped on the NFT bandwagon but did it with a tongue-in-cheek press release warning customers not to buy the Noid's NFTs. The NFTs up for sale include Noid's Balloon Blockade, Pizza Slayzer and Pizza Crusher.
The Noid is an advertising character for Domino's Pizza, created in the 1980s. Clad in a red, skin-tight, rabbit-eared bodysuit with a black N inscribed in a white circle on his chest. Back then, the Noid was a physical manifestation of all the challenges inherent in getting a pizza delivered in 30 minutes or less.
As per the press release, Domino's warns that Noid may use the profits to thwart the pizza chain's robot delivery test and raise money for future schemes.
Cadbury
Chocolate brand Cadbury extended their 2020 campaign 'Not Just A Cadbury ad' featuring actor Shah Rukh Khan and urging consumers to support local businesses across India. The delightful surprise to this year's campaign was that small shops and retailers could use a pre-recorded message by Shah Rukh Khan to promote their own business. The actor would even say the name of the store using machine learning technology developed by Rephrase.ai to recreate the actor's voice and face to take the local store's names in the ad. It was followed by a hyperlocal targeting campaign. Consumers would view stores only in their pincode. The brand was able to create scalable, personalised ads for individual stores to share across their social channels. The campaign reached more than 2,000 stores across 500 pin codes.
The MET
In January 2021, after being shut due to the pandemic for the longest time in its 150-year history, The Metropolitan Museum of Art launched The Met Unframed, an immersive access to digital galleries and augmented reality versions of its iconic masterpieces. The campaign invited online visitors to explore and play games that unlocked augmented reality (AR) versions of the art on view virtually at home. By partnering with Verizon, it was accessible from any 4G or 5G smart device and available for free for a limited five-week run.
Pepsi
In May 2021, Pepsi launched a virtual restaurant called Pep's Place, "where the cola comes first" the tagline said. It promised to offer the perfect pairing of fast food and your fizzy cola of choice. Consumers were invited to first pick their favourite Pepsi beverage and were then given prompts for a curated food list based on that choice. Pep's Place opened in select locations in the US and partnered with major food aggregators like Uber Eats, DoorDash and GrubHub for delivery.
WeTransfer
WeTransfer unveiled its campaign called Please Leave. It touched upon the new reality that digital technologies have often become a distraction from productivity, and highlighted the unique role that WeTransfer has in helping people reclaim their time with simple and intuitive tools. Relevance and relatability was the key factor that drove the success of the campaign.
It's interesting to note that a B2B product could appeal to the human, the personal side of their end customers. The ads were even able to showcase the diverse product range built to drive ideas forward, and celebrate the creative process in a romanticised way — from sparking ideas, capturing content, developing and editing, to delivery.
Ikea
Ikea, known for its thick 200-plus-page catalogues, has started integrating its print magazines into Pinterest. Not only does this give the catalog a longer life, it also creates a shoppable version. Users could populate their boards through product pins based on a questionnaire around item and style preferences.
Pinterest has been working to take the best offline brands online through their shoppable content. It gives users the opportunity to shop right from Pins, on boards, from search, and from the inspiration they find in the real world using Lens camera search. Pinners also have the option to get inspiration from Shopping spotlights, which showcase expert recommendations and trends from influential fashion and home tastemakers as well as publishers.
Balenciaga
Balenciaga became the first high fashion label to drop in Fortnite by Epic Games. From its launch in September, players could buy digital outfits inspired by real-life Balenciaga pieces in a virtual version of a bricks-and-mortar Balenciaga boutique and the game's Item Shop. A real-life Fortnite x Balenciaga series will also be available in select Balenciaga stores and at Balenciaga.com. One way was that fans who purchased the real-life apparel were able to unlock the Balenciaga outfits in Fortnite. While most of the merch (virtual and physical) had to be bought, some items could also be unlocked like in the case of Balenciaga's Triple S Sneakers which can be collected in the Strange Times hub. There, players can also hang out with other fashionably minded gamers, change their looks with Changing Booths and add Balenciaga Fit Outfits to their inventory.
Fitbit
What "healthy" looks like can vary greatly from person to person. Fitbit based the premise of their ad campaign on the view that what some might view as a weakness can be a source of power. Moments of doubt become triumphs in the set of video spots they released in 2021. "What's Strong With You?" is an emotional campaign and one that lifts the viewer.
With the conversation around mental health concerns picking up in the last year; what with the pandemic and remote working, Fitbit extended their premium subscription to include Fitbit Charge Five. This is a tracker that scores how ready your body is to handle stress. It uses an algorithm to look at your activity level from the previous day, along with how well you slept and your heart rate during your sleep. If your score is low, the device may suggest activities such as yoga, stretching, or a mindfulness session. A high score could lead to a workout suggestion.
Lego
Lego launched its first brand campaign in 30 years at the end of 2019 with "Rebuild the World" as a rallying cry for children to reimagine a more fun, playful and free universe. The tagline seemed like the perfect message when the pandemic hit. As a result, the campaign flows into its third year where it extends to celebrating children as the masters of creative problem solving.
According to the LEGO Play Well Study in 2020, the top five skills that parents feel are most important to their child's future success and wellbeing are confidence, resilience, communication, problem-solving and decision making. Lego uses this insight to drive the story of their ad campaigns where a knight attempts to cross a river to meet a friendly bear waiting on the other side. The knight keeps failing and so the whole town comes together to pool their varied skills, perspectives and talents to find a way to reunite the friends.
Emirates — SPECIAL MENTION
The advertisement by Dubai-based airlines Emirates caught the eye of social media users in August. The video ad showed a woman dressed as Emirates' flight attendant shuffling placards with different messages about the services of the airline. After the last placard, the camera zoomed out and she is seen standing on top of 828-metre-high Burj Khalifa.
The original video racked up more than 115,000 views on Twitter, with many wondering if a green screen or other digital manipulation had been responsible for affixing stuntwoman Nicole Lundvik-Smith to the building. So much so that Emirates followed the ad with a behind the scene video to demonstrate that the video was indeed shot on the world's tallest building.
If you liked reading this, you might like our other stories
5 Winning Moments With Virtual Reality
Top Women CMOs in the Middle East