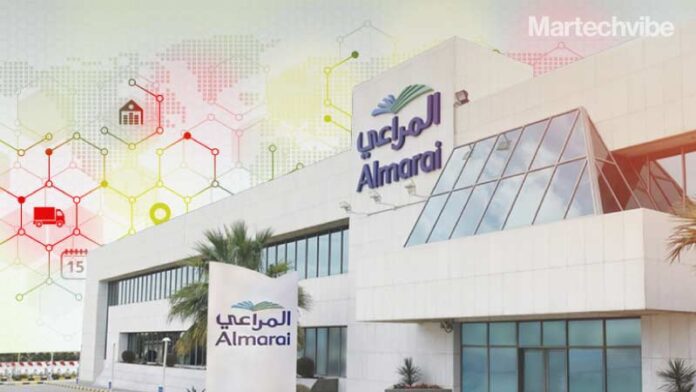 Digital is central to Almarai's plans, with the firm eyeing a suite of intelligent technologies to optimise its operations, supply chains and customer processes.
When Covid-19 hit the world, many companies in the Middle East were already embarking on their digital journeys. The pandemic forced their hand, and brands needed to work quicker and more efficiently to ensure enhanced customer engagement and smooth customer journeys.
Almarai has been a force to reckon with in the dairy industry since its inception in 1977. With over 200,000 cows worldwide, it provides dairy products, including milk, cheese, yoghurts and milkshakes, to millions of consumers in the Middle East daily. Some of its known brands include namesake Almarai, L'usine, 7DAYS, and Alyoum.
The Middle East dairy market is estimated to grow at a Compound Annual Growth Rate (CAGR) of 6% by 2025. As of 2020, Brand Finance named Almarai the seventh most valuable dairy brand worldwide and the leader in the region. The company is poised for expansion and growth, and its digital transformation journey is at the heart of its preparation, being one of rigour, research and deep technological investment.
Intelligent Technology To Optimise Production And Distribution
Almarai's digital strategy is three-fold – to stay competitive, mitigate threats from disruptive forces, and comply more fully with internal mandates that will improve overall enterprise efficiency.
The company has been looking at intelligent technologies to optimise its operations, supply chains and customer processes. Since 2020, McKinsey & Company has been advising the executive team on digital strategy and execution and exploring emerging technologies such as robotics, chatbots, and cloud-driven innovations.
A major item on its digital agenda list is a large-scale ERP upgrade to optimise resources, reduce waste, and drive a leaner operation. Building on its two decades of partnership with SAP, Almarai has deployed the SAP S/4HANA system across all lines of business, running on a HANA Enterprise Cloud platform managed by SAP.
The company already has a scalable and robust commerce web and mobile channel on SAP Commerce Cloud 1808, allowing customers to place orders easily without relying on offline assistance.
The commerce platform has comprehensive B2B and B2C features, and the company's flexible loyalty program has been implemented in SAP Marketing Cloud, providing a tiered structure with features such as reward encashments and rewards added as payment. One of the newer features includes the drive-through 'pick up in-store.'
Almarai's digital presence now has its complete product catalogue, ordering, promotions, and customer management, supporting multiple languages and currencies across six countries. The legacy ERP system was integrated into SAP commerce via Informatica PIM. There is a customised portfolio and pricing for each customer based on client loyalty, and the promotion engine's personalisation provides recurring promotions.
While looking to deepen its relationship with SAP, HubSpot Inc., DigitalOcean and so on, Almarai also intends to invest in emerging technologies such as AI, machine learning, IoT, blockchain, autonomous database or in cloud-based ERP, HCM, CRM, EPM, procurement or treasury applications.
Plans For Expansion
In June 2022, Almarai announced its plan to foray into the seafood sector. This would include establishing new facilities to process seafood and produce seafood-based products. The venture has set aside an initial investment of $67.2 million (SAR252 million); this comes under Saudi Arabia's Food Security Plan to ensure the sustainability of crucial resources by focusing on domestic food production.
In May 2021, the company announced plans to double its poultry processing capacity in the domestic market over three phases up to 2026. In December 2021, it also announced its plans to venture into the red meat market.
Quality As Customer Care
Almarai earned the Excellent and Green Classification Award by the Saudi Ministry of Labour's nationalisation program, Nitaqat, in 2013. Sustainability is a major part of their brand, and its ethos reflects a commitment to quality and sustainability to build on consumer trust, which is their driving force to innovate and expand.
Jump In Profits
In July 2022, Almarai reported an 8 per cent increase in second-quarter net profit as revenue rose with the easing of Covid-19-related restrictions. The company's second-quarter profit beat SNB Capital's consensus estimate of between $120 million and $128 million.
Conclusion
Almarai has consistently topped the list of the most preferred brands by consumers in Saudi Arabia and the United Arab Emirates, according to Kantar Research. Its marketing strategy started with conventional, on-ground advertising, with magazine ads appearing twice every quarter. In recent times, along with a robust digital presence, it has also begun using community influencers as part of promotional efforts.
It will be interesting to see how the company builds on a collaborative approach based on clear deliverables and measurable results, integrating intelligent technology with its 'customer-first' ethos.
If you liked reading this, you might like our other stories
Martech Spotlight: Saudia
Martech Spotlight – Saudi Telecom Company (STC)