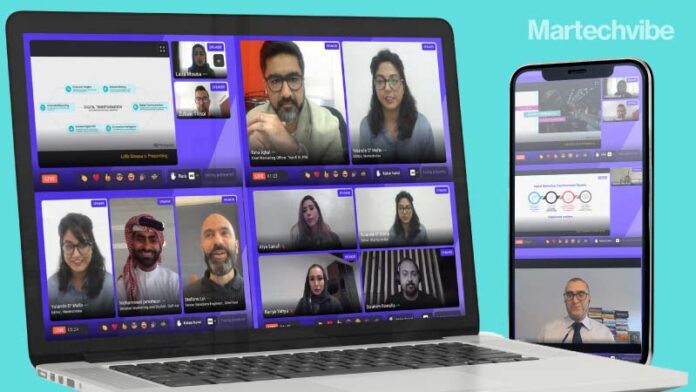 Prepare for everything you know to change and put processes in place so that your teams stay agile
The Saudi economy has shown quick recovery from the adverse business impact of the coronavirus pandemic. The Kingdom posted a 1.8 per cent annual growth in the second quarter of this year. As marketers prepare for this growth, they must re-evaluate their plans to evolve in tandem with changing market conditions and new customer expectations. At the Vibe Martech Fest: Saudi Arabia, the day's sessions were about gathering collective learnings from the past 18 months and sharing strategies to leverage technology to cope with the changing landscape.
Did you know that only 33 per cent of marketers are "completely satisfied" with their ability to use data to create more relevant customer experiences? Vala Afshar, Chief Digital Evangelist at Salesforce, kicked off the session with a startling statistic from Salesforce's research of over 8,200 marketing leaders, managers, presidents, chief marketing officers across 37 countries. The report outlined the changing priorities of teams and practical challenges as companies implemented their digital transformation plans.
Marketing leaders are looking at the last year as a learning experience. "As the world transformed, so did the marketing efforts. Across the globe, 78 per cent of customers (of Salesforce) say last year's crises should be seen as a catalyst for improvement," said Afshar.
Get the right tools to transform
Laila Mousa, Account Executive Director India & Middle East at Meltwater and Zubair Timol, Vice President EMEA at Meltwater, spoke about the digital tools that companies need to invest in to ensure their digital transformation is a success. According to Mousa, there are six core areas to focus on — consumer insights, decision-making, digital communication, automated reporting, increased digital ROI and competitive intelligence.
Digital transformation isn't simply a modern buzzword, it's a basic requirement if companies are to meet the expectations of young consumers. "Millennials are consuming 44 per cent of online video content and only 20 per cent of broadcast material. These are the new behavioural changes that will carry across a new generation of consumers. We are already seeing the increased online behaviour among the GenZ who prioritise purpose over money," she explained.
How do you go about assessing your brand's digital marketing maturity? How do you know where you are on that journey?  "Transformation requires four key areas: marketing, technology, data and organisational aspects. In the post-COVID world, when the consumer's expectation is growing, brands need to do this effectively, transform in those four areas that are critical to offering a personalised and relatable customer experience," said Stuart Mackay, General Manager, Reprise, in his session on the Importance of Digital Marketing Transformation.
But what about the data fatigue that marketing teams are struggling with as a byproduct of swift digital transformations? Tag some of it down to growing pains. Data will drive most decision-making in the future, and companies must learn to evolve or be left behind. Mousa predicts that CEOs will increase their digital investments by 10 per cent in the coming year. "Perhaps it is worthwhile to take a second look (at your tech stack) and make sure you are investing your time, effort and ROI, making the right digital investments," Mousa said.
Mackay's stress on the organisation's readiness to make the best use of technologies like CDP by hiring the right resources and focusing on timely training.
Put privacy at the centre of your data process
The cookie is crumbling. The power has shifted hands; consumers decide what data they would like to share with brands. Browsers are rendering third-party cookies that drive the bulk of online advertisements and allow brands to see how many touchpoints they have with a consumer obsolete. Brands are preparing for Google to do away with cookies on Chrome in 2023. Meanwhile, Apple announced earlier this year that it had given users the ability to opt-out of sharing IDFAs (IDs for advertising).
A recent Epsilon study found that 69 per cent of advertisers think the death of the third-party cookie will have a bigger impact than the GDPR.
Now, marketers are rethinking their plans to focus on zero and first-party data. "In such a scenario, focusing on zero-party data and first-party data is crucial, focusing on loyalty systems, investing in customer care, and finding a balance between customer's privacy and what information they willingly want to share. This is how marketers can do better at personalisation," said Mohammed Jamsheer, Director Marketing and Digital, Gulf Air, in a panel discussion on the Death Of The Third-party Cookie. He was joined by Stefano Loi, Senior Solutions Engineer, OneTrust, in the discussion moderated by Yolande D'Mello, Editor, Martechvibe.
While marketers and advertisers will miss the benefits of third-party cookies, both Jamsheer and Loi believe it is an opportunity to realign the relationship between the brand and the consumer. "Customers shouldn't be surprised by how we use their data. CRM is not enough, we need to invest in different technologies and listen to what customers want," said Jamsheer.
They stressed that it's important to balance the seemingly opposing forces of personalisation and privacy, and not overlook a viable option of asking customers directly about their context or needs and asking consumers directly about what information they want to share. "It's a switch mode to build a proper relationship with customers based on trust, and not consider them just an IP address," said Loi.
Businesses shouldn't be looking at regulatory compliance as an obstacle that needs a solution, suggested Loi. "Once they understand that, they can expand on the regulatory consent, and be more strategic and look at the first-party data strategy, using collection point and preferences, additional touch-points and consent capturing. Businesses need to take an opt-down rather than an opt-out strategy."
Is it too late for brands to ramp up their data capabilities? "It's never too late to be ready," said Loi. "The sooner they start, the better it's going to be. Leveraging first-party data and interacting with customers on social media is the way to go. This will lead to transparency."
Prioritise loyal customers
Whether you call them base management, customer loyalty and renewals or customer value management, retention teams have been working hard during the pandemic when customers showed a high proclivity to try new brands.
Is it any surprise then that retention is becoming increasingly challenging? "There are more advertisements than ever. Customers are getting bombarded with content aiming to grab their attention. And it isn't slowing down. If brands don't step up the game they are going to lose customers. Providing consistent value engagement and attention to customers' needs will help," said Ranya Yahya, Sales and Marketing Director, Al Rushaid Real Estate Company, in a panel discussion on Retention Is The New Acquisition.
The other panellists in the discussion were Ibrahim Bawaliz, Performance Channels Director, Mrsool, and Alya Sairafi, Head of Communications, Aramco Ventures. Since bouncing visitors is a lost opportunity, Yahya says understanding customer behaviour is important. "Customers loyalty to brands lies in how a brand delivers, and how they personalise customer experience. And these are challenges brands often face."
Technology can be the game-changer to engage customers with well-informed promotions, personalised messaging and laser-focused execution of campaigns that proactively deliver greater value to customers. "Businesses need to be agile, and improvement is a continuous process. Big data and machine learning technology has a lot of potential. Also having the right objectives, strategies with the right tools is vital," said Bawaliz.
Yahya added, "Cutting-edge technologies like predictive analysis, software plug-ins and behavioural data can help to make right business decisions in real-time and lead to successful customer retention and increase conversion rate. Also, designing a perfect customer journey is very important."
What are the big mistakes brands make? Missing out on the details, said Sairafi. "Brands need to look at the big picture, and pay attention to the finer details. We lack strategic marketing, we often do things ad-hoc and disregard long-term goals and objectives. It's important to look at the big tapestry and create a roadmap, rather than doing things day-by-day," she said.
Prepare to change quickly
In a keynote delivered by Taha Iqbal, CMO, Toys R Us, marketers learned that low-risk doesn't necessarily mean low-rewards. The pandemic drove leading brands to reinvent to make opportunities where others only saw restrictions. For instance, the KSA Toys R Us used video streaming to offer an online shopping experience for customers stuck at home due to the lockdown. Consumers were escorted with an empty shopping cart across the aisles with the brand employee via Zoom video. "Conventional marketing could not be taken into account, and re-invention was needed," said Iqbal.
Prepare for everything you know to change and plan in a way that teams stay agile. Online engagement and better experiences comes with getting the online and offline balance right. "Try to look inside out. What are the customers looking for? We should not think of just selling, but working on the lines of brand purpose and then reinvent strategies.
Written By: Khushbu Raval, Yolande D'Mello, Chandni U, Suparna Dutt DCunha, Aarti Chawla
If you liked reading this, you might like our other stories
Re-energise Customer Experience Strategy
The Evolving Customer Experience