Salesforce Cyber Week: Global Online Sales Hit $281 Billion 
Salesforce, the global provider of CRM, unveiled its 2022 Cyber Week figures, analysing shopping data from over 1.5 billion shoppers on the Salesforce Customer 360 and activity across commerce, marketing, and service (including 24 of the top 30 U.S. online retailers). Overall, 2022 global online sales hit an all-time high of $281 billion, up 2 […]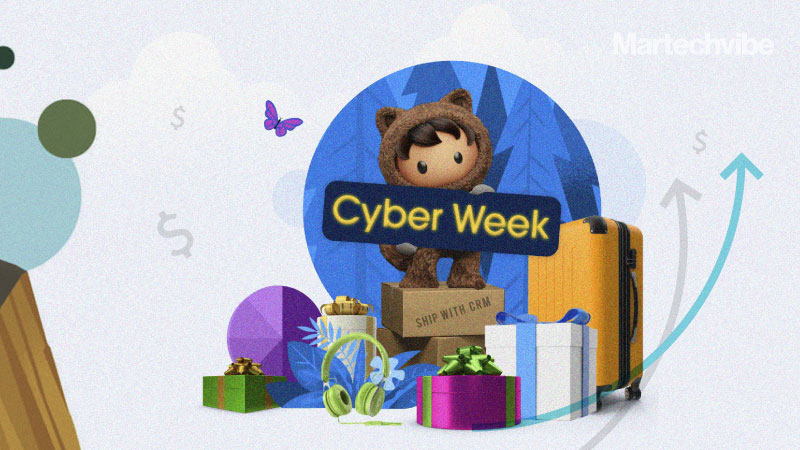 Salesforce, the global provider of CRM, unveiled its 2022 Cyber Week figures, analysing shopping data from over 1.5 billion shoppers on the Salesforce Customer 360 and activity across commerce, marketing, and service (including 24 of the top 30 U.S. online retailers). Overall, 2022 global online sales hit an all-time high of $281 billion, up 2 per cent compared to 2021, and $68 billion in the U.S., up 9 per cent compared to 2021.
The data showed a departure from Cyber Weeks in 2020 and 2021, when online shopping was increasingly spread throughout the month of November. In comparison, 2022 data show both shoppers and retailers held out for Cyber Week as retailers worked to limit discounts that increased margin pressures and consumers searched for better deals – contributing to the largest spike in U.S. digital sales growth in the last six weeks.
Top Cyber Week 2022 Salesforce shopping insights
Online sales and digital traffic break records despite economic uncertainty: Despite many retailers reporting lighter foot traffic, online sales across Cyber Week reached $281 billion globally (a 2 per cent increase YoY) and $68 billion in the U.S. (a 9 per cent increase YoY).

While Europe and the UK results showed continued economic headwinds, U.S. sales buoyed global online sales growth throughout Cyber Week.

Social media referrals hit an all-time high: The majority (76 per cent) of Cyber Week ecommerce traffic came through mobile devices, with social media referring nearly 10 per cent – a 22 per cent increase YoY and the highest referral percentage ever seen during the holiday season based on Salesforce data.
The "discount chicken" game is over: After lacklustre deals early in the holiday season, average discount rates spiked during Cyber Week, topping pre-pandemic levels at 27 per cent globally and 30 per cent in the U.S.

Following a steady incline over the last seven quarters, the global average selling price (ASP) finally leveled off during Cyber Week, rising 3 per cent compared to 2021. The rate of cart abandonment also dropped 5 per cent globally during Cyber Week compared to the previous three weeks as consumers took advantage of big discounts.
The top discount categories globally were:

General Apparel (34 per cent)
Makeup and Skincare (32 per cent)
Luxury Handbags and Apparel (26 per cent)

BOPIS adoption increases: With convenience a top priority for consumers, Buy Online and Pick Up In Store (BOPIS) and curbside pickup helped shoppers avoid long lines. Cyber Week BOPIS usage grew 9 per cent globally Thursday through Sunday compared to the first three weeks of November. Retailers in the US that had BOPIS grew online revenue by 38 per cent more than those without this creative fulfillment option throughout Cyber Week.
Consumers stretch their dollars with BNPL: Amid inflationary pressure and shrinking budgets, U.S. shoppers utilized alternative payment options like Buy Now Pay Later (BNPL) to finance purchases – with a 5 per cent increase in orders YoY. However, the average order value for U.S. BNPL transactions across Cyber Week decreased 5 per cent — indicating shoppers financed lower-priced goods this year compared to 2021.
Automation gave time back to retailers and consumers: Retailers leaned into automation on some of the biggest online shopping days of the year, saving agent time for complex order servicing issues and driving customer loyalty. Chatbot messages globally increased 57 per cent on Black Friday and 53 per cent on Cyber Monday compared to the same days in 2021.
Salesforce powers holiday shopping
This year, Salesforce helped retailers around the world find success now and scale their efforts to reach shoppers across all buying channels. Powering a record start to the holiday season, Salesforce customers drove more than 115 million orders in November. With consumers continuing to shop online, delivering fast, easy, and personalised digital experiences is more important than ever and was made possible by: