Konect.ai And TotalCX Announce Partnership
The partnership is a holistic approach to automation and accountability in auto retail Konect.ai, the leading AI-powered SMS platform for automotive dealerships, and TotalCX (formerly InteractiveTel), a leading provider of AI-driven customer experience management solutions, are excited to announce a strategic partnership and presence at the National Automobile Dealers Association (NADA) show in Dallas on […]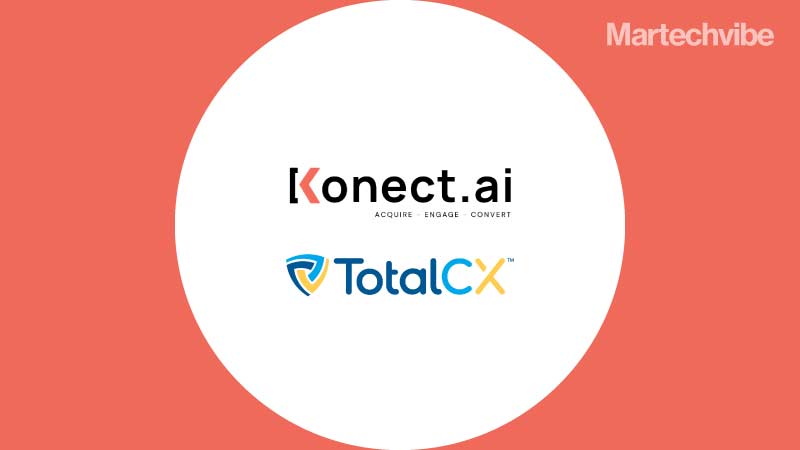 The partnership is a holistic approach to automation and accountability in auto retail
Konect.ai, the leading AI-powered SMS platform for automotive dealerships, and TotalCX (formerly InteractiveTel), a leading provider of AI-driven customer experience management solutions, are excited to announce a strategic partnership and presence at the National Automobile Dealers Association (NADA) show in Dallas on January 27-29, 2023.
The partnership is a holistic approach to automation and accountability in auto retail. Konect.ai's platform allows dealerships to manage 2-way conversations with auto customers, while TotalCX's approach to a complete customer experience incorporates these conversations and enriches the understanding of customer perspectives.
"We are thrilled to partner with TotalCX to provide our customers with a comprehensive solution for managing their customer interactions," said Cole Kutschinski, President of Konect.ai. "TotalCX's call recording and conversational AI capabilities perfectly complement our AI-powered SMS platform; we look forward to working together to help dealerships improve their customer service and sales."
"TotalCX provides dealerships with the best solutions for their business, and Konect.ai is a great fit," said Jack Behar, President of TotalCX. "We are excited to include the Konect.ai platform in our offering; we look forward to a successful partnership that helps dealerships improve sales and service customer experience."
Konect.ai is available in the TotalCX MarketPlace, making it easy for customers to research and access the platform.