Creatio Raises USD 68 mn to Fuel Growth of its Leading Low-Code Platform 
The round is a minority investment to extend Creatio's leadership position in projected above USD 187 bn low-code platform market  Creatio, a global software company that provides a leading low-code platform for process management and CRM, today announced a $68M capital raise led by Volition Capital, a US-based growth equity firm investing in high growth […]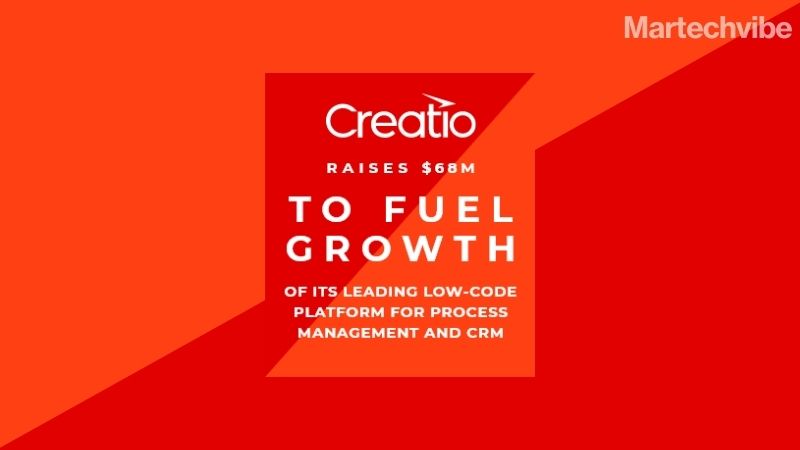 The round is a minority investment to extend Creatio's leadership position in projected above USD 187 bn low-code platform market 
Creatio, a global software company that provides a leading low-code platform for process management and CRM, today announced a $68M capital raise led by Volition Capital, a US-based growth equity firm investing in high growth companies, with participation from Horizon Capital, a private equity firm investing in Europe.
The funding is a minority investment to fuel the company's growth, with Creatio's strategy, leadership team, product vision and commitment to customer success remaining unchanged. 
Since its founding, Creatio has achieved rapid organic growth without previous external capital. Today, the company is delivering exceptional financial results with a team of 600 people worldwide. 
This investment comes on the heels of rapid exponential company growth. Despite the COVID-19 pandemic, its net retention rate in 2020 was the highest in the company's history. 
Creatio will use the funds to build aggressively on this momentum and invest in R&D, global marketing and sales expansion, and support its vast network of partners in 110 countries worldwide. 
"Our vision is a world where everyone can automate business ideas in minutes," said Katherine Kostereva, CEO and co-founder of Creatio. 
"Now is a critical time for digital and IT leaders to leverage tech and transform their organisations into low-code companies. This investment will allow us to keep building toward the vision of creating the new world, where any company can automate and change their business processes at speed and scale." 
Creatio is consistently recognised by top industry analysts, including Gartner and Forrester. It has been included in five Gartner Magic Quadrants and seven Forrester Waves named a Leader in two Gartner Magic Quadrants – for Sales Force Automation and CRM Lead Management – in 2019 and 2020. 
Leveraging a Significant Market Opportunity 
The emerging global low-code development platform market is predicted to reach $187 billion by 2030 and holds immense potential for organisations to digitise key business processes and reinvent how they engage with customers, partners and employees. 
Creatio is well-positioned to continue its category dominance and use the funds to boost the development of the market for low-code process management and CRM solutions. 
"The market category of low-code platforms for process management and CRM has outstanding growth potential," said Sean Cantwell, Managing Partner at Volition Capital. 
"Creatio's offering, extensive partner base and commitment to customer success has enabled impressive organic growth and market traction. We see Creatio's leadership position is further strengthened as companies embrace low-code solutions that close the IT delivery gap and empower any organisation to become a low-code company," added Roger Hurwitz, Managing Partner at Volition Capital. 
"We are delighted to partner with visionary co-founder and CEO Katherine Kostereva and the Creatio team, alongside Volition Capital. Creatio truly has it all to deliver on its ambitious expansion plans – a first-class team committed to its customers, solid execution and strong product innovation," added Lenna Koszarny, Founding Partner and CEO at Horizon Capital. 
Obsessed with Customer Success 
The company's commitment to customer success, including lifetime guidance for the optimal use of its technology, has earned Creatio some of the industry's highest customer reviews and a Net Promoter Score of 34. 
Creatio empowers mid-size to large enterprises to automate customer-facing and operational processes at speed and scale. 
The company focuses on 24 verticals, including financial services, manufacturing, professional services and others. Its dedication to bringing value to customers and helping organisations achieve business objectives has earned Creatio a reputation as a partner that consistently exceeds expectations. 
Embracing a Partner-Driven Strategy 
Partnerships are central to Creatio's vision and play a vital role in the company's strategy. Its go-to-market approach focuses on serving customers directly through offices worldwide and a channel network with 700+ partners in 110 countries. 
Creatio is driving mutual success through its partner program with top global system integrators and consultants such as Tata Consultancy Services, Amdocs, Virtusa, Softline, Tech Mahindra and many other channel partners worldwide. 
The company is also rapidly expanding its already robust marketplace ecosystem of ready-to-use apps, vertical solutions and templates to extend the platform and accelerate productivity.