Anghami Chooses Ding to Keep the Music Playing
Anghami, the number 1 music streaming platform in the MENA region is joining forces with Ding, the largest mobile top-up platform, to enable their users to stay topped up directly from their Anghami account This means they no longer need to lose connectivity and the music never needs to stop. Under the new partnership, Anghami […]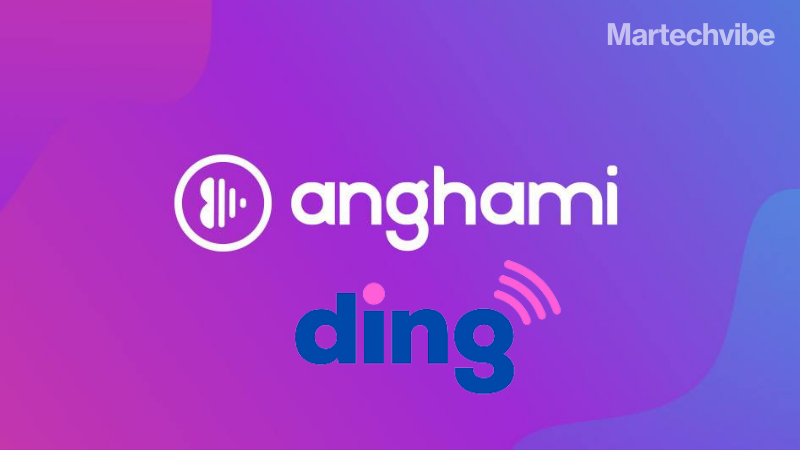 Anghami, the number 1 music streaming platform in the MENA region is joining forces with Ding, the largest mobile top-up platform, to enable their users to stay topped up directly from their Anghami account
This means they no longer need to lose connectivity and the music never needs to stop. Under the new partnership, Anghami will become the first music streaming app to give users the ability to buy airtime top-up and mobile data directly from within the Anghami mobile app. Commenting on the new partnership, Choucri Khairallah, Vice President of Business 
Development at Anghami said: "We are excited to collaborate with Ding by plugging into an API that allows our users to top-up credits from 550 mobile operators around the world. The pandemic has driven significant growth in online activities as people look for more ways to entertain themselves in their homes – keeping them connected and online is essential." 
He added: "Anghami, today, is the Arab world's biggest home-grown music streaming service with the largest catalogue of more than 40 million songs and podcasts available to our listeners." 
Also read: Emirates NBD Boosts Digital User Engagement by 300% with Lemnisk's AI-Driven Customer Data Platform 
"With Ding, we can now help our users who have opted to subscribe to Anghami Plus through one of our 35 telco partners in the region to keep enjoying their uninterrupted premium experience by topping up their credits in a seamless and convenient way." 
More than 80% of phones in the region are prepaid, with the majority out of credit at any one time, limiting their ability to connect with friends, family & their favourite applications like Anghami. 
Leveraging Ding's mobile top-up API, Anghami can now help their customers to stay connected with airtime and data, so they never need to be out of credit again. Commenting on the partnership, Rupert Shaw.
Chief Commercial Officer at Ding said: "Our partnership with Anghami is an exciting next step for our business in the Middle East and North Africa.
Customer experience is everything for Anghami, and we're delighted to play our part in improving this, by keeping more customers connected for longer – enabling them to continue doing what they love." 
Adding: "This is another first for Anghami and is typical of the forward-thinking approach they have. In partnering with Ding, Anghami can offer their customers greater connectivity, at the point of need."
About Ding
Ding was founded to change billions of lives by accelerating mobile access. As the number one international mobile top-up platform in the world, Ding has been keeping people connected since 2006, when it launched this first-of-a-kind service. Today, Ding's users have successfully sent over 400 million top-ups globally, via the app, online at Ding.com, and in-store at over 600,000+ retail outlets worldwide. 
About Anghami 
Founded in 2012 by Eddy Maroun and Elie Habib, a team of music and tech fanatics, Anghami is a company with affiliates and offices in Beirut, Dubai, Cairo & Riyadh. In a region where music is dominated by piracy, Anghami came to fill this gap by offering a legal music alternative in an enjoyable way while making sure to implement a model that fairly remunerates artists and labels. Free unlimited music is now available with you anywhere you go, across devices and geographies. Anghami is the leading Music platform in the Middle East and North Africa providing a seamless experience to listen to unlimited music on-the-go. With millions of songs to search from, stream, download and share, Anghami makes listening to music enjoyable again.