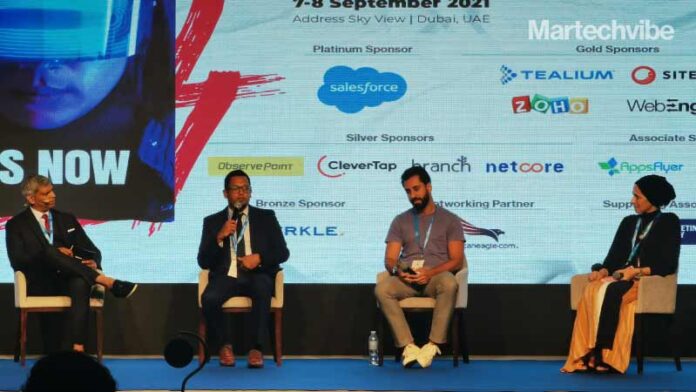 In case you missed it, bringing you insights from the experts at VMF 2021
Day 1: Building Customer Relationships Is The Top Priority
The pandemic might have accelerated the evolution of the CMO from functional head to enterprise-wide leader, but the fundamentals of the CMO's role remains "pretty solid". And at its core is compelling brand storytelling. 
Discussing how the role of the CMO has transformed, Aimee Peters, Group Head of Marketing and Corporate Communications at Mashreq Bank, said, "The fundamentals of the CMO's role are pretty solid. What has changed is customer expectations. As professionals, it is incumbent on us to stay in tune and tailor our approach to meet that shift. But it's important that the fundamentals of brand storytelling remain central to what we do." 
Peters was joined by panellists Lianne Braganza D'sylva, Chief Marketing Officer at Cigna Insurance, Jen Brown, Director of Marketing at Sprinklr, Nandakumar Vijayan, Director – Marketing and Communications at Lulu Group International.
Also Read: Global Response Partners with Zendesk to Improve Customer Relationships
Like other businesses in the world, the pandemic caused a range of disruptions in logistics services at the Lulu Group as well. As a result, the role of retail extended to ensuring essential services were available and accessible. "We worked closely with government authorities to ensure the shelves were filled and we fought misinformation that may lead to panic buying. We also worked closely with logistics vendors to ensure last-mile delivery was not hindered as more customers moved towards online purchase," said Nandakumar. Technology, he added, helped them to become agile and adapt to the changes to keep up.
Quoting a recent report in which "fractional leadership" emerged as the critical requirement from C-suite, D'sylva said, "Marketers need to identify how and when things are missing in the customer journey and fill in that gap. Generating demand but driving reputation, understanding the supply chain and telling the story are all a part of the new role of the CMO."  
Diversification of the marketing structure in an organisation can help in a big way, according to Brown. "The sheer number of specialist roles that any CMO needs to have on their team has increased. Combined with the pace of change, the CMO's challenge lies in predicting what the best next action is, which technologies can help." 
Another key challenge that marketing teams faced during the last year is budget cuts. While most brands re-prioritised budgets, Peters pointed out that marketers were under increasing pressure to allocate budgets to places where one can see direct ROI. Marketing teams are now trying to do more with less, echoed D'sylva. She reiterated that marketers must be quick to identify and capitalise on opportunities like the declined advertising rates which offered the capacity to buy more at lower rates. During the pandemic Nandakumar's strategy was to move away from conventional channels and focus on reassuring the customer that things are safe and aiding in the return to normal. But there is a danger of putting brand building on the backseat — a sentiment echoed by the panellists. 
Turning the conversation on its head, Brown said, "We are still not focused enough on measurement and insight, which asks why and why now. That is why you see this trend of bottom funnel lead gen. Till we can harness all the insights available about us, competitors and the industry, we will still be having this conversation and justify to sales teams and upper management." 
Also Read: Top 20 Global Customer Experience Experts
Relationship between the CMO and CIO
With the CMO's role changing, there's now a closer and deeper relationship between the CMO and CIO. The pandemic has driven more cooperation as the parties adjust to the "new normal", while the growth in digital consumer interaction demands it.
In the session about The Rise Of CIO and CMO Relationship: Powerhouse For Digital Transformation, Maria Gedeon, Chief Customer and Marketing Officer, Chalhoub Group, said, "Earlier, CIOs used to drive their agenda and things needed to be very process-oriented and then marketing would come in and use these tools. Now, we have reversed that, it starts with customers, with marketing strategy, where your journey experience is, and then you add data and processes. And if you follow it, that's a recipe for success." In the panel, Gedeon was joined by Jayakumar Mohanachandran, Group Chief Information Officer, Easa Saleh Al Gurg Group and Martin McDonald, VP Emerging Markets, Tealium.
When asked about what can be the best practices and practical tips on how CMO and CIO can collaborate and optimise marketing and technology strategy, Mohanachandran said, "Best practices are all about having the right collaboration and transparency, a practice in most organisations nowadays. We have to be cohesive, come together and innovate and ideate together." 
Does CX rest on OX
In a fireside chat, Bhavna Buttan, Chief Operating Officer at Gulf Marketing Group (GMG), said the retail companies with a growth mindset are exploring new and exciting formats, as the pandemic brought about a change of focus from physical to digital shopping experiences. "There aren't enough tech partners and human capital to support what the companies need today and to future-proof the customer journey."  
At GMG, the focus remains on human capacity, Buttan said. "The most important relationship is the one between the brand and the customer. It doesn't matter if you are a CIO, CMO, CEO or CFO — everyone needs to be focused on this relationship. Everyone has skills they can use. We are focused on pivoting their area of expertise towards that unified goal." 
Here, it's essential for companies to remove barriers like data silos. She said marketing teams do not own data or insights. It should flow across teams to action these insights across discovery, product development, sales and after-sales functions. 
Sharing an example, Buttan said about seven years ago, GMG moved their retail brand Sun & Sand Sports from physical to digital stores. "I worked closely with our CEO and we learned a lot from that journey. The process also exposed a lot of our infrastructural gaps. We were able to focus our efforts on inventory and customers through a frictionless experience. It's a long and continuous journey for any brand."  
Talking about the role of marketers in a post-pandemic scenario and their contribution in a company's digital transformation, Buttan said, "CMOs are closest to the consumers. They know the value assets that we have as a company, what the pain-points are. Most companies look at it as a linear spectrum, but it's a cyclic view. It's important to allow CMOs insights to inform directions inwards. Based on the value proposition identified, you should have an agile model in place to build that."
Also Read: Salesforce Announces Slack First Customer 360
Leveraging Data Insights to Drive Higher Conversion 
While plenty has been written already about how data can gain valuable customer insights, improve customer experience and drive higher conversion rates, Mithil Ajmera, Lead eCommerce Marketing, Danube Home, said "Data is useful, but can't be the only decision-making tool for the marketer. A lot depends on customer psychology also… It's important for marketers to focus on behavioural psychology and contextual targeting."
"When it comes to data, you lose [out] a lot of information…One time five is not really five times one in marketing, once you start accepting that, a lot of things will change. Data might not always give you the right strategic move, when you understand this, you will start thinking creatively," added Ajmera, who was speaking at a panel discussion on leveraging Data Insights to Drive Higher Conversion and Customer Acquisition Rates. He was joined by Mike Rich, Chief Marketing Officer, Aramex International.
With so many advantages to digital and social media marketing for business, why would any marketer still invest in traditional methods? Ajmera believes, despite digital marketing growth and ubiquity, traditional marketing activities are never going to be phased out. "Data can supplement to understand the customer base, where you are getting maximum traffic from, and then analyse it to give insights. When you start utilising technology to supplement your traditional marketing activities that's when you will have a seamless transition."
Winning strategies to unlock growth 
Meanwhile, digital first leaders shared their winning strategies to unlock growth in another session, later in the afternoon. Jay Dalvi, Director of Sales, META, CleverTap moderated the panel made up of Waseem Sayegh, Head of Product Marketing at TikTok; Haris Khan, VP- Growth, Rain — a crypto trading company; Guil Rodrigues, AVP Customer Experience and Design Lead at Payit by FAB; and Karen Cordeiro, Head of Marketing- B2B at The Entertainer. Each panelist spoke about acquisition and retention strategies for their respective industries. 
Last year, when there was a disruption in the market, Cordeiro shared that their key win was being able to listen to customers and customise the experience based on their behaviours. "We focused on keeping customers engaged using personalisation based on demographic data, usage, etc. Being agile helped us make those changes quickly."
Khan, who looks after the emerging crypto market, uses localisation and education to drive discovery and engagement. "If you look at acquisition on a ride hailing app, it will be two days. For us, it stretches to a number of days. Education plays a big role in the growth for potential customers. They need to be guided in understanding how to buy or sell and practical implications. It is the strongest lever for this industry." 
Meanwhile, Rodrigues works on offering product features that offer convenience without taking away the human connection in his effort to help bring financial inclusion to blue collar workers by aiding them in sending money home via PayIt. 
TikTok brought in a fresh perspective, talking about how it helps brands with acquisition and retention. Sayegh spoke about how brands are using TikTok as a full funnel marketing solution — building specific content for each stage, from awareness and consideration to conversions. "Brands are establishing their presence via creating a community using organic videos. There is a learning curve for advertisers but we help bridge that platform knowledge by offering a marketplace where you can go to creators and ask them to create content for you. Brands define the parameters and creators understand what works and doesn't with the audience," Sayegh added.
Considerations When Choosing the Perfect Martech Stack 
Sharing thoughts on what the GCC marketers should consider while building a MarTech Stack, Vittorio Barraja, Former Group Sales and Marketing Director, TravelStart, said, "Third-party data marketing is about to change and will introduce strict rules, in terms of data from target users. It's important to invest in first-party data, which belongs to the organisation. What needs to happen in the next couple of years is to find better tools to integrate into first-party data to target people online, even if it is not going to be like what it used to be. There's going to be a huge gap in the market, we will see where it goes."
Artificial Intelligence (AI) has become an essential component of the eCommerce industry, many businesses have been using different forms of AI for understanding their customers' buying behaviour, offering relevant products at the right time, and identifying competitors' strategies by enabling AI reliable analytics. Ryan den Rooijen, Chief Ecommerce Officer, Chalhoub Group, in another interesting session, talked about the Intelligence at the heart of modern marketing, recognising the role of data and analytics in marketing and eCommerce and how developing the capabilities that can unlock value across your organisation.
The VMF 2021 edition, the in-person event, was attended by over 200 delegates and had speakers from top companies across key business segments, including retail, banking and finance, airline, software companies, FMCG and social media platforms.
Day 2: Customer Experience Is Everything
Customer experience is all the marketing industry has been talking about this year. The pandemic changed the customer experience in far more ways than one could imagine. While it has reshaped the business landscape, brands are deploying strategies not just for the present but to prepare for the future too — upping their game to differentiate themselves based on the stellar experience they provide. 
Ravi Raman, Editorial Director at Martechvibe, moderated a panel composed of Bechir Omran, Director of Growth at holidayme, Prem Anand, Regional Manager – MEA at Zoho and Mai Cheblak, VP- Group media and Social at Emirates NBD, discussing how to conquer real-time customer experience.
Businesses faced new challenges during the pandemic. For example, the pandemic brought travel and tourism to a screeching halt. Speaking about how customers wanted to cancel bookings in large numbers and vendors were looking at huge losses, Omran said. "We reached out to our customers, came up with new products for their end consumers where we gave credit lines to get more bookings and re-book. We had to do it consistently. We tried to make the relationship personal — so customers come back when things open up." 
With travel restrictions easing, the market opening up, Omran said his efforts are paying off. "There was someone who called me recently to say I'm sticking with you even though your prices are not the lowest because I appreciate that if I call, you guys have my back." 
This is consistent with Cheblak's thoughts about adding empathy to CX in the banking industry. "We believe that the relationship manager should have a human and personal equation with the customer. We make sure to celebrate moments in the customer's lives, like them having a baby. It takes the conversational away from being purely transactional in nature. After all, banking is closely related to these life moments."
For Anand, who defines his role as a tech enabler helping brands deliver better CX, technology helps fill the gaps for brands. "There is always a human touchpoint, and that needs to be built into the culture. For everything else, we can help with timely outreach, context about the prospect and automation to fasten the process." 
The discussion also touched upon measurement. For example, Emirates NBD focuses on monitoring sentiment on social media. They also use NPS, brand index and benchmark it to the competition. For ZOHO, they follow a trans-national-localism strategy which means when they open in a new market, hire local talent so there is more understanding of local challenges in local languages. 
Customer experience permeates across departments, said Chebak. "Brands are no longer creating products and releasing them in the market. They need to listen to the customer and implement their insights. We launched a group called Better Together where we now have customers in that community. We co-create products, test the products with them and incentivise them to share insights before rolling it out in the market." 
Also Read: VMF 2021 Day-1: Building Customer Relationships Is The Top Priority
Driving brand trust 
With a growing shift and sensitisation towards building customer experience, there's a renewed intent to develop long relationships with customers and build brand loyalty. "It's about the voice of the customer. Loyalty programmes play a larger role in making sure the customer is heard. Not just understanding their needs but also their values. Marketers need to make sure that these programmes provide relevance and great moments. Loyalty programmes drive brand trust harder and instil a sense of community. It needs to have more than just momentary value," said Kashmira Motiwalla, Head – Loyalty at Majid Al Futtaim Holding LLC Motiwalla. 
Motiwalla was joined by a panel of veterans including Antonio Ricciardi, SVP Consumer Intelligence and Engagement at Etisalat, Tarek Barakat, Marketing and E-commerce Director at Beside Group, and Deepak John, B2C Specialist – Middle East at Salesforce joined Sanjay Swamy, Director of Partnerships at Martechvibe, who moderated the session, to discuss loyalty in the hyper-personalised world. 
Proliferation of loyalty programmes during the pandemic in the Middle East has led to high failure rate, said Ricciardi. According to Barakat, this has now put added pressure on brands to stand out from the competition. Agility is key here, and brands need to continuously change based on one customer at a time with the help of hyper-personalisation.
For Ricciardi, customer-centricity revolves around democratising the rewards and about opening up to other brands to give customers more autonomy. "Unlock instant redemption. This empowers customers to feel engaged," he said. 
Also Read: Customer Loyalty Comes With Personalisation
According to a report that John shared, 60 per cent of global consumers have changed brands during the pandemic. When it comes to retention, brands must realise that the role of loyalty has evolved from the classic financial model where companies invested big spends. John encourages brands to ask themselves if and why they need a loyalty programme. "The purpose should be about value creation and value flow. At the most basic level, ask yourself if your products and services are reliable, how fragmented the market is, and how your Lifetime Value Customers are changing. Build a community, lead with trust. As you build your loyalty ecosystem, use it to test products and optimise them." 
To address rising complexity, provide an excellent customer experience, and manage operations costs, an omnichannel transformation is the only way for businesses. It has become critical for businesses to embark on an omnichannel transformation — one that views touchpoints not in isolation but as part of a seamless customer journey. 
"If you see the most successful omnichannel retailers, it's all about integrated experiences, and the message has to be repeated every single day so that it sticks in people's minds," said Daniel Gomez, Chief Digital Officer, Al Malki Group.
Omnichannel is a vision, said Shyam Sunder, Chief Marketing Officer, eyewa. " A culture should come into an organisation, start with the board level, and cascade it right across functions. A single view of the customer is a complete transformation of an organisation, and there needs to be a strong buy-in from top to bottom."
Gomez and Sunder were part of the panel that included Samer Saad, Regional Lead, AppsFlyer, and Mohammed Jamsheer, Director – Marketing and Digital, Gulf Air, discussing Omni-channel Transformation: The Winning Formula For The ME brands. The conversation was moderated by Abhinav Mishra, Director Strategy, Martechvibe.
Commenting on the challenge and execution of customer care, Jamsheer said the challenge is when an organisation creates a customer care team and keeps it in a corner. "Customer care and customer experience should be raised to the highest level. Our real boss is not the CEO, it's the customer."
The panellists agreed that digital transformation is not a "checkbox", but a transformation of an organisation, changing the culture, evolving and adapting to customers' changing needs. 
Explaining why brands increasingly suffer to deliver the experience to the clients Samer Saad, Regional Lead, AppsFlyer said businesses should "empathise" with their users. It's important to understand where they come from, why they go and what they are looking for. "Once you identify these aspects, then you have a mystic view of their journey — data. We need to collect data efficiently to get insights if our users are happy or not, and what the challenges are."
While businesses are heavily investing in omnichannel infrastructure, not all are successful. The reason? "If you are starting an online market, why give a feel of a store, create a new feel, like using augmented reality. If you are a fashion retailer, give them a feel where they can see things via an app and don't need to come to the store."
On battling data privacy concerns while creating new opportunities and breaking data silos. Gomez said, "We work with multiple brands, we take privacy policy very seriously. It's going to get tougher, we have GDPR, and we will soon have new regulations in the UAE. We are taking advanced measures to secure our customer data. Data silos can be broken, but always respect customer privacy. Data anonymisation is a good way to see high level metrics. It's important to be transparent with the customer."
Written By: Khushbu Raval, Yolande D'Mello and Chandni U