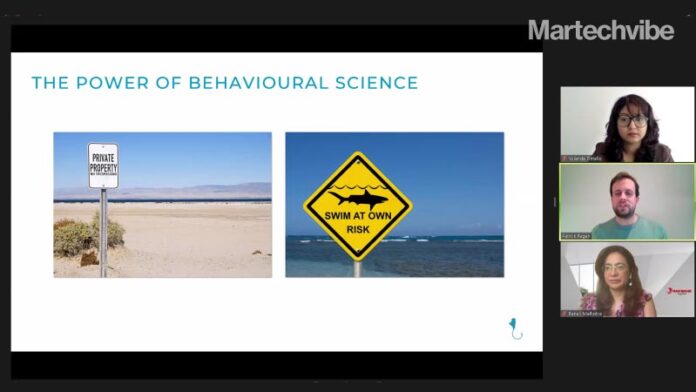 In this episode of Martech Mandate was about understanding customer behaviour to deliver more personalised experiences and how behavioural data will soon allow marketers to know what customers are thinking.
We live in a technology-driven world, but caveman biases and processes still drive our thoughts and actions. With only .0004 per cent of conscious control, what helps the "cognitive misers" are nudges.
"There are cost-effective, seemingly simple things called nudges that have a big behavioural impact," said applied behavioural scientist Patrick Fagan in the first episode of Martech Mandate, Uncovering The Secret Mind Of The New Normal Consumer. He was joined by Banali Malhotra, Director of Marketing, RAKBANK, and the session was moderated by Yolande D'Mello, Editor, Martechvibe.
"The reason nudges work is because we are also known as cognitive misers and have limited attention spans in processing information and making decisions," added Fagan. He also talked about personality traits across demographic and cultural boundaries to target potential customers without putting them in traditional boxes.
So how does RAKBANK use behaviour analytics to understand consumer needs and make the experience more relevant? "We have fairly invested in data-driven marketing tools like automation, Google analytics, and personalisation tools to get information and understand customer needs and behaviour to target better with more relevant content at the right time," said Malhotra.
More often than not, marketers face choosing between behavioural marketing and contextual marketing. Is one better than the other? "Behavioural looks at the customer's past to predict the future, whereas contextual looks at where you are at the moment for targeting. One is not better than the other; a combination works best," said Malhotra. But knowing the difference between the two and the type of insights each brings is critical.
Understanding customer behavioural marketing to deliver more personalised experiences, the dilemma between personalisation and privacy was discussed. "We have learned that personalisation is a double-edged sword. It's the fine art of balancing a 'surprise and delight' moment and 'creepy' personalisation. And this is where it needs to be about value exchange between a brand and a customer – knowing your customers well enough to bring value to them in the right moments," said Malhotra. Transparency, control, and accountability are the three core elements to avoid being creepy.
Towards the end of the webinar, Fagan explained how unsolicited data could provide more accurate insights, but there is a catch. "We shouldn't be capturing unsolicited data. They should be solicited in some way or the other. But yes, it could provide better insights as it will be more connected to their actual behaviour, and there are so many things that you can get. Having said that, the best predictive power comes from a combination of both."
Nevertheless, behavioural data is more predictive because there will be a lot of bias when you ask people questions upfront through a survey."
But how dependable are surveys? "It's the best it can do at the moment. There will be digital DNA where there will be so many data points of everything people do every day in the future. However, we are not quite there yet," added Fagan.
Behavioural data will soon allow marketers to know what customers are thinking. "We are probably not far from being able to read and change people's minds directly at the source," said Fagan.
Yes, it sounds scary, and it can be invasive and far from perfect, but it will get better with time.
You can watch full video here.