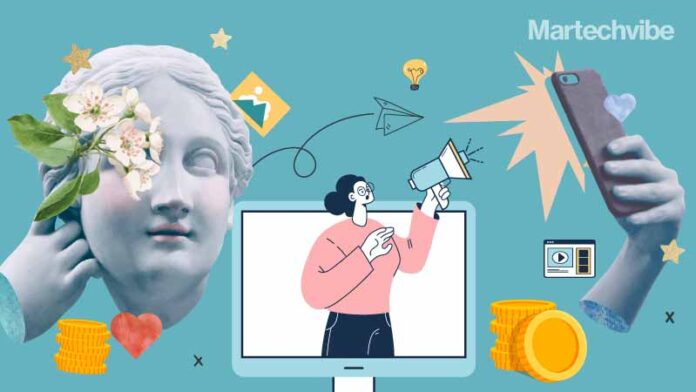 Within a society that now seeks easy access to expertise, experiences and communities to engage with, the creator economy is built around highly motivated, creative and skilled individuals that are using digital platforms to start their own businesses, brands and communities.
Of late, corporates are realising that there's money being left on the table and are fighting to keep creators on their platforms. Recently, Meta CEO Mark Zuckerberg announced that Instagram would build out a suite of influencer tools, including creator shops, native affiliate links, and a marketplace to connect influencers with brands, to capitalise on these opportunities.
No doubt, the creator economy, fueled by social media, is creating a buzz and money, too.
The creator economy, which is a class of businesses built by more than 50 million content creators, curators, social media influencers, bloggers, and videographers, have gained huge popularity amongst a wide range of audiences for their engaging content.
They are highly motivated, creative and skilled individuals using digital platforms to start their own businesses, brands and communities, and use software and finance tools to assist them with their growth and monetisation
Traditional B2B and B2C companies have yet to fully address these micro entrepreneurial needs: B2C apps like TikTok aren't primed for collecting revenue, nor are B2B tools like HubSpot or Zendesk suited for supporting individual creators.
Here are a couple of platforms that creators can add to their list:
Spotify paid subscription
Launched through Anchor (podcast content creation tool) and until 2023 creators that join the paid subscription program can keep 100 per cent of the subscription revenue. The creator can decide which content can be under the subscribed option and prices can go from $0.49 to $150. The creator community demands more flexibility when it comes to price range.
Acast
Founded in 2014, it is a fully integrated podcast marketplace with access to a range of monetisation and tools necessary to expand their listener base. Last year the company started a partnership with Patreon, where creators are able to share the exclusive content with more listeners.
Facebook Audio Rooms
With the rise of the audio platforms, big companies are keeping up by letting creators monetise every aspect of their content. In Audio Rooms, creators can host conversations similar to Clubhouse and Twitter Spaces. Additionally, they allow creators to be supported by fans through stars, and they are currently working on the ability to charge for access to a Live Audio Room.
Youtube Gives Small Businesses A Big Boost
As per Youtube Us Impact Report 2020, owners of businesses of all sizes use YouTube to reach a wider audience and share their creative passions. Quality content that informs, educates, and entertains helps to build an organic audience that they can convert to customers, while paid advertising gives them higher visibility to potential customers.
On the flip side, consumers are able to seek out that same content and, rather than just reading reviews of products or services, they can see them in action and hear directly from the business owner, saving themselves time, energy, and money.
In fact, YouTube announced the arrival of its YouTube Shorts Fund in Saudi Arabia, United Arab Emirates, Egypt, Algeria, Iraq, Bahrain, Jordan, Kuwait, Lebanon and Morocco.
The company rewards creators and artists who make creative and unique Shorts. The global $100 million fund was initially announced back in May and is already available in a number of markets around the world.
Over the last three years, YouTube has paid more than $30 billion to creators, artists, and media companies. In the Middle East and North Africa, the YouTube creator community continues to grow in revenue and subscription:
In the United Arab Emirates, the percentage of YouTube channels making six figures or more in revenue (AED) is up over 40 per cent, year over year.
In Saudi Arabia, the percentage of YouTube channels making 6 figures or more in revenue (SAR) is up over 20 per cent, year over year
In Egypt, the percentage of YouTube channels making five figures or more in revenue (EGP) is up over 50 per cent, year over year
In Egypt, over four thousand channels have over 100K subscribers, an increase of over 40 per cent, year over year.
In Egypt, over 400 channels have over 1 million subscribers, an increase of over 45 per cent, year over year.
In Saudi Arabia, over two and a half thousand channels have over 100K subscribers, an increase of over 25 per cent, year over year.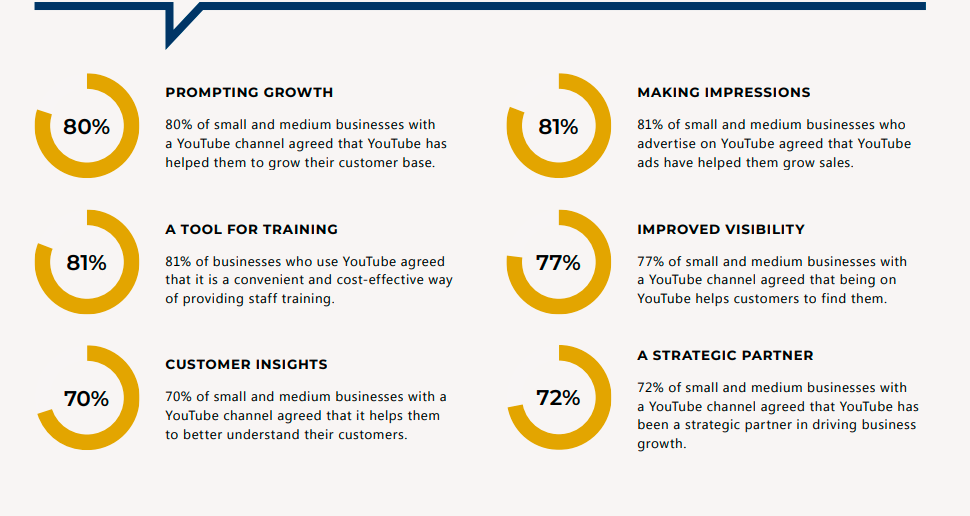 The creator economy market map
According to CB Insights, more than 125 creator-focused companies are capitalising on each step of the creator work cycle, from content creation to off-platform monetisation to audience management.
For a deeper dive into the categories, check out the creator economy market map below. This market map includes private, active companies only and is not meant to be exhaustive of companies in the space. Categories are not mutually exclusive.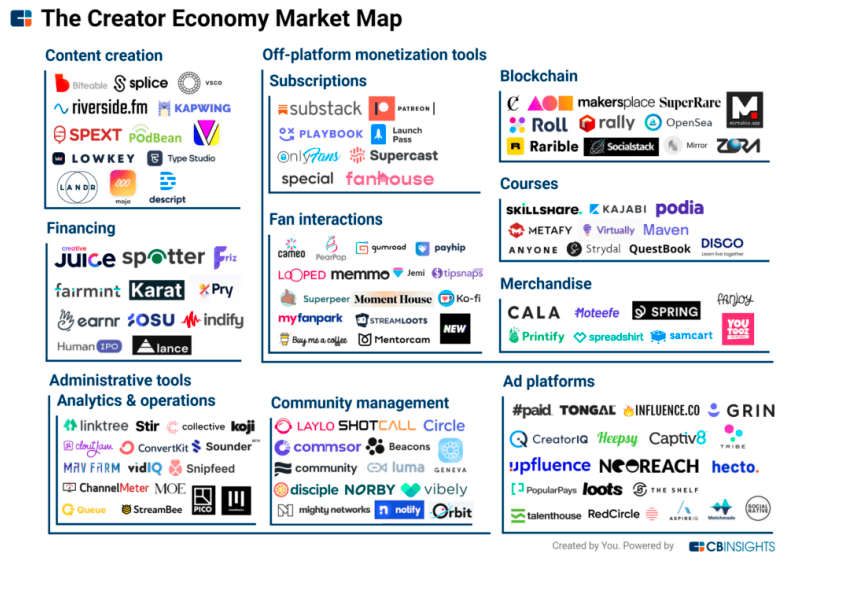 How big is the creator economy?
The numbers surrounding the creator economy are difficult to estimate in full, given the sprawling reach of the term "creator," which can refer to anyone from hobbyists selling PDFs on the side to professional vloggers, and the multitudes of ways to sell one's work. There are approximately 50 million creators today, according to SignalFire.
On the creator front, each platform has seen money flow into the space:
The top-performing YouTube channels reaped $211 million between June 2019 and June 2020, Forbes reports.
Famous Instagram influencers like Huda Kattan or Eleonora Pons can net up to six figures per post.
The top writers on Substack can rake in as much as $1 million annually.
Since 2011, Gumroad's creators have earned more than $460 million selling their content on the platform.
Connection For All
The word "community" can mean many things. YouTube's creator community helps people across the globe to connect with others with similar values, interests, and passions. This is especially important for people who may feel underrepresented or disconnected in the places they live. The YouTube platform helps to promote change by giving community members a place to engage, inform, raise awareness, and share information and experiences.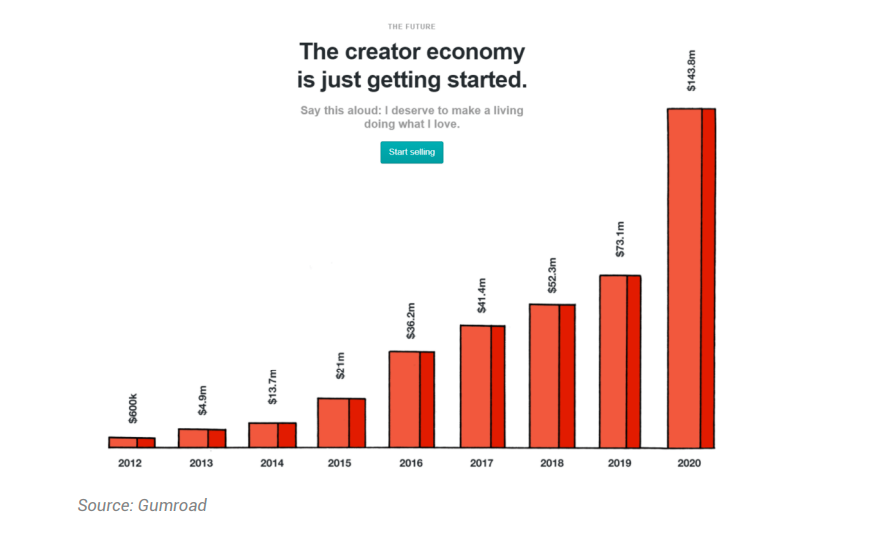 Conclusion
The broader opportunity here lies in the rebundling of all of these disparate services specifically for creators. Much like the rise of content houses and influencer marketing agencies, this burgeoning industry will drive demand for end-to-end solutions that handle everything from content creation to analytics and management.
The tools that can help them with their specific brands and niche business needs will emerge as the winners in the long run. Going forward, expect to see more companies that focus specifically on creators' needs vs a catch-all service for all freelancers.
If you liked reading this, you might like our other stories