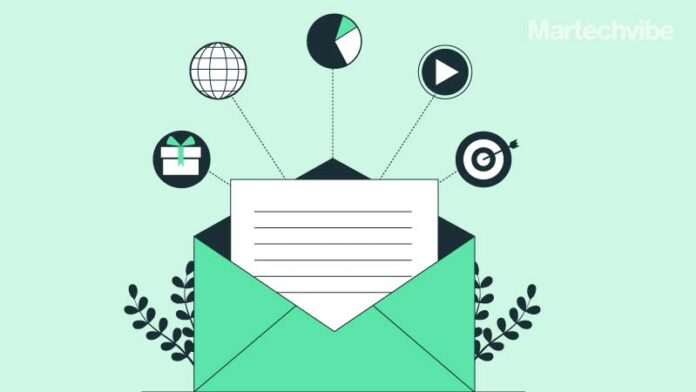 A perfect email marketing strategy encourages more signups to product, increment in website traffic, and improvement in ROI.
Email marketing may have changed a lot over the last few years, but one thing remains the same — it works.
Still, many enterprises fail to connect with their audience through email. If email is an effective marketing communication tool, why doesn't it work for all these businesses?
The answer lies in the company's approach to creating emails. Some of the world's most valuable companies succeed by implementing particular tactics. Let's deconstruct a few email templates from Fortune 500 companies to figure out some recurring themes that can be used to help brands to increase sales.

Potential advantages of email marketing:
Increased ROI

Increased brand loyalty

Increased conversion rates

Decreased marketing costs
Here are email marketing lessons from Fortune 500 Companies:
Can you relate to this? Ranked no.1 on the Fortune 500 list, Walmart has one of the best marketing teams. In 2018, the retail giant spent over $3.1 billion on marketing and related initiatives and earned around $11.5 billion in eCommerce sales in the US. What's the secret behind it? 
According to MailCharts, a vital part of Walmart's marketing strategy is to send highly targeted emails for cart abandoners and events, particularly on holidays Check the image below.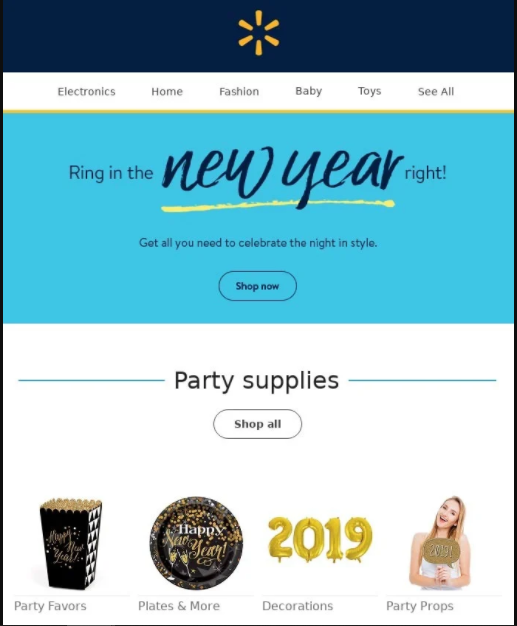 What's the difference?
The email doesn't look like a traditional email. It looks more like a webpage. Web designers tend to use familiar elements to help users easily navigate through sites. Users feel comfortable with concordats of a homepage, so why not bring the same to emails. 
Also, Walmart created a highly targeted segment — like the above newsletter sent to customers who recently visited its website, in need of party supplies. Walmart harnesses the power of email segmentation to take advantage of a buyer's need that only occurs once a year. This will increase the chance of users clicking through Walmart's website.  
How to please your modern-day consumers? Sleek and shiny designs? Not just that. A new consumer database must consist of regular smartphone users. And emails should be compatible with their devices in order to gain their attention.
Let's understand it with an example:
Along with the segmentation, Verizon has honed its email marketing campaigns to please the modern-day consumer by implementing mobile optimised designs. See the below image.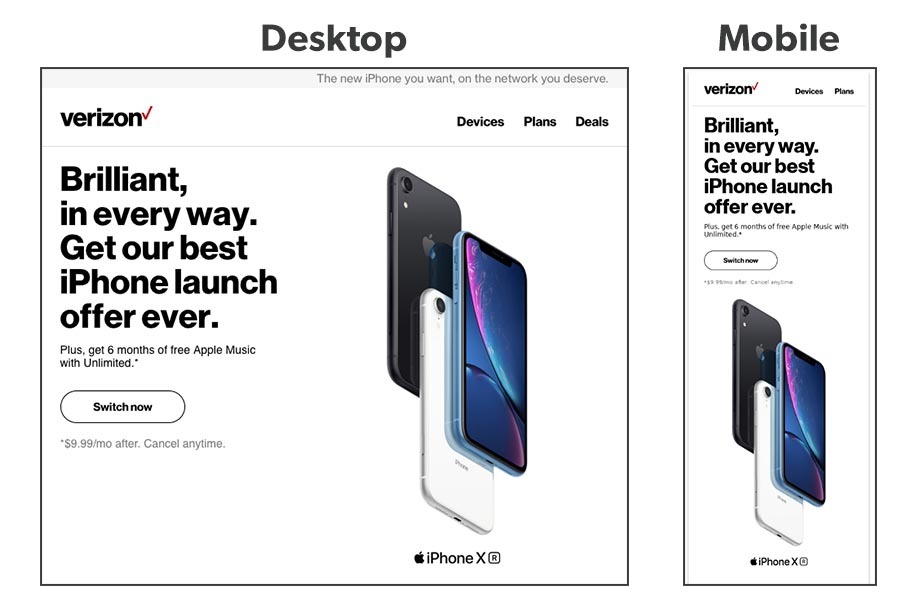 What's the difference?
Verizon, one of the world's largest telecommunications companies, figured out long back how its users are viewing the emails. According to a study, 40 per cent of consumers claimed smartphones are the main device used to check email. So while creating an email, brands need to keep in mind, there is less space to convey their message. With mobile optimisation, companies can increase the impact of their marketing initiatives by delivering emails where they are viewed the most.
Also, great design has the power to influence by organising vital information in a coherent way. The text hierarchy in the above email screengrab is easy to understand and the communication is clear. Creating a crisp and simple email will make the product centrepiece of your offering.
Also Read: Top Lists: Email Marketing Platforms 
Amazon has transformed the eCommerce landscape. With one of the world's largest product offerings, Amazon sells to customers with a wide range of interests.
When it comes to personalisation, Amazon has been one of the pioneers, helping customers find the product that's best for them. And so every email is tailored for each consumer, with offers that will appeal to them.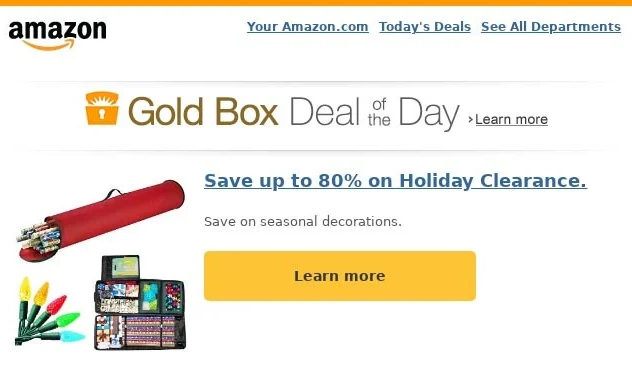 What's the difference?
According to Jeff Bezos, having a clear value proposition can help you increase sales. The above-added screengrab gets straight to the point and explains its benefit. 
Also Read: Digital Transformation – Ready to Take Your First Step?
What does it say?
Save up to 80 per cent on holiday clearance. This subject line gets straight to the point and keeps the value proposition clear. The offer is quite enticing. Who doesn't want an 80 per cent discount? Inbox real estate is competitive and user attention is limited. A clear value proposition will improve the customer's comprehension of the offer and will enhance the customer focus.
Is it creating any kind of state of urgency? Yes, it does. The email presents the opportunity to buy excess holiday inventory at a discounted rate. Also, it creates an urgency for users to take advantage of the deal, by increasing the potential to complete the sale. And the clearance sale is only while supplies last so users get compelled to purchase immediately because supply is scarce.  
Key Takeaways
Successful email marketing is dependent on a business's creativity, data-driven customer insights, and innovation. The Fortune 500 companies demonstrate that their email marketing is all about meeting customer expectations so that they can ensure the subscribers will engage and convert.