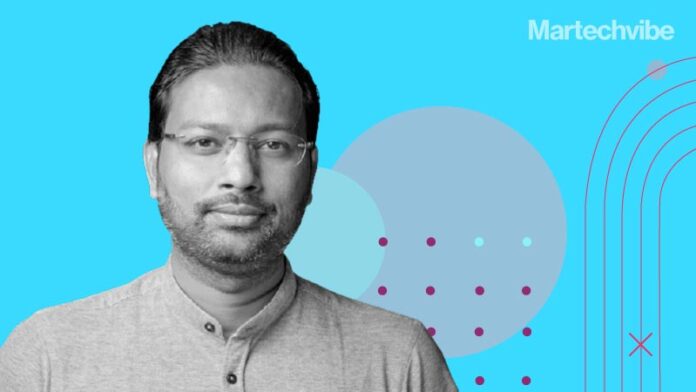 The pandemic has changed the way consumers buy, and companies who adapted to these changing behaviours find themselves in a favourable position. The market has never been more competitive, and consumers are wiser than ever before. 
Avlesh Singh, Co-founder of, WebEngage shares his insights on the changes that are transforming the Martech landscape and what brands can do to retain customers and add delight to the journey.
How did customer behaviours change during the pandemic? How are brands evolving to keep up with these behaviours while crafting more empathetic journeys?
Forty-one per cent of consumers shopped online in 2020 versus 30 per cent in 2019 in MENA, and digital companies had to innovate for this 10 per cent rise. The lockdown increased the need for people seeking convenience in their shopping habits. Thus, they turned to online shopping, which offered an easy, safe solution to fulfil requirements. This new behaviour also meant more unknown pain points that had to be solved by technology companies.
Brands revamped their engagement strategy to maximise reach. Mass blast campaign ideas evolved into an intelligent omnichannel strategy. Brands upgraded themselves with technology to deliver an empathetic, individualised digital experience. Consumers sought help and information, and brands needed to empathise with their customers by providing them with helpful information that was contextual and added real value to their lives. Brands disseminated educational content that went above and beyond their products and guided the consumers on health and safety protocols. They also adopted newer channels to reach their customers directly and not lose their favourite brand spot.
Brands realised that marketing their product in the most innovative way will not be a deal-breaker anymore. Digital customers switch brands in the blink of an eye until they respect the brand's value system and enjoy their association with it. Contextual communication from brands became a differentiator. Brands that won the race brought compassion in their strategy and left a positive perception for customers to come back and experience it again.
Many marketers saw their ad spends shrink in 2020 though it's bouncing back as the economy recovers. How should marketers spend their budgets to maximise return on investment for a post-pandemic era?
A new era demands a new plan. The pandemic made brands realise that the probability of selling to a new customer is 5-20 per cent and 60-70 per cent for an old customer. It is also cheaper to retain customers. When liquidity is choked, acquisition cannot be the go-to-market strategy. While acquisition remains important, retention has become a crucial cog in the growth wheel.
Marketers should reinvent the brand's communication strategy and adopt/build the necessary Martech stack that can make three things easier:
Make sense of customer data 

Use data-driven insights to drive intelligent engagement campaigns 

Create communication-led differentiation with personalisation (web + app + contextual messaging)
An integrated stack will help engage, retain and establish a relationship with the customer across the web and mobile. The right tool will help your brand capture the elusive attention of an evolved customer and keep them coming back for more. 
Marketers should leverage this opportunity to create a data-driven, engagement-led marketing strategy. It will help bring back dormant users, increase conversion frequency, increase ticket size, and improve retention. Maximise the marketing impact by testing, analysing, and optimising marketing campaigns constantly. Reduce marketing overheads and allocate the resources for the correct initiative. Marketing and Product teams should equip themselves with tools that scale effective marketing campaigns with ease.
The Middle East is still maturing when it comes to digital transformation. For family-owned groups that are beginning their journey, how should they prepare their MarTech stack?
Retail eCommerce sales grew by 19.8 per cent in 2020 in MENA. Not just that, the Middle East online education market is expected to expand at a CAGR of 9.8 per cent during the period 2017-2023. Consumer behaviour in general, starting from grocery purchases to banking facilities, has shifted online. Further, it is projected that by 2022, around 465 FinTech companies in the Middle East will raise over $2 billion in venture capital funding. Although it is a developing region, MENA countries caught up in 2020 with the giant digital evolution that unfolded globally. 
It is crucial to focus on retention early on. Build a solid data foundation that captures consumer data from multiple sources. Brands should make sure their Martech stack has remarkable capabilities to break down data silos and make them more understandable. This is the first step for getting ready for the modern consumer that demands contextual experiences every single time, at every touchpoint.
Digital consumers are scattered across channels and known to be more experimental. They not only look for the best offers but also have a strong inclination towards a seamless experience. It is essential to:
Know your customers 

Run contextual campaigns with segments

Leverage hyper-personalisation to enhance conversions 

Understand which communication mix works for your target audience and leverage those channels in an omnichannel campaign

Be mobile-first, and keep your modern-day consumer in mind

Differentiate your digital experience from others and build brand loyalty on intelligent, engagement-led marketing campaigns
Who are you working within the Middle East, and how are you helping them drive their digital agenda?
We are an industry-agnostic company. Any digital consumer business that engages with and retains their customers are our customers. We have significantly helped the on-demand, travel, eCommerce industries in the MENA region and see a sharp rise in interests from the Ed-Tech and BFSI sectors. We pride ourselves on being able to help brands like Wego, Snapp, Flyin, DOD UAE, Elmenus elevate their engagement and retention strategy.
The digital agenda for these brands differed from conversions, app activations, re-installs to retention. We leveraged our multi-channel engagement strategy to speed up conversions. Wego achieved 8X conversions. We also empowered the brands to create journeys using our Journey Designer that were case-specific and helped resolve problem statements. We make it easy for our customers to achieve their goals and help them know their users up close.
Marketers everywhere are worried about the loss of a third-party cookie. What advice do you have for them?
The demise of third-party cookies should not be an extended discussion when brands start educating themselves on the rise of first-party data. First-party data is the solution to all those brands who think they cannot operate in the post-third-party cookie world. Evolved consumers are more inclined to purchase from a transparent brand that values the user's privacy.
Marketers should continue to focus on adopting alternative solutions and Martech stacks that have an in-built Customer Data Platform. Why? A CDP allows brands to collect data across various sources and channels such as CRMs, customer service, onsite behavioural activity, surveys, and create a unified customer profile. Martech solutions like WebEngage work directly with the brand data, and opting for GDPR compliant marketing automation tools is all a marketer needs to do. 
The information collected with the permission of the customers is authentic and reliable. A capable Martech stack can dissect data to personalise the experiences and reduce redundant ad spend. Marketers need to sharpen their strategies and allocate the concerned ad budget to explore newer channels. The omnichannel approach will help make the experience more contextual and make customers come back for more.
How can marketers facilitate cross-sharing of information across multiple channels to continue their conversation uninterrupted across channels? 
If brands are looking to adopt the next big thing, it is the multi-channel strategy. It is crucial to optimise all the marketing campaigns that the marketers are working on. Campaign orchestration can be smooth when you take care of the following.
A unified data warehouse is a critical factor for an omnichannel strategy. User journeys cover multiple digital touchpoints throughout their lifecycle. It is imperative to have a single source of truth to enable cross-sharing of information when running omnichannel campaigns.
Real-time visibility is critical. A smart CDP updates personal and behavioural data in real-time and enriches user profiles. It enables high efficiency, high-quality omnichannel campaigns, thanks to a unified data warehouse that extracts insights and a campaign manager within the same system that lets you access the information and run more intelligent campaigns.
Context is king, and a cross-channel strategy affirms a strong context setting. You need to be wary of bombarding your customers with repetitive messages across all channels. It is essential to know which stage your customer is in so you never send the wrong message to the right person.
With this, your marketing strategy will be sharper, and you will be aware of what the user is looking for, what they have purchased, what kind of money they spend, what brands they browse, how much time they spend on the app or website, and so on. Knowledge of the parameters,  as mentioned earlier, will eventually lead to a seamless experience for the customer.
How has WebEngage helped solve engagement issues and increased conversion rates for SMBs?
WebEngage has supercharged user engagement for several SMBs across multiple industries. Engagement is an integral part of a B2C digital brand. Improving conversions and revenue is an ultimate goal, but ensuring the process to reach that goal is organic is essential. We have helped enhance the engagement strategies by leveraging the multi-channel approach. We have enabled our customers to reach their customers at the right time with the right message without overwhelming them. Customers feel more attached when they engage in a personalised experience from start to finish. We have made brands realise the importance of creating journeys for different customer segments and pride ourselves on helping them achieve new milestones. 
I am going to talk about the journey of a few brands that we helped achieve milestones and got them to know their customers better:
EGO, Pakistan's fastest-growing fashion brand, partnered with WebEngage to achieve two goals.
To increase AOV 

Lead customers to complete their journey 
EGO needed a plan that involved an engagement strategy that was personalised and utilised multiple channels. They needed a strong foundation of automated user retention practices. 
WebEngage leveraged one of its most notable products – Journeys and initiated cross-sell opportunities 

EGO enhanced its communication strategy for cart abandoners with tailored and timely messages 
The result was a 12 per cent boost in AOV, a 15 per cent reduction in cart abandonment, and a 128 per cent increase in revenue from our leveraged journeys.
DODuae had a similar challenge of getting customers to complete their purchase. A key challenge for eCommerce companies is sending targeted messages to nudge the customer via relevant channels.
DODuae

leveraged WebEngage Journeys and adopted a multi-channel approach.

Checking if the customer is active on the channel DODuae was sending abandoned cart messages to users
Push notifications nudged the customer with a personalised message when items were on the waitlist.
An engagement-led strategy resulted in a 14.77 per cent uplift in abandoned carts and a 54.1 per cent conversion of new visitors who added to the cart. The approach helped them retain users and make sense of the acquisition cost for a new visitor.
Elmenus, Egypt's biggest food discovery platforms, partnered with us with a few set goals
Increase the number of orders placed on the app

Improve user engagement and retention

Drive  more revenue

Promote brand loyalty
We were strategic while taking a call to solve the problem at hand. We realised that we needed to know who the customers were that Elmenus required to target. Segmenting the user base was a core action, and then engaging them with hyper-personalised communication was the following action. Here is how we went about it:
A unified view that showed the user's first action to the latest interaction on the WebEngage platform provided Elmenus with actionable insights
Elmenus started using multiple channels to engage with first-time users

A customised user journey to collect feedback basis their real-time interactions in the customer's preferred language helped promote customer loyalty 

Engaging contextually with users across their preferred channels was the solution to increase order frequency 

Convince cart abandoners to place the order by leveraging an event-based journey. Whenever someone added to their cart but did not complete the purchase, Elmenus reached out with a push notification as a gentle reminder 
Elmenus achieved a 25 per cent increase in conversions on the app supported. A 32 per cent reduction in communication cost with multi-channel engagement because the WebEngage platform can tell you the channel your customer prefers. 
These were a few examples of how we have helped SMBs scale with multi-channel engagement.