Why Marketers Can't Miss Vibe Martech Fest, Jakarta
Coming to Indonesia next week, Vibe Martech Fest – Jakarta will bring industry leaders together with technologists to solve new-age challenges of the digital economy.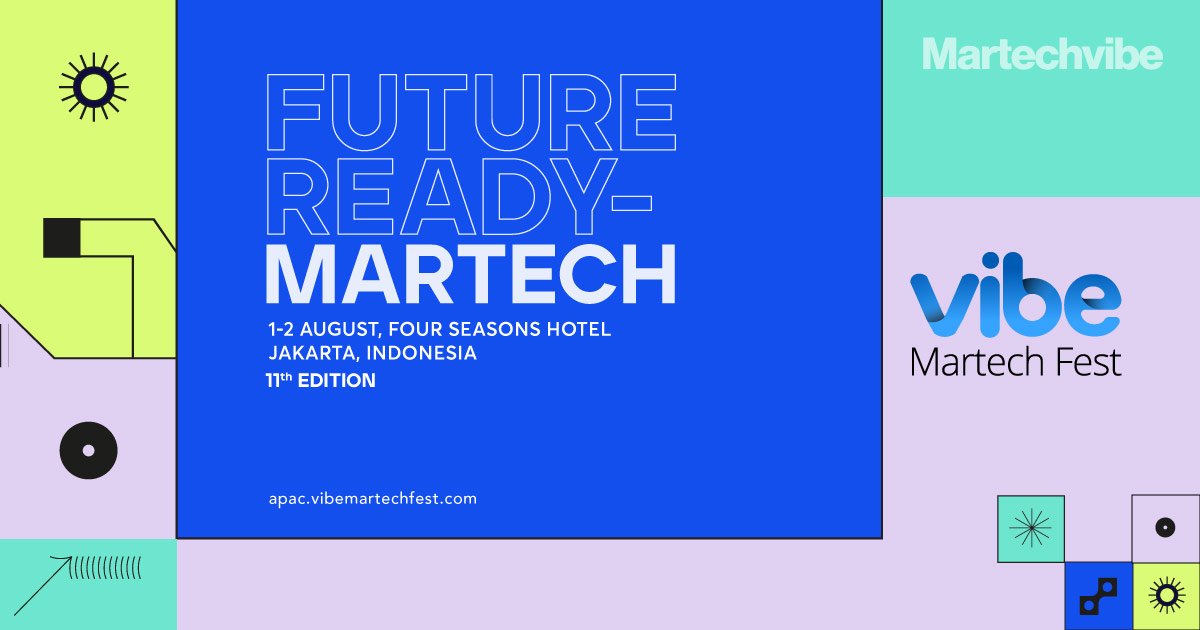 Vibe Martech Fest takes the stage in Jakarta – a key location for the APAC region and a burgeoning market for global players. Now just days away, Vibe Martech Fest is poised to bring over 200+ marketing and technology leaders and 30+ expert speakers from the region and around the world.
Vibe Martech Fest, Jakarta

Where: Four Seasons Hotel, Jakarta, Indonesia
When: 01 August 2023, Tuesday (The Summit)
02 August 2023, Wednesday (Workshop with David Raab)
As the region's digital ecosystem matures and digital adoption increases, businesses increasingly turn to martech solutions to help them better understand and engage with their customers.
As the leading global marketing technology summit, Vibe Martech Fest Jakarta is the perfect opportunity for martech professionals in the region to connect with global experts, explore martech solutions, and learn the future scope of the industry.
Register now for Vibe Martech Fest, Jakarta!
Here are five reasons why the summit is gathering immense traction from regional brands across various industries and why you should grab this golden opportunity to be at the martech event of the year:
The Martech Landscape in Indonesia
Martech spending in Indonesia is expected to grow at a compound annual growth rate (CAGR) of 30% between 2020 and 2025, reaching a total market size of US$1.3 billion by 2025.
At Vibe Martech Fest Jakarta, regional leaders will share successful case studies to delve into the latest martech trends like the scope of generative and conversational AI in marketing, navigating omnichannel complexity, offering seamless personalisation for strengthening customer loyalty and a first-party data strategy to prepare for the cookieless future.
Workshop with David Raab
Customer data forms the foundation of all key marketing decisions. Without the right customer data platform, brands can easily find themselves in a puzzle where they invest, but the returns seem lost.
The CDP Institute is a well-established name in the martech industry, known for its expert resources and learning centre. David Raab, a widely recognised expert in marketing technology and analytics and the founder of CDP Institute, will host an exclusive workshop titled "Find The Right Customer Data Solution For Your Organisation" at Vibe Martech Fest Jakarta. The workshop will help brands assess their analytics needs, evaluate their martech stacks, and gain an edge over the competition. Attendees will receive a certification from CDP Institute and Martechvibe, the hosting organisation and leading media publication in martech and adtech.
Buy your pass now for this exclusive workshop on CDPs with David Raab!
Internet Penetration and Super-apps
The Indonesian population exhibits connected citizens representing a high internet penetration in the region. The startup ecosystem is vibrant, with most brands focusing on customer-centricity, connecting online and offline, big data analytics, and firm cybersecurity measures. As consumers continue to show increased interest in the digital-first landscape, brands in the region are embracing new technologies to provide the best to their customers.
Super-apps are evolving as the next disruption. Sessions like "Boosting App Adoption: Converting Mobile Web Users Strategically" will shed light on the new technologies and strategies brands are utilising to leave a mark in the industry and an impression on consumers.
Gojek, the popular and biggest super-app in Indonesia, is leading the way in the consolidation of services. In 2015, Gojek launched its app with four facilities: GoRide, GoShop, GoSend, and GoFood, and has evolved into a super-app offering more than 20 services. Notedly, many businesses considered Gojek as the blueprint of super-apps while developing their own. Rizki Suluh Adi, the Chief Marketing Officer of GoPlay at Gojek, will take the stage at Vibe Martech Fest Jakarta to speak on  "Leveraging the Creator Economy to Unlock Marketing Success."
Representation of Industries
Vibe Martech Fest brings together a myriad of topics from across different industries in Indonesia. The region's landscape is vibrant with sectors like Retail, Beauty, BFSI, Food and Beverage, Manufacturing, Medicine and Hospitality, Telecom, ecommerce, and more. With its well-curated panel discussions and fireside chats, Vibe Martech Fest Jakarta will represent a multitude of industries with speakers from leading global and regional brands like Domino's, Bata, Sephora, Home Credit, Allo Bank, LinkAja, The Heineken Company, Kino, Kawan Lama Group, and more.
Hear from Vendors
Vendors widely recognised for their martech solutions in the industry will showcase their products and services at Vibe Martech Fest Jakarta and share insights into the working of martech stacks. At the summit, brands will get a chance to explore and assess a multitude of vendors like Meiro and CleverTap for their martech solutions.
We look forward to having you with us for the event. Hurry up and register now!