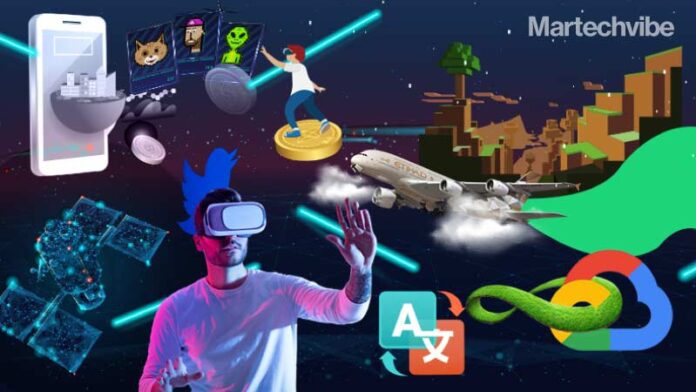 Here is our monthly round-up of carefully selected news stories so you don't miss out.
From cloud and digital payment solutions to cybersecurity tools, from Meta's digital payment tool to Google's google earth, July has been a month of technological growth across industries, especially in the ecommerce and banking industries.
We've been keeping track of the major news announcements that we believe will play an impactful role in shaping the business industry. Here is our monthly round-up of carefully selected news stories you may have missed.
Data In Space By Microsoft Power BI
Microsoft's Power BI Mobile has launched a new feature called Data in Space, which leverages augmented reality (AR) by building spatial anchors in the physical world and connecting Power BI data to them. Simply put, it allows users to tie their data to the physical environment they are describing. Using data in space allows you to connect your business data to real-world scenarios, such as facility management, manufacturing, or retail. Employees can then quickly discover and use it to make more informed decisions.
Twitter Announces Branded Likes In KSA
Twitter has announced the addition of branded likes in Saudi Arabia and a few other regions. Branded likes will let advertisers transform Twitter's like button into customised animations. The company says trials have shown that branded likes drive conversation and engagement around launches and brand moments and create memorable, interactive experiences with consumers.
Expanding Twitter as a creative canvas for brands means improving the reach and efficiency of some core brand solutions – like Takeover Ads – and introducing new formats that drive business results and help brands tell richer stories. Brands across several industries, including Media and Entertainment, Technology and Telecommunications, CPG, and Retail – like Disney, Paramount Pictures, and Tesco – have tested Branded Likes to drive conversation and engagement around their biggest launches and brand moments, and create memorable, interactive experiences with consumers.
Meta Launches Meta Pay, NLLB-200 And New Virtual Reality Login System
Meta has launched Meta Pay, a dedicated digital wallet for use within the metaverse, which is essentially a rebrand from the company's former Facebook Pay service and will keep fulfilling the same functions that its predecessor did in the past. Meta CEO Mark Zuckerberg believes that the new wallet will be a solution to two issues in the metaverse, accessibility to digital goods and proof of ownership.
Meta Platforms is modifying how users log onto its virtual reality headsets, backtracking on an earlier change to require accounts from the company's flagship Facebook app on the devices while preserving links to social connections there. CEO Mark Zuckerberg said in a Facebook post that the company would roll out its new "Meta accounts" starting in August. The company announced plans to remove the Facebook login requirement last year after a backlash from users who had previously accessed the headsets using separate accounts from Oculus, the virtual reality company that Meta, then known as Facebook, acquired in 2014.
The company launched a new AI model, NLLB-200, that can translate 200 different languages and improves the quality of translations across our technologies by an average of 44 per cent. Without high-quality translation tools for hundreds of languages, billions of people today can't access digital content or participate fully in conversations and communities online in their preferred or native languages. To help people connect better today and be part of the metaverse of tomorrow, AI researchers created No Language Left Behind (NLLB), an effort to develop high-quality machine translation capabilities for most of the world's languages.
Etihad Airways Announces First NFT Collection
Etihad Airways, the national airline of the UAE, has announced the upcoming release of the airline's first non-fungible token (NFT) collection, 'EY-ZERO1'. The utility-driven series features ten highly detailed 3D aircraft models showcasing a unique Etihad Airways Boeing 787 Dreamliner livery.
The collectables include Etihad's Manchester City FC and Greenliner-themed aircraft, among others. Purchasing an NFT will give owners immediate Etihad Guest Silver tier membership for one year, with ten lucky NFT holders winning complimentary flight tickets with Etihad. NFT owners will also be given advance access to upcoming NFT collections and future metaverse products that the airline has planned as part of its Web3 strategy.
Google Launches Ads Creative Studio and Sustainability Offerings
Google announced its Ads Creative Studio tool to all businesses, providing a streamlined way to construct new ad content from your existing assets. Ads Creative Studio enables advertisers to create multiple versions of a single display or video ad. As explained by Google: "[The ads] can be customised for different audiences, locations, languages or contexts. Simply tell us what element of the ad creative – like a product image, superimposed text or sound – you want to set as 'swappable' and provide different versions of that element based on a set of rules you create. The rules include the audiences you want to reach or contexts you want to match." The system will then create customised ad versions based on uploaded assets.
Climate Insights takes advantage of the recently updated new version of the Google Earth Engine on Google Cloud, combining artificial intelligence and machine learning capabilities with geospatial analysis. Google launched several new sustainability offerings to help public sector agencies and researchers to improve climate resilience. These offerings are Climate Insights for natural resources and Climate Insights for infrastructure. With these data-driven insights, public sector agencies and researchers can improve their response time to climate disasters, make more accurate predictions, and implement disaster-response plans with greater confidence.
OpenAI Releases Minecraft-Playing AI VPT
Researchers from OpenAI have open-sourced Video PreTraining (VPT), a semi-supervised learning technique for training game-playing agents. In a zero-shot setting, VPT performs tasks that agents cannot via reinforcement learning (RL) alone, and with fine-tuning is the first AI to craft a diamond pickaxe in Minecraft.
The model and several experiments were described in a paper published on arXiv. To train VPT, the team first contracted players to perform specific actions in the game, creating a labelled dataset of around 2,000 hours of video. Using this, the researchers trained an Inverse Dynamics Model (IDM) that can infer what keystrokes or mouse actions produced the action in the video. The team used this model to label around 70k hours of internet videos showing Minecraft play; this dataset was then used to train a VPT foundation model.
Sheikh Hamdan Launches Dubai's Metaverse Strategy
The ruler of Dubai, Sheikh Hamdan bin Mohammed bin Rashid Al Maktoum, launched the Dubai Metaverse Strategy to turn Dubai into one of the world's top ten metaverse economies as well as a global hub for the metaverse community. The government teams were developing the Dubai Metaverse Strategy 60 days before its launch.
The strategy reflects the vision for transforming the emirate into a global capital of advanced technologies, primarily artificial intelligence (AI) and Web3. It aims to attract more than 1,000 companies in the fields of blockchain and metaverse. It also promotes more than 40,000 virtual jobs by 2030. This would further increase the number of blockchain companies by five times. Also, Dubai's metaverse strategy will add five times more blockchain and metaverse companies to Dubai and $4 billion to Dubai's economy.
Talkwalker Launches Forecasting
Talkwalker, the consumer intelligence platform, announced its launch of Forecasting, an industry first in predictable analytics that enables brands to foresee changes in consumer behaviour and identify new trends before they happen. Forecasting allows brands to predict how topics, trends, and campaigns will change over 90 days, allowing them to adapt their communications to be more impactful quickly. This will enable brands to be less reactive and more proactive – ensuring their strategies are efficient and profitable.
Saudi Crown Prince Unveils Design For NEOM's 'The Line'
The city's design will be completely digitised and the construction will be industrialised by significantly advancing construction technologies and manufacturing processes. Saudi Arabia's crown prince and chairman of the NEOM board of directors, Mohammed bin Salman has announced the designs of 'The Line', a 170 kilometres long smart linear city.
According to the crown prince, The Line's designs will embody how urban communities will be in the future in an environment free from roads, cars and emissions. The city will run on 100 per cent renewable energy and prioritise people's health and well-being over transportation and infrastructure as in traditional cities. It will also put nature ahead of development and will contribute to preserving 95 per cent of NEOM's land.
FIFA 2022 Stadiums Will Be Protected With Skydrome System
The FIFA 2022 World Cup in Qatar has chosen Fortem technologies, airspace security and defence to protect FIFA World Cup 2022 events in Qatar. The Qatari Ministry of Interior and Safety and Security Operations Committee for the FIFA World Cup will use Fortem's drones through its distribution partner Smart Communication Systems to protect the stadiums from November 21st until December 18th 2022.
"Fortem provides world-class technology and services. We are pleased to partner with Fortem Technologies as an anchor vendor to enhance our security around Doha," says Engineer Captain Rashid Fahad Alali, Security Systems Officer in the Ministry of the Interior in Qatar and the Anti-Drone Program Leader in the SSOC.
Emirates Partners With The Air Canada
Emirates and Air Canada announced the signing of a strategic partnership agreement that will create more options for customers when travelling on the carriers' networks while also enhancing the customer experience throughout the journey. Emirates and Air Canada intend to establish a codeshare relationship later in 2022 that will offer enhanced consumer travel choices for Air Canada customers to travel to the United Arab Emirates and to destinations beyond Dubai.
Anghami Acquires Spotlight
Anghami, the music and entertainment streaming platform in the Middle East and North Africa (MENA), has announced the acquisition of Spotlight Events, events and concert company specialised in managing and executing live events and concerts in the region.
The partnership will see Spotlight Events become Anghami's arm for live events and concerts, including offline activities and activations to further expand Anghami's footprint in the music and entertainment ecosystem while unlocking synergies and opportunities between the physical and digital worlds.
We'd like to hear whether you find our monthly round-up reading helpful. Send us an email at editor@vibeprojects.com with your thoughts.
If you liked reading this, you might like our other stories
Martechvibe Explains: Knowledge Discovery In Database
Can Intent Driven Chatbots Enhance Your Business?