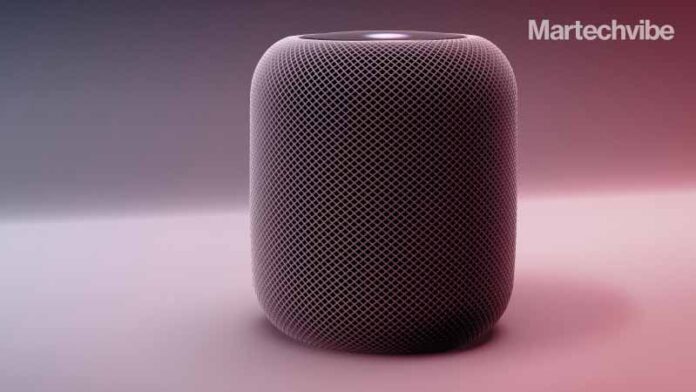 Voice has evolved from an interface to a distinct consumer channel – with its own behaviours and implications for brands. Data shows a clear alignment with the marketing funnel from awareness through purchase and retention.
Voice tech agency Vixen Labs has released the Voice Consumer Index 2021 in collaboration with the Linux Foundation's Open Voice Network, whose members include Target and Microsoft, to explore consumer attitudes and behaviours – and to reveal the marketing potential of voice assistant technology across industries.
The survey of 6,000 adults revealed that 91 per cent of users of voice assistants search the internet with their voice – highlighting how it is now a platform for SEO and SMO marketing and comms. 
Key findings 
31 per cent of people use voice assistants daily, with almost half using them at least once a week

Aside from controlling music and getting the weather, the most usage is in asking questions via a search engine – over 90 per cent have done this 

Current voice consumers are using voice to search for product and service information (80 per cent), information about local businesses (70 per cent) and brand information (70 per cent)

80 per cent of those that use voice to start researching a new product or service online would visit a product or brand website

41 per cent of users said they are making purchases with their smart speakers 
Audiences were asked about their top priority voice-assisted tasks across different industries. For example, in Banking and Finance, an average of 32 per cent across the 6,000 people surveyed identified 'check my bank balance' as their top priority.
Results show slight differences in behaviour between the three countries: 21 per cent of US consumers say 'pay a bill' is their top Banking and Finance voice-assisted task, compared to 15 per cent in the UK and 17 per cent in Germany. This likelihood switches in other areas: German users are more open to using the technology to find a doctor or specialist than those from the US or the UK. 
Also Read: The Latest In Last-Mile Delivery 
Privacy a concern but not a barrier 
When it comes to Voice technology, privacy is a concern for users, and it is an important issue to be addressed. However, while users may be concerned about their privacy, they are still using it because they see a positive value exchange for easier experiences and convenience. Users recognise that Voice technology can make it easier for them to send text messages, get information, and even control their smarthome.
Those who don't yet use voice-assisted technology state that privacy concerns are the main reason they don't use it (41 per cent), followed by a lack of trust for the assistants (29 per cent). 
When we think about privacy, we need to recognise there are two types of privacy in play: data privacy and spatial privacy. The concept of spatial privacy refers to where a user is and who is around them when using their Voice assistant. Only 22 per cent of voice assistant users feel comfortable using them in public. 
"Voice assistant technology has advanced massively since we said hey to Siri 10 years ago. The Voice Consumer Index not only highlights how many people use the technology in everyday life but also shows that these users are eager to see its true potential" said CEO & Co-Founder of Vixen Labs, James Poulter. 
"Parallels can be drawn from the early days of the search engine and social media to show the opportunity available to brands that utilise this technology effectively, regardless of industry. Currently, there is a lot of white space for them to move into; the customer base is ready and waiting, but in order to tap into this new marketing channel, brands need to optimise, create and integrate their products and services with voice technology."
Also Read: More Marketers are Investing in Digital Voices
What brands can do 
Consumers want to do more with their Voice assistants. In their discoverability quest, 77 per cent of users said they are using trial and error to learn how to use their Voice assistants. Instead of Voice experiences being merely stumbled upon, brands can drive awareness via all of their marketing and communication channels. 
Users are also searching online for Alexa Skills or Actions on Google. This means descriptions are important for not just explaining the Voice application but also for helping a user find it and decide to try it. If you are creating Alexa Skills or Google Actions, a cursory description is not going to help engagement. By far the feature that had the most interest when it comes to Voice and websites or mobile apps is the ability to quickly and easily search for answers to questions. Make sure your brand is addressing these Frequently Asked Questions in both short snippets and long form content to ensure you're providing the information your audience needs. The key is that they are true, common questions your audience is asking.
The report also noted search behaviours associated with awareness and the more specific search tasks that are a part of consideration. At each phase, the volume reduces but that is normal for any funnel as some users will drop out during the journey. But we also see that across all three countries, 91 per cent have done the top of funnel research behaviour like asking a search engine a question. 
All of these activities indicate that a marketing funnel exists within Voice with or without support from specific brands. This is a big opportunity for brands in many industries to provide relevant content and to support their customers throughout the journey. The report also looked at other activities such as checking a personal calendar, playing music, and finding one's phone where it suggests Voice can be a product or utility and where Voice is part of a customer experience. Brands within entertainment, retail, healthcare and wellness, and food delivery and restaurants have a tremendous opportunity to better serve their audiences all along the marketing funnel.