The Key Sessions You Should Not Miss at VMF 2021
Vibe MarTech Fest – Middle East's biggest CX, Marketing and Advertising technology summit is back. It is taking place on March 23 and March 24, with some critical topics like Consumer Behavior, Omni-channel Transformation, CDP, and other latest trends to help maximise your marketing activity's effectiveness.   Omni-channel Transformation: The Winning Formula For Retailers Omni-channel model […]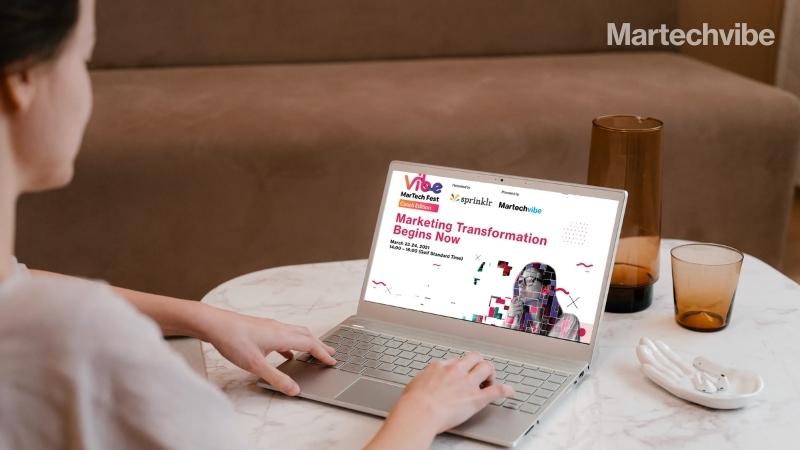 Vibe MarTech Fest – Middle East's biggest CX, Marketing and Advertising technology summit is back. It is taking place on March 23 and March 24, with some critical topics like Consumer Behavior, Omni-channel Transformation, CDP, and other latest trends to help maximise your marketing activity's effectiveness.  
Omni-channel Transformation: The Winning Formula For Retailers
Omni-channel model is a synchronised operating model or a multi-channel approach to engage with customers. The focus is to provide a single unified and seamless customer experience across all channels. Omni-channel retailing is a fully-integrated approach to commerce, providing shoppers with a unified experience across all channels or touchpoints. The omnichannel transformation goes beyond brick and mortar locations to mobile-browsing, online marketplaces, social media and other e-platforms. 
What is the winning formula for retailers? 
The winning formula for an omnichannel strategy is being flexible. Brands with robust omnichannel strategy often rely on a headless commerce architecture – which allows them to offer e-commerce anywhere customers are. Omnichannel also helps brands in establishing deepen relationships with existing customers. It is a customer retention tactic that helps customers make their frequent purchases quicker, increases customer loyalty, and lifts the customers' lifetime value. 
2. Is a Customer Data Platform Right for Your business?
If customer experience (CX) matters to you for your business, then becoming more efficient and improving revenue by adding a customer data platform (CDP) is suggestible.
CDP providers serve as a single knowledge source for customer information. It allows you to gather information from many different channels, platforms and devices into one location to create a complete and up to date view of your customer. CDPs create more than sorting and filing information. It scans the data landscape to create a clean and unified record and makes it available to marketing teams. CDPs allow you to create customised marketing campaigns and content to create unique customer experiences.
3. Experiences Marketing – Driving Revenue Through Customer Loyalty With Personalised Experiences And Creating Customers For Life
Businesses have become quite skilled at delivering personalised services. For instance, think about a hotel you have stayed in before which welcomes you back and remembers your likes and dislikes. What is being marketed here is essentially the delightful experience a customer has had in the past. Marketing experience is becoming increasingly common, and this has now spilt over into the retail industry. 
New research says that consumers expect a highly personalised experience instead of money. For those businesses that can deliver, customers are willing to spend more when they receive bespoke services. Customers want personalised recommendations; expect brands to remember who they are, their location, and preferences. Experiences marketing thus attracts more customers and increases customer loyalty.
4. Leveraging Data for Brand Evolution
Marketers leverage data they accumulate per customer. Marketers increasingly rely on data to deliver personalised marketing campaigns, which can help them outperform their competitors. The global CDP market is expected to grow from USD 2.4 billion in 2020 to USD 10.3 billion by 2025.
The need to measure ROI on marketing campaigns was always there – but there was a missing element. What was it? 'Data'. With the rise of digital, this need for data has been well addressed. Today, marketers have more data at their disposal that they can potentially use. This leads us to think strategically about how to use data to increase the efficiency of marketing spends. A personalised experience is possible only when brands can leverage customer data to deliver optimum CX.
5. The Crumbling Cookie
Are marketers tracking you? Did you say something like a trip to the Maldives and suddenly bombarded with pop-ups of flight advertisements? This means, yes, they are tracking you. Unbridled use of third-party cookies has helped technologies collate consumer data through their internet behaviour and have built consumer profiles that are way too detailed than what a normal person would be comfortable with sharing. This has destroyed consumer trust. 
In January 2020, Google announced that it would phase out third-party cookies from its Chrome browser by 2022. In other words, you can say Google has been rather forbearing in its approach by providing the digital advertising industry adequate time to transition and move on from an arcane legacy.

6. The Third Seismic Brand Shift Of Our Time: Purpose
We live in a time of seismic change for brand management, the third of its kind in the last three decades. Covid-19 brought to the surface what has been draining in the market for years, the need for brands to focus on their purpose to attract millennial consumers – the highest quality consumers. Because they are the beneficiaries of the most significant wealth transfer in human history. 
Brands need to showcase what they do for the greater good, how they treat their employees, and their actions to protect the environment if they want to cash in on millennial consumers' new spending power.
7. B2B Marketers: Reclaiming The Plot And The Playbook In The post-pandemic Era
Covid-2019 is considered a historical dividing line. Sales and marketing teams are looking for an eventual return to the 'new normal. But it's time when we all need to start getting comfortable with the fact that things are probably never going to be the same again. People's lives have changed; businesses have changed, so 'sales and marketing will have to change their way of functioning as well. 
As we step into the era of a new normal, below are marketing tools and trends that can be referred to dominate the B2B marketing scenario:

Strengthen inbound marketing strategies

Going beyond just firmographic and demographic intelligence

Going full data-driven

Investing in MarTech
8.The Age Of Data-driven Media & Communications
Data is the 'new oil'. 
In hyper-connected, tech-driven age, data is everywhere. If you are a modern business looking to engage with your customers on a deeper level, data-driven marketing is essential. Without adopting a data-driven communications mindset, you will be shooting in the commercial dark. And eventually, you will fail to leverage the right metrics and insights to your advantage. 
For instance, Customer and newsletter subscriber list data give you the opportunity to do some of the best audience targeting available. These groups of people have some common characteristics, so, likely, other people like them could also benefit from your products. The same way Facebook Ads allow you to create a Lookalike Audience.
Presenting cutting edge MarTech solutions with a practical approach, Vibe Martech Fest (VMF) is presented by Sprinklr and hosted by Martechvibe – the region's only and world's fastest-growing MarTech media brand. The other key event partners are Tealium, Sitecore, OneTrust – PreferenceChoice, SAP, and Merkle. The media partners are EnterpriseTalk, Talk CMO, and ITSecurityWire.