Martech Spotlight: Zain Saudi
The timing couldn't be better – the mobile operator leads by example while helping enterprises accelerate their digital transformation. In February this year, Zain KSA announced a partnership with Evolving Systems, a real-time digital engagement company. It was a strategic move towards delivering a key component of its new Loyalty offering – intelligence powered by […]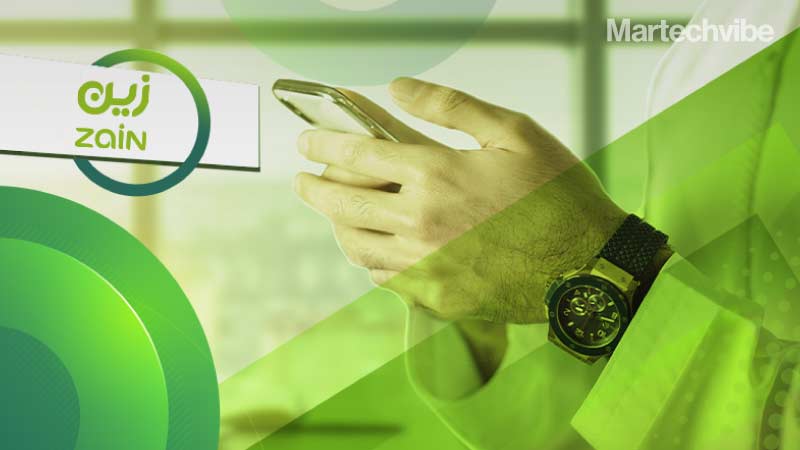 The timing couldn't be better – the mobile operator leads by example while helping enterprises accelerate their digital transformation.
In February this year, Zain KSA announced a partnership with Evolving Systems, a real-time digital engagement company. It was a strategic move towards delivering a key component of its new Loyalty offering – intelligence powered by data. The partnership addressed customers using the digital-only telecom product vehicle, Yaqoot.
Yaqoot was launched by Zain as the first step in its ambitious digital transformation program, focusing on meeting today's consumers' customer experience expectations while simultaneously laying the foundation for a digitally connected future.
The timing couldn't be better – the mobile operator leads by example while helping enterprises accelerate their digital transformation.
Zain launched the Kingdom's first 5G standalone (SA) network to attract partners for developing projects in vertical technologies like IoT, AI and robotics. Standalone 5G gives faster, and more reliable and capable telecommunication options than non-standalone 5G.
5G Standalone and Zain's Collaborations
Through the 5G standalone network, Zain KSA users access the "network slicing" system, enabling them to benefit from multiple networks simultaneously. The network slicing feature includes a range of services, such as "Zain Cloud" services; it improves the flexibility of user experiences through a network structure that supports future-proof services. CEO of Zain KSA Sultan bin Abdulaziz Al-Degaither said, "Deploying the 5G Standalone technology comes within our role of employing innovation to serve the future digital aspirations and equip our subscribers, whether individuals or in the business sector."
In 2020, Zain KSA launched a suite of new cloud computing products and services to support businesses in the Kingdom. These include tie-ups with leading tech companies like Fortinet, RedHat, Veritas, SpeechLogix, WakeCap, and Hikvision.
New services and products include the Cloud SD-WAN service, in partnership with global company Fortinet, enabling customers to run their applications securely, reliably, and with optimised performance. This is good news for organisations with several branches throughout the Kingdom.
In collaboration with SpeechLogix, Zain Cloud launched "Zain Calls" to offer an entirely local cloud-based telecommunications solution—the first in the Kingdom.
It also partnered with Veritas to provide a robust cloud-based backup (BaaS) service using NetBackup as a backup and recovery-as-a-service solution that provides enterprise IT departments with an easy and efficient way to ensure the integrity and availability of their data.
Zain Saudi is part of the larger Telecom brand Zain, a leading mobile voice and data services operator that provides services in eight Middle Eastern and African countries.
Launched in 2008, Zain KSA achieved SAR 134 million ($35.64 million) in net profit during the second quarter of 2022, a 219 per cent growth compared to the same period of 2021 and a 65 per cent increase compared to the first quarter of 2022.
Commenting on the latest financial results, Al-Deghaither said, "The results of the second quarter of this year confirm Zain KSA's consistent growth on the financial and operational levels. Our innovative 5G products and services have continued to grow in popularity. Our integrated portfolio of business support products and services has seen a noticeable demand from government entities, enterprises, and businesses."
Mobile Penetration in KSA
KSA has 40.20 million mobile subscribers and is seeing consistent growth in smartphone penetration. It ranks third globally in smartphone usage at 24.2 million users, with almost three-quarters of the population using smartphones. According to Google Research, of the smartphone users in Saudi Arabia, 93 per cent notice ads on their mobile phones and 91 per cent watch videos on their phones.
These facts and figures highlighting the extent of mobile usage in KSA puts Zain KSA in a unique position. It boasts itself as the first mobile operator in KSA to launch 5G and claims to have reached three-fourths of the population in the country.
Improving CX
RAYA Customer Experience, a subsidiary of Raya Holding for Financial Investments, recently signed a partnership agreement with the mobile operator to manage its customers' experience in Saudi Arabia. Al-Deghaither said that this partnership confirms the strategy in Zain Saudi Arabia, which revolves around providing the best customer experience based on innovative quality services and products supported by their advanced 5G network.
Earlier, Zain KSA and Liferay, an open-source company that provides free documentation and paid professional service to users, teamed up to enhance customer experiences, utilising advanced cloud computing solutions. This collaboration will transform and modernise end-to-end customer experiences across all touchpoints, resulting in personalised services and scaling overall digital journeys.
Gulf's gaming powerhouse
The gaming industry, including both video games and esports, in Saudi Arabia is proliferating. The Saudi gaming market hit $1 billion in 2021 and will reach $6.8 billion by 2030. With the largest market in the region, Saudi Arabia is the Gulf's gaming powerhouse.
Knowing this, Zain KSA entered into a joint venture collaboration between Zain Group, Zain KSA and PLAYHERA Global. It will primarily host own- and third-party esports tournaments while supporting ancillary activities such as cloud gaming, content hosting, ecommerce, and merchandise sales.
Adopting Digital BSS
Zain KSA is not just making strides in improving CXM but has announced an important milestone in its digital transformation journey with Netcracker's cloud-based Digital BSS (Business Support System).
With Digital BSS adoption, it advanced cloud infrastructure, empowering the operator to lower their total cost of ownership (TCO) and accelerate time to market. It supports the operator with reliable support for the next wave of innovation, including IoT, robotics, AI/ML, blockchain, big data, drones, and augmented reality (AR). These technological advancements will help KSA's B2C customers with fast music downloads, clear video streaming, innovative gaming, and seamless social media experiences.
Zain's B2B customers are benefiting from greater efficiency, lower operational costs, and exceptional customer experiences.
Agreement with Nokia
In February this year, Nokia signed an agreement with Zain KSA to expand the operator's digital infrastructure and enhance its network in all regions of the Kingdom. It covers Nokia solutions, including AirScale Radio, Wavence Microwave, NetAct and EdenNet Self-Organising Networks (SON), to improve coverage and network performance.
If you liked reading this, you might like our other stories
Martech Spotlight: Carrefour
Martech Spotlight: Mashreq Bank