CX NXT Summit Shows Brands How to Deliver Zero-effort Convenience
The fifth global edition of the CX NXT Summit is scheduled to be hosted on 15th and 16th November in the UAE. Industry experts will come together as a community to exchange notes and prepare for CX success in 2024 and beyond.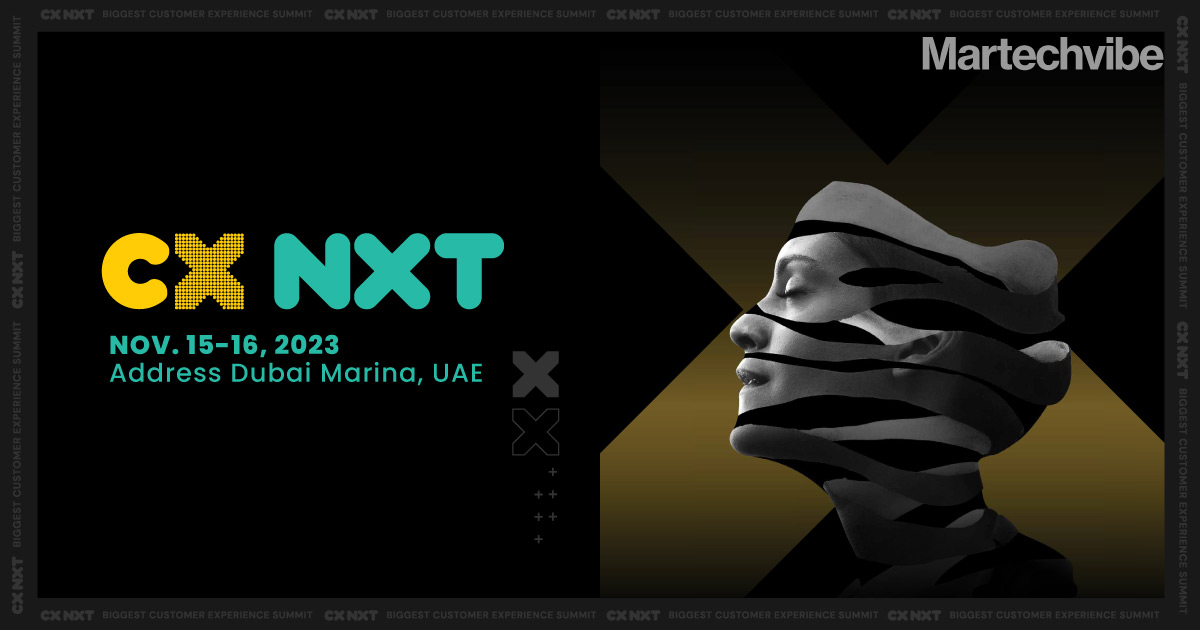 UAE consumers expect more than just a seamless order, delivery, and returns process – failing to meet their 'convenience' expectations can lead businesses to lose loyalty at an accelerated pace. Brands have now reached a critical juncture where they must provide proactive solutions to prevent customers from wasting time on extensive brand research.
The fifth global edition of CX NXT – the customer experience summit will take place in the UAE on 15 and16 November, 2023. Produced by Martechvibe, a global publication focused on CX, marketing technology and technology, and presented by Sprinklr,  the unified customer experience management (Unified-CXM) platform for modern enterprises, the  summit will bring together CX experts, brand and product leaders to share knowledge, inspiration and experiences. 
Over 300+ CX leaders and practitioners will convene for the two-day event to witness power-packed conference sessions and participate in engaging activities. 
The summit promises a valuable opportunity to gain insights into the ever-evolving CX landscape, and strategise for better business growth. 
Martechvibe, in partnership with Sprinklr, presented a joint report titled The State of Customer Service in the Middle East. Key findings from the report include;
     

43% of business leaders want to re-evaluate their customer service tech stack

     

64% of companies are developing social monitoring tools to provide real-time intelligence

     

24% of respondents are working on total contact ownership to promote the first contact resolution rate

     

65% of respondents are looking for seamless implementation from their technology partners

     

26% of respondents consider service organisation as a value centre rather than a cost centre

     

27% of respondents want to use AI to improve the discoverability of products and information via self-serve channels
"Customer Experience is the first priority for businesses. We are seeing a shift from it being a CX team KPI to one that is shared across the organisation. This amplifies the need to break out of silos – operationally, and when it comes to the way businesses leverage customer data. This year's CX NXT summit takes these shifts into consideration. It presents a blueprint for business leaders on how to maximise their relationship with technology partners towards curating total experience to delight customers," Sanjay Swamy, Director of Martechvibe. 
"The most iconic brands in the world – our core customers – are singularly focused on creating seamless customer experiences", said Haitham El Khatib, Senior Vice President – Growth Markets at Sprinklr. "Such seamless experiences are impossible to create across the multitude of channels, functions, business units, and markets that most large companies operate in today without embracing new AI-powered technology platforms to unify customer experience at scale. CX NXT is our opportunity to engage the customer experience community to learn and evolve together as we help our customers better service their own."
This year's hot topics include:
Predictive CX: Delivering the next-best experience to your customers

Redefining Engagement: Transforming contact centres into a value centre

A Citizen-first Approach to CX: Capitalising on the happiness metre

Designing Zero-effort Convenience Journeys: A competitive necessity

Is Omnichannel Causing More Challenges Than Solutions?
The line-up of speakers include Fatima Alzahraa, Regional Customer Service Director AMEA – Call Centre at Ministry of Human Resources and Emiratisation | Cary Lawton, Director of Customer Experience at Aramex | Thuraya Al-Harthi, Acting Director at Government Digital Services Unified Portal | Stacy Sherman,  CX Journalist & Advisor | Dennis Wakabayashi, Global Voice of #CX at Team Wakabayashi 
Sprinklr is the Presenting sponsor, Unifonic and Cequens are the Gold sponsors, Tealium and Kaleyra are the Silver sponsors, Lucidya is an Associate & Lunch sponsor, and Silah Gulf is an Associate sponsor for the CX NXT – the Customer Experience summit.

For registration and more information, click here.