emBlue Acquires Zenman for High-Quality Team and Exceptional Reputation
emBlue announced it acquired Denver-based Zenman for its reputable expertise and phenomenal team. Zenman offers innovation in the world of web design and development, staying informed about web trends while providing features to clients based on their industry and desired functionality. The two groups will marry the individual companies' expertise, optimising the customer experience and […]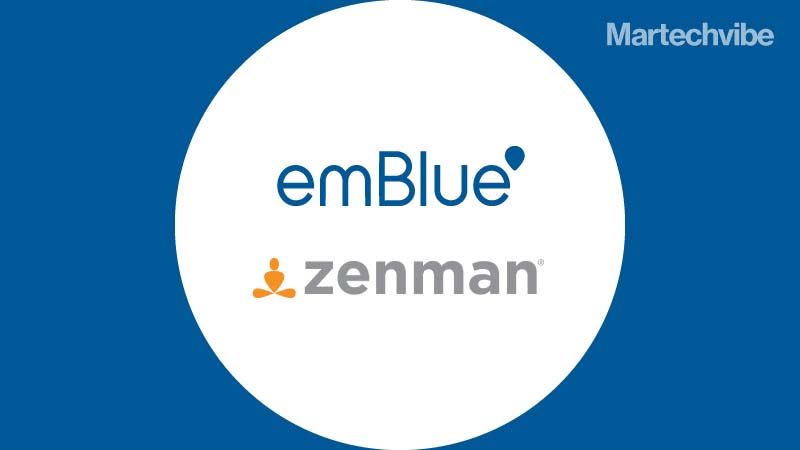 emBlue announced it acquired Denver-based Zenman for its reputable expertise and phenomenal team. Zenman offers innovation in the world of web design and development, staying informed about web trends while providing features to clients based on their industry and desired functionality. The two groups will marry the individual companies' expertise, optimising the customer experience and providing stellar results.
"Zenman has been in business for over two decades. They understand that website content matters not only for SEO purposes but also for acquiring potential customers. Their content team works to capture the essence of a brand and the products or services offered," said Alejo López, US Country Manager, emBlue. "Their ideology and client roster is the perfect match for emBlue's platform, making this acquisition an exciting step forward in our US launch."
Also Read: When Enterprises Dare to Play
"emBlue has impressive capabilities to take client goals to the next level. What I love most about emBlue is they don't just provide software as a service and leave you to try and squeeze value out of the tool. Their 360 ROI Method comes with a team of creative and strategy experts that roll up their sleeves and create messaging and design communications that result in complete workflows that deliver the right message to the right person at the right time," said Roberts. "They've proven their value to their impressive client list. We are confident in their knowledge and abilities to assist US companies as they navigate through this pandemic and beyond."
Even through much political and civil unrest in South America, emBlue's strategy has propelled many large brands forward. The Zenman and emBlue teams are working closely to consolidate their expertise and emBlue will acquire all clients and employees from the Zenman roster. The company will have US teams based in Denver, Austin and Miami.